Hamilton Creator Lin-Manuel Miranda Will Make About 60 Times More Than the Rest of the Cast This Year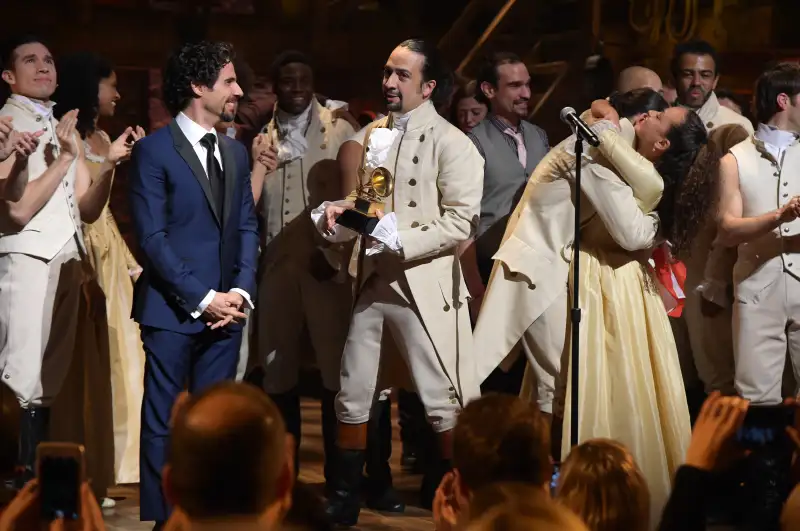 With the creation of "Hamilton," Lin-Manuel Miranda launched a multi-million-dollar enterprise. And as the sole creator and star of the hit Broadway musical, he'll take home more than $6 million of that cash this year.
The musical that details the life of founding father Alexander Hamilton is set to gross $100 million in ticket sales this year. During the last few weeks that the show will star creator Miranda, tickets to see the sell-out production at Richard Rodgers Theater are retailing for as high as $10,000 each on Stubhub.
Miranda is expected to take home an estimated $6.4 million from the play this year, the New York Times reported. That represents profits earned from coming up with the idea, writing the play's music and lyrics, and starring in the lead role for the past year. Even after Miranda loses his salary after he leaves the cast, he'll still earn royalties and profits as long as the show runs. His earnings are also expected to grow as the show goes on tour later in the year.
Royalties are the source from which the key "Hamilton" creatives are making the bulk of their cash. As the sole author of the production, Miranda gets a 7% cut, meaning that he makes $105,000 in royalties in a typical week, according to the Hollywood Reporter. Three producers split a 3% share, amounting to $15,000 per person per week, or $780,000 a year. The director, Thomas Kail, takes a 2% cut, or nearly $1.6 million in total this year. Choreographer Andy Blankenbuehler's 1.5% share will net him almost $1.2 million this year.
Unfortunately for the actors in the show, they won't see their earnings fall in the same tax bracket as those of Miranda and the other theater executives. On Broadway, actors make a union-mandated minimum salary of $1,900 a week (though more than likely, the "Hamilton" actors make more). That amounts to a conservative estimate of $98,800.
Lead actors can also expect to see a salary bump of $500 a week when a play is nominated for a Tony ("Hamilton" got 16 nods for Broadway's highest honors). That would increase their annual salary to a minimum of $116,300. If "Hamilton" wins a Tony on Sunday, as it's favored to do, the lead actors could see a pay increase of $1,000 a week. That would bump their earnings this year to at least $130,300.
Earnings are considerably lower, however, for the actors who were featured in the original Public Theater production and earlier workshops of "Hamilton," but who are no longer involved in the show. They will split about 1% of the show's profits, amounting to a total of $312,000, or just over $10,000 a person. Those who are still involved in the show, and have been since the beginning, will receive that sum on top of their regular salaries.