How Much It Really Costs to Go to Burning Man This Year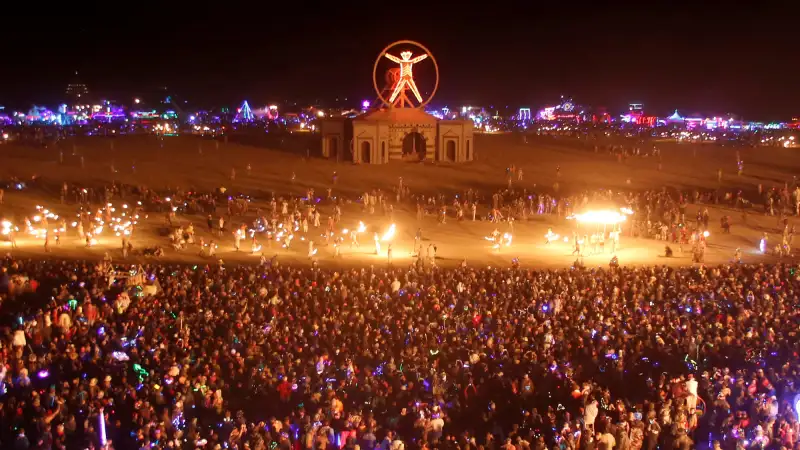 How much does it actually cost to survive for four days in the desert?
That's a question everyone who makes the trek to Burning Man must answer. The annual gathering in Nevada's Black Rock Desert, located two hours north of Reno, brings in over 65,000 people to build a temporary city and, of course, burn a giant effigy.
The tenets of Burning Man—radical inclusion, self-reliance, decommodification and self-expression—are on display for the nine-day event, which kicks off this year on Aug. 27. Indeed, the whole experience is essentially a test of extreme living and sustainability.
Because it's not exactly a festival, there's no scheduled entertainment, although attendees are encouraged to bring their own music and art to share. And there's no local Whole Foods or any food trucks: Everything you need, you have to bring in with you—and carry it all out as well. Burning Man requires attendees leave the desert as they found it, frowning upon any "matter out of place" (MOOP)—aka any trash left behind. You also need to plan for a wide range of temperatures: With the pop-up community situated on a silt "Playa," it can get up to 90 degrees during the daytime and then drop to 50 degrees at night.
There are some ways to attend without bringing everything yourself. You can hook up with a group or camp, where you may have to pay an average of $300 in "camp dues" for shared amenities; these can range from cooked meals, booze, and camp showers to a shared kitchen and cabanas. But these groups are formed early, so if you haven't found your niche yet, you may be on your own.
Money reviewed the survival guide distributed by Burning Man organizers, as well as several other guides, to estimate how much it would cost for one person to do a four-day trip to Burning Man 2017.
Getting There
$450: Ticket + fees
$427: Round-trip average airfare to Reno estimated by Hopper (or splurge by flying right into Black Rock City, for an average $1,250)
$80: Vehicle pass
$130: Car rental from Reno Airport (or ditch the car + tent option by booking an $800 RV for the four-day trip)
Food & Drinks
$135: Covers a few fresh groceries plus a supply of dehydrated camp food packets (it's the closest to gourmet without refrigeration)
$3: Pop-Tarts variety pack (eat them, trade them—they're practically indestructible)
$18: Beef jerky
$18: Trail mix
$30: Four 5-Gallon Water Carriers (Organizers recommend you bring 1.5 gallons of water per person per day)
$10: Gatorade 12-pack (for hydration and hangovers)
$42: Two 18-packs of Corona beers
$30: Soft-side cooler
$32: Ice (buy it on site for $4 per bag)
$50: Marijuana (because you won't survive the weekend without something)
$80: LSD (the fire will look much prettier)
Survival Supplies
$30: Re-usable bottle (it does double duty and filters water too)
$20: First-aid kit
$10: Sunscreen
$16: Particle/dust mask (if you're cutting corners, skip this and use an old scarf)
$10: Goggles (protect your eyes during dust storms)
Chase Stevens—Las Vegas Review-Journal/AP
$5: Ear plugs
$16: Emergency toilet (because there's a 68-to-1 ratio of people to porta-potties—just saying)
$5: Hand sanitizer (bring a big enough bottle and it can double as a "portable shower")
$12: Garbage and recycling bags
$10: Fire extinguisher (in case you feel the urge to burn your art)
$15: All-in-one tool

$10: Duct tape
$10: Headlamp (or you can pack a flashlight)
$17: Camping lanterns
$10: Car phone charger
$30: Small gas can & extra gas (stations are few & far between)
Toys & Camp Decor
Chase Stevens—Las Vegas Review-Journal/AP
$65: Used bike (don't spend a lot for a set of wheels, because the Playa dust will never come off)
$9: Glow sticks (not totally necessary, but at this point, why not?)
$23: Cabana or shade structure
$13: Solar lights to decorate your campsite
$250: Costumes

Getty Images (1); Reuters (2)
Camping
$100: Tent & heavy-duty stakes
$80: Camp stove (you'll need if you want hot food)
$37: Warm sleeping bag
$10: Portable shower (you'll have to manage wastewater, per the MOOP rules)
---
Total Cost: $2,348