Why 2016 Could Be a Great Year to Buy a Used Car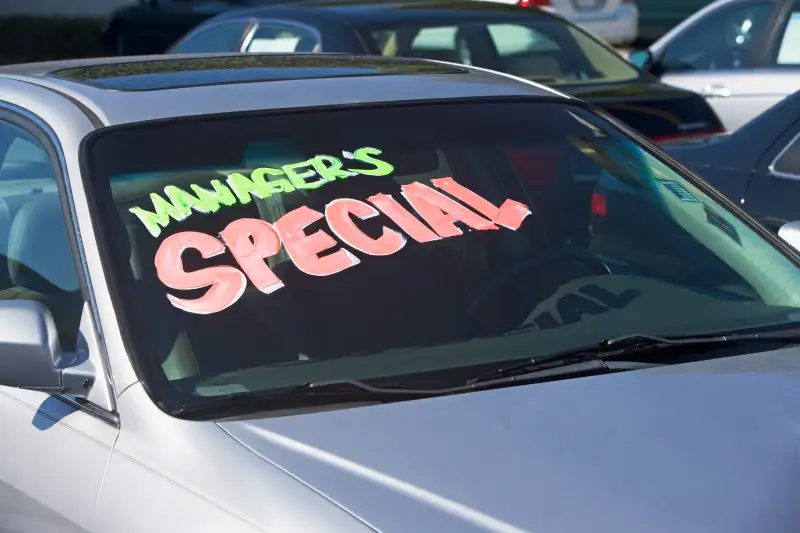 fotog—Getty Images/Tetra images RF
America's new love affair with auto leasing offers some unexpected good news to drivers looking for used car bargains. A coming glut of end-of-lease cars will dump millions of used cars on the market in the next year or two, almost certainly lowering prices on relatively low-mileage, late-model cars with most modern amenities.
Leasing exploded in popularity during the early part of this decade, hitting an all-time record in 2014 (since repeatedly eclipsed: You can read the full story here). Two and three-year leases signed then will begin to come on the market this year, adding an estimated 800,000 extra used cars into the market, according to a report by the National Automotive Dealers Association. It conservatively estimates that used car prices will actually fall an average of 2.5% each year for the next three years.
Read More: The Worst Car Buying Mistakes
Why Drivers Should Care
"The expanding pool of used vehicle supply, spearheaded by off-lease growth, will gradually compress used vehicle prices as time passes," the report says. "Under this assumption, prices would be at their lowest point since 2010."
That's good news for all drivers, as prices for both new and used cars have risen steadily in recent years, fueled by record auto sales across the board. During the recession, drivers held on to cars longer, reducing the supply of used cars, helping push prices up 18% from 2007 to 2014, the report says.
Edmunds.com found that average used car prices set a record last year, reaching $18,600.
Pushed largely by the influx of millions of end-of-lease cars, dealers have aggressively expanded their so-called certified pre-owned sales efforts. Consumers are drawn to CPO sales because these used cars come with new-car-like warranties and benefits. CPO sales also hit a record last year, Edmunds said, and have climbed 55% in the past five years.
Read More: 3 Steps to Save You $3K on Your Next Car
"The key factor driving all of the trends in used car sales today is the popularity of leasing, which is bringing younger and higher quality used cars back to the market," Jessica Caldwell, Edmunds.com Director of Industry Analysis, said in a press release. "We're truly in the midst of a Golden Age for CPO and near-new used cars. And with a record number of lease terminations expected in 2016, for the foreseeable future there certainly will be no shortage of supply to meet the growing demand for used cars."
An eye-popping 54% of used vehicles sold last year were three years old or younger, Edmunds says, and the average age of used vehicles sold edged down to 4.4 years in 2015 from 4.6 years in 2014.
All those new-ish end-of-lease vehicles becoming available will eventually become a "big problem" for car dealers, Caldwell recently told AutomotiveNews.com. But a problem for dealers could be a boon for you. So what should you do?
Read More: Leasing a Car: Is It Right for Me?
Used-Car Shopping 101
If shopping for a new car, investigate certified, pre-owned offers, too. Dealers know they have a big pile of leases ending within the next 12-24 months, so they will be willing to bargain.
Also, in a bit of a reversal, don't be afraid to shop for a used car during the busy months. While it's generally easier to get a deal during winter when sales are slow, end-of-lease cars will pile up during spring and summer, when sales picked up two and three years ago. You could benefit from showing up during a busy week of lease returns.
Finally, not all used car categories will be impacted the same, so if you are looking for a deal, pick the right car.
"The supply effect on used prices will be most pronounced on subcompact cars, compact cars, compact utilities and midsize utilities—both non-luxury and luxury. Utility and truck prices will be cushioned somewhat from supply's blow by low gas prices and stronger consumer demand, while car segments will enjoy no such buffer," the NADA report says.