Should You Buy Your Next Car From Costco?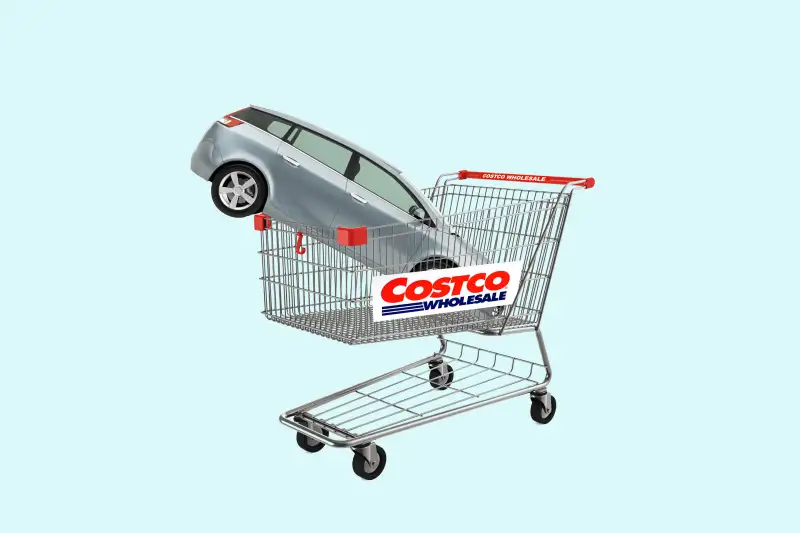 We've all heard of the mysterious things that happen to lurk in the aisles of Costco. Coffins, wedding dresses, caviar, massage tables, even your next vacation. But the members-only warehouse club also sells cars, and cars you've likely thought about buying.
Launched in 1989, Costco Auto Program is "an exclusive type of benefit for Costco members," says executive vice president Rick Borg. (A Costco membership costs $60 per year for a "Gold Star" membership, or $120 for the "Gold Star Executive" level.) And the site, where most car orders are made, "is very robust with regards to research, pictures and safety reviews." But it's also everything a human averse to in-person negotiation could possibly want, which makes it so darn enticing.
"They've done a lot of legwork for you, and they're giving you a guaranteed discount," says Brian Moody, executive editor for Autotrader, an online marketplace for car sellers and buyers. Costco sets the price with dealers beforehand so shoppers don't have to, eliminating what is perhaps the top sticking point about car buying from the process.
However, the program isn't for everyone, as Moody points out. Read on for the pros, cons, and what you should expect when car shopping on Costco.
That Sweet, Sweet Costco Discount
New car sales may be lagging this summer, but that hasn't stopped automakers from upping the price of their vehicles. As Kelly Blue Book reported in June, average new-car prices rose three percent year-over-year, with demand for trucks and SUVs driving the uptick.
Still, a new car is one of the most important purchases you'll make, and at an average of nearly $30,000, according to Kelly Blue Book, it doesn't come cheap. No wonder Costco's member pricing — which the company claims will shave $1,100 to $1,200 off the average transaction price in a local market — is so intriguing.
Speaking of discounts, Costco also partners with dealerships and repair centers to offer 15% off parts, service, and accessories. The discount can be applied to any car in a household regardless if it was purchased through Costco.
You'll Need to Work (a Little) to See a Price Tag
If you're considering buying a car on Costco, you're sacrificing easy browsing and comparing since Costco doesn't reveal the member price on its site. To view it, members will need to visit Costco's site and submit a vehicle request. From there, Costco will provide the dealership info and names of the Authorized Dealer Contacts, who, in turn, will get in touch with the member to schedule a test drive. Once the member selects a car from the lot, the Authorized Contact will share the price.
But the Price Is Right (According to Costco)
As Moody noted, Costco has negotiated the price with the dealer beforehand to give what they deem is a fair price. That's a good thing for those who cringe at the thought of haggling. But those who enjoy fighting for every last nickel may find this a turn-off. "A lot of dealerships and organizations have realized some people don't want to do that," Moody says about haggling, noting some dealerships offer one price for particular vehicles. "They just want to pay what's there, which is a little more or less than everyone else."
Think Twice About Buying Used
Costco doesn't only traffic in new cars; you can buy used, too. Keep in mind, there's always a chance a new car will have issues, but if you're buying used, those odds will be much higher, says Moody. So you may prefer to deal with the dealer directly rather than going through an intermediary like Costco.
As with any used-car purchase, be sure to suss out the car's history, including whether it's been in an accident, its comfort, and overall value. Also make sure to test drive it first and hire a professional inspector, says Moody. Carfax.com and its free recall search tool are great resources for digging up dirt.
Convenience Is Key
Typically a dealer purchases a slew of cars at inventory, so they have more incentive to sell what's on the lot. If you want to get specific about bells and whistles — think an Audi S5 Cabriolet with the Premium Plus 3.0 trim — you may be at a disadvantage going through the wholesale store, says Moody. "Services like Costco's are really good for the convenience," he says. "If you know ahead of time that you've had great luck with, say, a Chevy Tahoe, you can just check the box and move on. This works best for a person who wants a Subaru, this model, in this color."
To be fair, Costco does address pricing for additional vehicles not on its site. Much like the pricing for the standard version of a car, Costco has prearranged prices for various levels of trim. The company also claims to provide members with the info they need to configure a car by make, model and trim level, with various factory options. But again, this pricing is only available once the customer's chosen their car.
Rebates Work Differently
Though you may not receive an advertised rebate or other alluring incentives if you purchase through Costco, the company does run promotions with manufacturers. General Motors, Subaru, Audi, and Honda have all participated in recent campaigns, which tend to last between 60 and 90 days. According to Borg, the Costco executive, last year's campaign with General Motors extended its supplier pricing — also known as the price provided exclusively to GM suppliers and their employees — to Costco's 50 million U.S. cardholders. In 90 days, the company saw over 120,000 vehicle transactions.