How to Revamp Your Tired Bathroom for Under $1,000, According to Design Experts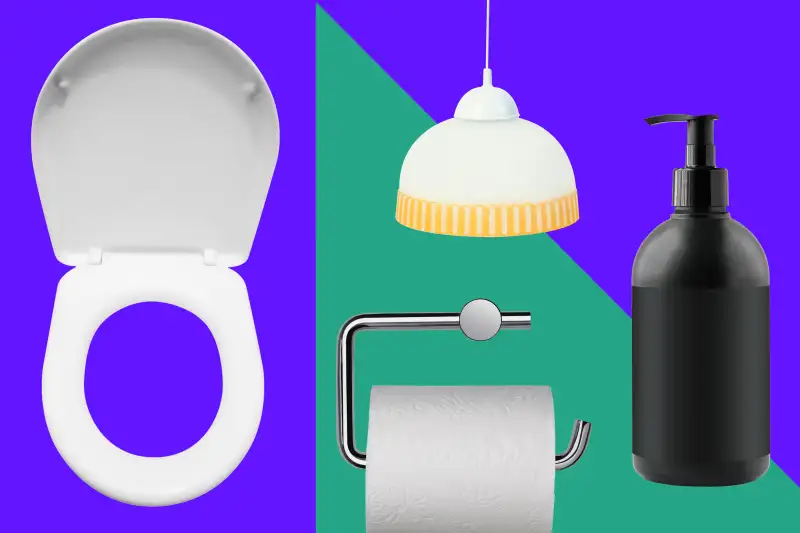 That cramped narrow space. Those unsightly beige tiles. The mildewy marble sink and countertop from the 1980s. Yes, my old bathroom has a long way to go before it's worthy of Architectural Digest. So recently I decided to tackle the problem, flipping through books of wallpaper samples and perusing local contractor listings. It wasn't long before visions of burly men wielding sledgehammers filled my mind. Instinctively I knew I couldn't handle a gut renovation — much less part with the $9,000 to $15,000 the average bathroom remodel tends to cost. So I tapped a couple of savvy designers for their take on renovating on a budget. The challenge: bring it up to 2019 standards for under $1,000. Though I wouldn't be able to swap every item — here's looking at you, heinous bath tiles — I could at least improve the bathroom to the point of being able to tolerate it.
Here are some helpful tips the designers gave me and what the costs might look like.
Streamline Hardware and Plumbing Fixtures
Designers tend to think of fixtures as jewelry for interiors — they may not seem like a lot on their own, but they can totally change the mood of a space. Lexi Tallisman, a New York designer with Greyscale Interiors, recommends streamlining all the plumbing fixtures — "everything from the toilet flush handle to the faucet," she notes — and making sure the finishes are cohesive so they look intentional.
Try Hardware Hut for sleek on-trend options, like this polished chrome towel bar ($66) and matching toilet paper holder ($40). For the cabinets, a pair of knobs ($7 each) shouldn't set you back more than $25. Tallisman also likes Liz's Antique Hardware for its impressive selection of vintage decorative hardware that dates back to 1860.
COST: $120 for the towel bar, holder and knobs from Hardware Hut
Bring in Art or Wallpaper
"This is a great way to add fabulous design and color to a tired bathroom," says Tamara Eaton, an interior designer in New York City. "We only recommend wallpaper in powder rooms or in a bathroom with very limited shower use," as moisture can damage the print.
Spoonflower, which offers affordable on-demand prints from literally thousands of designers, is one of Eaton's top resources. Ethereal, kaleidoscopic prints à la Eskayel, the Brooklyn-based wallpaper and fabric company, are trending, as are floral patterns with Victorian flair. (Self-taught photographer Ashley Woodson Bailey offers a hearty selection of both at reasonable price points.)
Art Deco patterns, with their bold geometric lines, are also having a moment and can bring a dose of sophistication to any bathroom. Phillip Jeffries' newly released Its Riveting collection, which features small raised rivets and textured grounds to give the appearance of an upholstered wall, offers a subdued take on the trend.
COST: $312 for AWB Welcome Neutral Wallpaper at $15.60 per square foot
Rethink Lighting
"Sconces, ceiling pendants and even lamps on top of your towel or toiletry cabinet are an easy way to add another layer of interest," says Tallisman. For vanities, consider placing the sconces — known to the layman as wall lights — on either side of the mirror, rather than above, for a more contemporary (and flattering) effect.
Eaton regularly turns to Dutton Brown, whose colorful, mid-century modern sconces go for as little as $99 each. Given how simple their designs are, they could easily work in a traditional or contemporary setting. Tallisman, who's a fan of installing expensive-looking rod lights on both sides of a mirror, recommends Circa Lighting for its vast selection of designer bath lighting.
COST: $200 for two Dutton Brown Twink Sconces at $99 each
Upgrade Your Toiletries
"Treat yourself to some great countertop toiletries," says Tallisman, who believes that packaging goes a long way. "Molton Brown Hand Wash ($30) smells divine, and the simple, clear packaging allows the beautiful colors of their hand soap to add a little peek of color to an otherwise plain sink basin." Aesop Hand Wash, which comes in those sleek amber pump bottles ($39), is another designer go-to.
Similarly, Tallisman advises buying attractive containers to organize your medicine cabinet, like vintage Moroccan tea glasses, handmade ceramics and clear jars from the Container Store. "It'll feel really nice to look inside and see an organized row of Q-tips," she says.
COST: $30 for Molton Brown Hand Wash
Swap the (Toilet) Seat
"A simple fix I often implement to quickly spruce up a bathroom is swapping out an old toilet seat for a polished wood one, sold on Amazon for under $100," says Tallisman. It looks expensive and adds a touch of class without overdoing it.
COST: $52 for one seat
Refinish the Vanity
"A painted or wood vanity can easily be refinished," says Eaton. "We often do a pop of color, as it's easy, and vanities often take a beating so they need to be refinished every so often."
"You'd be surprised how much that freshens everything up," adds Tallisman, who swears by refinishing, or reglazing.
Though DIY kits go for as little as $50 — and many a handyman on YouTube has shown how to use them — this is one dirty job that's probably best left to the professionals. First, there's the issue of handling toxic chemicals. Then you need to know how to prepare the surface, strip away the old finish and be patient enough to allow each layer to dry completely so it doesn't warp.
Reglazing a tub costs anywhere from $329 to $595, per Home Advisor, while refinishing the bathroom sink, which does away with cracks and scratches, usually costs between $225 to $450, depending on its size, according to CostOwl, a pricing estimate site. It's a variable cost that could tip the scales on my budget, but one that will probably be well worth it in the end.
COST: $225 to refinish my hamster-sized sink