This Is America's Biggest, Priciest New Home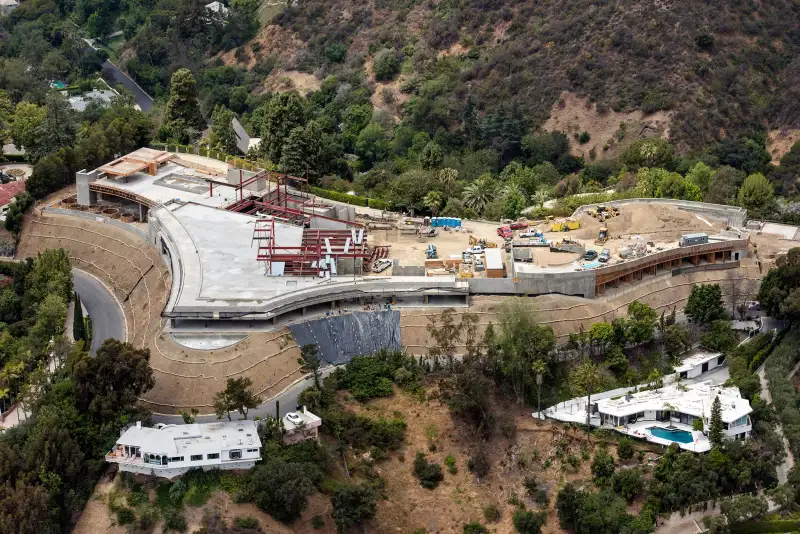 David Paul Morris—Bloomberg via Getty Images
When the Los Angeles Business Journal reported last summer that work had gotten under way on a megamansion construction project in Bel Air, Calif., the property was expected to measure around 85,000 square feet, including a 70,000-square-foot main house. The New York Times wrote about the NIMBY issues being raised by property last December, when the expected listing price was estimated at $150 million.
These numbers are enormous, astronomical, absurd—hard for the average person to fathom, let alone afford. Yet apparently, these figures were on the low side.
The latest on the property, as reported by Bloomberg News, has it that the compound will exceed 100,000 square footage of living space, including a 74,000-square-foot main residence and three smaller houses on the four-acre property. If this turns out to be true, the Bel Air property would trump the notorious 90,000-square-foot estate in Orlando featured in the documentary The Queen of Versailles for the title of America's largest recently built home. (The White House, by the way, is a mere 55,000 square feet.)
What's more, the developer, film producer and speculative real estate investor Nile Niami, says that $150 million is chump change. He plans on putting the property on the market for the more fitting sum of $500 million. Bear in mind that the most expensive price ever paid for a home was $221 million for a London penthouse in 2011, and that no home in the U.S. is currently listed for more than $200 million.
In any event, what does one get in a Bel Air megamansion that measures potentially 100,000 square feet and costs potentially $500 million? Here are some of the key figures:
• 30-car garage
• 5,000-square-foot master bedroom
• 4 swimming pools, including a 180-foot infinity pool
• 1 "jellyfish room" with glass fish tanks on three sides
• 45-seat IMAX-style home theater
• 360-degree views of the Pacific Ocean, Beverly Hills, downtown L.A.
• 74,000-square-foot main mansion
• 100,000+ total square feet on property's four homes
• 8,500-square-foot private nightclub inside the mansion
• 40,000 cubic yards of earth to be removed for construction
• $500 million expected listing price