How Camila Cabello Went From High School Dropout to a 20-Year-Old Chart Topper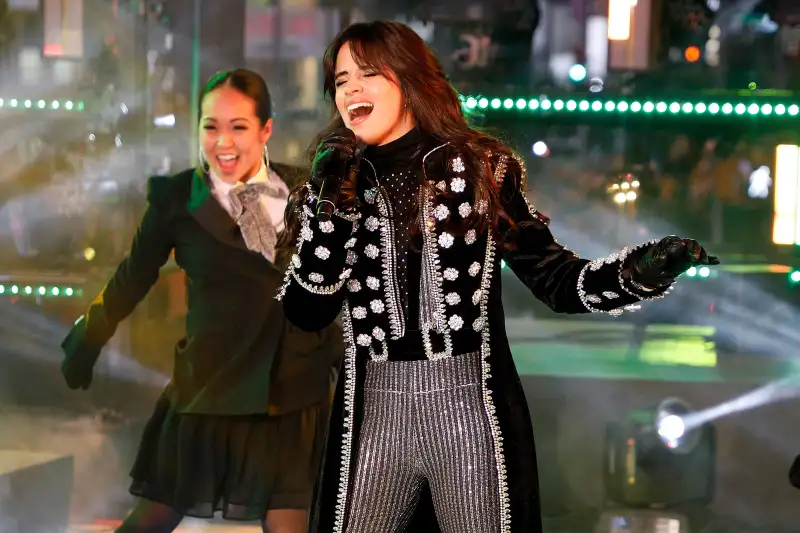 Though 2018 is just a few weeks old, pop music has a new queen. After releasing her debut album two weeks ago, twenty-year-old Camila Cabello just became the first woman to lead Billboard's Artist 100, Hot 100 song chart and Billboard 200 albums chart since Adele over two years ago. And the world will get to know her a bit more this weekend, as she's slated to duet with Ke$ha at the Grammy Awards in New York City.
Cabello's rise has been swift in the last several years, but she had to make some tough choices early on, including dropping out of high school to try and make it as a pop star. Here's how she did it.
Cabello was born in Cojímar, a small village in the east of Havana, Cuba to a Cuban mom and a Mexican dad. She moved back and forth between Cojímar and Mexico City until age 6, when her family immigrated to the U.S., she told the New York Times.
Cabello's mom had been an architect in Cuba and worked in a shoe department at Marshall's in Miami. Cabello attended Miami Palmetto High School, but left while she was still in the 9th grade to pursue a singing career.
For her 15th birthday in 2012, Cabello asked her parents to drive her to Greensboro, North Carolina to audition for the second season of The X Factor, the reality TV competition based created by Simon Cowell.
At first, Cabello said she received a letter from the show telling her she was an alternate and <a href="
">was not guaranteed an audition in front of the judges. As staff was telling her that she would not get an audition slot, Simon Cowell walked by and told her she should audition, and the X Factor staff later allowed her to.
https://www.youtube.com/watch?v=hp3JwMMU_vA
Cabello thought she was done from X Factor again after being cut from the "boot camp" portion of the competition. However, the judges invited her back after grouping her with four other girls — the first formation of what would later become Fifth Harmony.
Cabello and the other Fifth Harmony members came in at third on the show, but afterward signed a joint deal with Syco Music, owned by Simon Cowell, and Epic Records.
The group rose to fame on the back of two major hits: "Worth It" in 2015 and "Work from Home" featuring Ty Dolla $ign in 2016. Cabello toured with the group twice: during The Reflection Tour in 2015 and part of the 7/27 Tour in 2016. The latter grossed $5.1 million from ticket sales, according to Pollstar.
Meanwhile, Cabello was already putting out tracks without the rest of her band. She released her first single apart from the group — "I Know What You Did Last Summer" with Shawn Mendes — in November 2015, and in 2016 released a #4 Billboard Hot 100 hit with Machine Gun Kelly, "Bad Things."
On December 19 2016, Fifth Harmony announced Cabello had left the group. However, Cabello later said in a counter-statement that she was "shocked" as neither her or her representatives told Fifth Harmony she was leaving.
Despite the messy breakup, Cabello has thrived as a solo act. The single off of her first album, "Havana," reached the top of the charts in Australia, the U.K. and the U.S., according to Forbes.
This month, Cabello's breakout album debuted at No. 1 on Billboard's 200 Albums Chart, making her the first woman since to do so since Meghan Trainor in 2015, Billboard reports.
Already reaching record-breaking success at only 20 years old, Cabello has only just begun her journey as one of the country's leading pop stars.