The One Gadget That Every Camper Should Bring into the Woods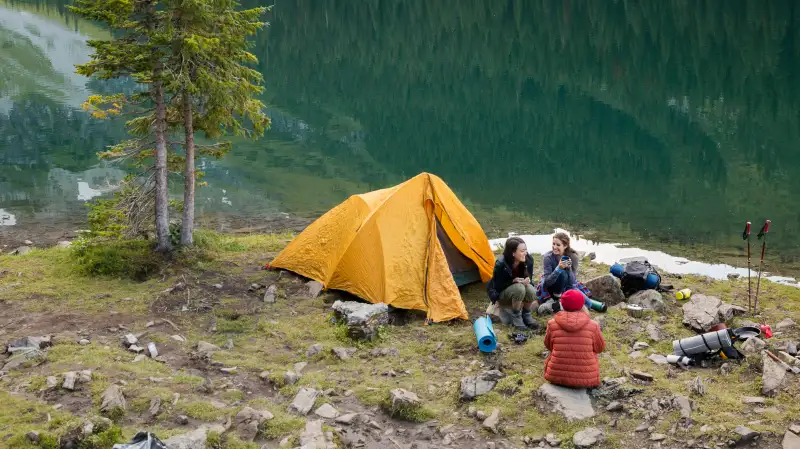 We get it: Camping is about getting away from it all. But we also know that leaving the paved road doesn't mean totally going off the grid for most outdoor enthusiasts. After all, you'll need something to read if you're stuck in a tent on a rainy day, or you might want some direction so you don't get lost while backpacking. It's also likely you'll want to take pictures when you're out in nature (and maaaybe break your digital detox long enough to post them on Instagram).
A new survey from KOA Campgrounds finds that a whopping 95% of us bring one or more gadgets when we go camping. Smartphones, unsurprisingly, are the most common devices brought on camping excursions, with 80% of campers bringing them. Nearly one-third of survey participants said they tote along a tablet like an iPad or an e-reader, and the same percentage bring a standalone GPS device. One in five pack either a fitness tracker or Apple Watch.
All of these devices have one thing in common: They need electricity. And though it sure would be convenient, you're not going to find outlets in a tree on the side of a mountain. That's where the Anker PowerPort Solar ($59.99) comes in.
The panels on this well-reviewed solar charger fold down to roughly 11"x6", and it's only an inch thick when folded, making it easy to tuck into a duffel bag or backpack.
It has an impressive 4.4 out of 5 stars rating from more than 700 Amazon users, who give the charger props for being rugged and easily portable, thanks to its compact size and weight of a little under a pound. With a pair of USB ports, it can charge two devices at once, and it has grommets so you can even tie it across a backpack to charge your phone while you hike. According to reviewer feedback, the charger works best in full sun, but if your camping trip gets rained out, let's face it: You're likelier to throw in the towel and drive the whole gang to a hotel instead.
And one more thing on the subject of water throwing a wrench in your idyllic camping trip: Discovering an out-of-the-way swimming hole or mountain stream is fantastic — unless your electronic gadgets take a bath. One option to protect your phone is with a waterproof case from a company like Otterbox. The one drawback is that they're specific to a particular make and model of device, which can get pricey if you have several gadgets you want to protect.
If you're in a pinch, you could just use a regular zip-top bag, but their thin sides can be prone to puncture, and there's no good way to secure them. Your best bet to keep your devices dry and running is with a soft plastic case that isn't specifically made to fit a certain brand. A zip seal keeps out water and tabs let you tie it to something secure or keep it on a lanyard around your neck.
We've included affiliate links into this article. Click here to learn what those are.