Serena Williams Wears the Same Dirty Socks for Every Match in a Tournament. This Career Expert Says You Should Do the Same at Work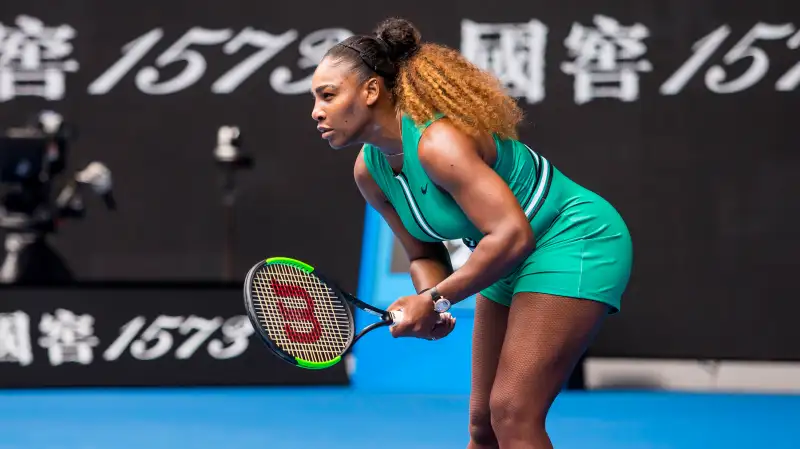 Jason Heidrich—Icon Sportswire/Getty Images
Tennis superstar Serena Williams wears the same dirty socks every day of a tournament. Model Heidi Klum carries around a bag of baby teeth. Singer Taylor Swift often paints the number "13" on her hand before big shows.
These superstitions may sound silly (and kind of gross), but the idea of having a good luck charm isn't crazy. In fact, Tania Katan recommends you get your own — and bring it to work.
Katan, author of the recently released book Creative Trespassing, has spent years sneaking imagination into the office and using creativity to disrupt norms. One of her career tips is to use a power amulet, or a sentimental object, that she writes will "unleash the superpowers you already possess." Though it won't instantly make you Meghan Markle's BFF, the amulet can give you the courage to succeed at work.
"It acts as a conduit until I'm ready to accept my inner empowerment and magic," Katan tells Money.
Katan's amulet advice goes back to her childhood, when her dad gave her a lucky rabbit's foot. As a 4-year-old, she'd rub the fur and somehow feel able to stand taller and speak up. Over time, she realized the rabbit's foot itself wasn't enchanted. It just made her feel that way.
In her book, Katan writes that you shouldn't write off that "power of make-believe" just because you're a working adult. You can revive your inner genius by carrying an amulet whenever you have an important meeting or presentation you need to truly nail. Like with Williams' socks, having that lucky charm in your pocket can boost your spirits and make you feel more inspired. It can give you the push you need to voice your opinions, help colleagues, or pitch projects.
"Confidence isn't something you wake up and have; it's a practice," Katan says. "And if these objects allow us to practice what it feels like to have power, one of these days we'll just feel confident. We won't need the object."
Amulet or not, there are lots of ways to incorporate creativity into your career. Here are a couple of Katan's favorites.
Make Your Own Job Title
There's no way the words "assistant manager" or "account supervisor" accurately describe everything you do at work. So why not create a new job title for yourself? Whether it's official or unofficial, the title can help you show off your responsibilities and goals in a fun way.
"People actually do and are things on the ground that are infinitely more creative than their job titles," Katan says. "Sometimes you gotta just say 'F it,' make your job title and have those business cards printed out."
Inventing a job title comes with several benefits. As Katan writes in her book, calling yourself the "Dispatching Diva" or something similar can help you better understand your purpose at work. It's scientifically proven to make you as an employee feel better, and it can also help you stand out.
Katan says people don't remember the vast number of normal business cards they collect at conferences and meetings. But they won't forget the ones with out-of-the-box job titles.
"It adds a layer of human connection, of saying, 'Look, we all have a sucky job title, but really here's what I feel about what I do and who I am," she says.
(A note on practicality: Katan acknowledges that you might not be actually allowed to go rogue and change your job title, though her book does have a whole other section where she advocates for taking permission. If that's the case, she proposes adding your inventive title to your standard one, like "Julia Glum, reporter and Money's resident Bachelor expert." Or you can use this as a team-building exercise and not actually print the titles — the point is to get you thinking creatively.)
Use Absurdity to Your Advantage
Katan's book talks about the importance of finding "your inner T," the intersection of your expertise in one or two subjects and general knowledge in many others. To do this, she suggests you invite people with various skill sets to brainstorm solutions to a problem at work. Then suspend disbelief and suggest ridiculous ideas.
"When we really dig deep into what people are bringing to the table, what we're making is even fuller than we intended," she says. "We can find areas to cross over and nurture those skills that aren't always apparent."
This is important because people come into work with certain expectations of how things will play out. Creativity blooms when you disrupt those preconceived notions.
While searching for solutions, Katan says you should ask what-if questions, like "What if we could conduct a campaign launch in outer space?" Your team's responses may surprise you — and help you toward a better end result.
"It leaves possibilities on the table that we don't know about yet," Katan says. "You don't know how many astronauts-in-training you might know."