Online Certification Programs Are Surging in Enrollment — and There Are Lots of Ways to Get Help Paying Tuition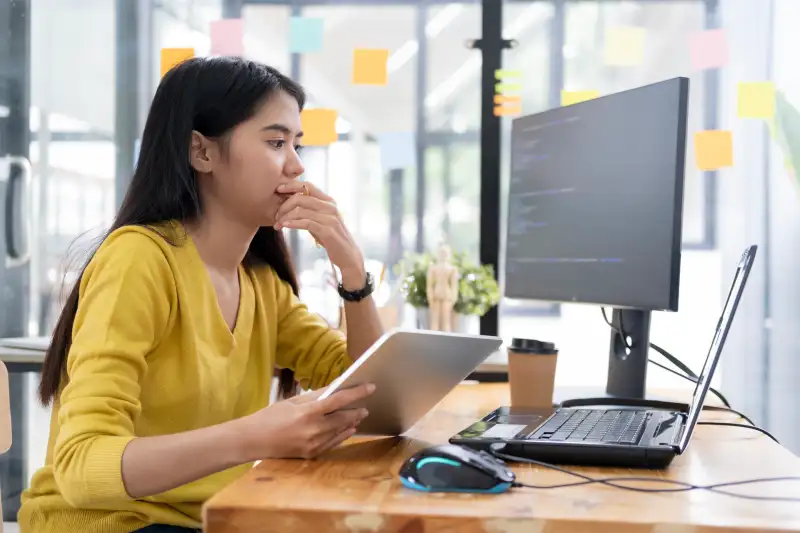 Stuck at home after being furloughed in April, Norman Laborde had a lot of time on his hands. His position at a Silicon Valley tech company was deemed redundant when the company tightened spending in response to the pandemic. With no return date in sight, he started to think about his future.
"The pandemic opened a lot of time that I usually don't have for self reflection," Laborde said. "I started thinking, 'Why am I in this position right now? I shouldn't be this worried about my future. I want more security in my job.'"
That's when he decided to enroll in a UX/UI Design and Research certificate at Springboard, where he'll learn how to create products that are both valuable and easy for consumers to use.
Laborde isn't the only one that has turned to online learning in hopes of boosting his career potential during the pandemic. Shravan Goli, chief product officer and head of consumer revenue at Coursera, says that the online learning platform saw a surge in enrollments in mid-March, with 41 million enrollments globally — a 400% increase from the same time last year.
The professional networking site LinkedIn also reported a 50% increase in content viewed earlier this year on their online training platform. With millions of Americans still out of work, it's likely that interest in these short-term, job-focused educational programs will continue.
In fact, one in five Americans said they had plans to enroll in an educational program within the next six months, according to Strada Education Network's latest survey. The majority of those planning to enroll said they'd favor certificate or skills-training programs over traditional degrees, mainly due to their value and convenience.
Unlike traditional degree programs, which last two-to-four years, certificate programs can be completed in several months and — in some cases, within weeks. Since they're shorter than a degree program, they're typically cheaper, too, ranging between a couple hundred dollars to several thousands. You can take them online, and there are very few requirements (if any) to enroll, making them an ideal option for those looking to reinvent themselves professionally by learning a specific skill set in a short period of time.
Challenges Around Certificate Programs: Financing and Success
Despite the appeal of these programs, one drawback is that it can be difficult for students to find money for the programs if you can't afford to pay the full price upfront. That's because many certificate programs aren't eligible for federal financial aid, including student loans.
Megan Walter, policy analyst at the National Association of Student Financial Aid Administrators (NASFAA), says this is mainly due to restrictions imposed by the Department of Education.
Based on the type of college that's offering them, programs have to meet certain requirements, such as lasting for a certain length of time and providing skills that lead to a related job after completion, to be eligible for federal financial aid, says Walter.
But getting these short-term programs approved by the Department of Education for funding can take a really long time, so most institutions have opted to skip the step altogether. As a result, students have to use alternative forms of funding.
And because very few of these certificates receive federal funding, the institutions are not required to report important data on the programs, such as average completion rates, student debt and career earnings. That makes it challenging to determine whether one of them can help you accomplish what they promised in the first place.
"If you sign up for a two-year degree in computers, there will be data that shows you what happened to all the people who took it before you," says Anthony P. Carnevale, research professor and director of the Georgetown University Center on Education and the Workforce. "That doesn't extend to certificates, unless they are sponsored by the Department of Labor," he adds.
Carnevale has been studying the value of certificate programs in the workforce for almost a decade, and has been involved in shutting down at least 44 for-profit operations that lied about the outcomes of their certificate programs.
"They said that their programs were worth it, and in fact they weren't," he says.
But that doesn't mean that all certificate programs are bad. Carnevale says that 60% of them are worth the money and, in some instances, recipients have reported doubling their pay.
Recent data from LinkedIn suggests that listing a certificate program as part of your online resume can boost your chances of getting hired by over 9%.
Laborde can attest to this. Although he hasn't completed his certificate program, he says that recruiters have been reaching out to him consistently since he listed it on his LinkedIn profile.
Additionally, Goli, from Coursera, says that in one of the company's recent surveys, 87% of those who completed certificate programs reported seeing a positive impact on their careers.
How to Vet a Program Before You Enroll
Since there's limited information available on the outcomes of these certificates, you need to do some legwork to determine whether a particular program is worth the cost.
Before enrolling in a certificate program, Goli advises students to ask themselves, "'Is this going to get me the right career outcome?.'"
If you're not sure, then it might be better to just wait until you get a clearer picture of what it is that can really benefit your career. Goli also recommends looking into courses related to any emerging technologies or specializations that closely align with your current career or field of study, to make the most of your experience.
Besides that, Walter encourages students to think about the financial implications if they have to take on debt to finance their certificate. "I would recommend that the student weigh carefully whether or not the possible salary increase or promotion from completing this certificate would eclipse the amount of debt they could acquire from earning the certificate," says Walter.
When in doubt about a program, the best thing you can do is contact the institution that's offering it. If they can't give you the answers you're looking for, Carnevale suggests getting in contact with alumni.
"If you want to know whether your program is going to work for you, see what it did for somebody else over the past five years. That's a pretty good indicator," Carnevale says. He recommends students ask alumni how long it took them to get a job after completing the program, whether or not they got a job related to their certificate, how much they're currently earning and if they feel satisfied with their experience and overall results.
Finally, testing the waters is always a good way to know whether or not the program offers the material and outcome you're looking for. You can do this by auditing a class. It's free, and it will allow you to evaluate the certificate's curriculum before you commit or invest any money in it.
How to Pay for Your Certificate
If you're thinking about enrolling in a certificate program but don't have the cash upfront, here are a few alternatives you can explore to finance your education responsibly.
Look for Scholarships
Although most certificate programs don't qualify for federal aid, schools usually have a range of scholarships available that can help you finance at least part of the tuition costs. For example, the University of Washington offers a scholarship program, in which students can get between $2,500 and $5,000 to pay for certificate courses.
But traditional colleges are not the only ones that offer some sort of aid for their students. Online course providers also have scholarship programs available for prospective students. For example, Coursera offers financial aid and scholarships for students who demonstrate need, covering up to 100% of a course's costs. Springboard also offers scholarships ranging from $300 to $750, for college students and veterans, among others, who enroll in different tech-related programs.
You can also check with organizations related to your field of study. For instance, if you're interested in technology, Google is currently giving away 100,000 scholarships for the completion of certificates in data analytics, project management, and user experience (UX) design.
Ask About Payment Plans and Discounts
If the certificate program you're interested in pursuing is on the pricier side, you can ask the institution if they can split the total cost into monthly or quarterly payments, to lessen the immediate financial burden.
Laborde says that this was a deciding factor when he chose Springboard as his learning platform. "They try to accommodate the payments to your needs," says Laborde, who took out a loan through Climb Credit, Springboard's lending partner, and is currently paying around $80 a month while he completes his 9-month certificate. Once he finishes, his monthly payment will increase to around $300 for 33 months.
Springboard also allows students to split the cost of the certificate into monthly payments, or defer the total amount until after they complete the program and find a job, with a $700 deposit.
Some learning platforms also offer discounts to college students, veterans or members of the military, and minorities, in addition to discounted rates for paying the full tuition costs upfront. Some of them also have money back guarantees available. With these guarantees, if you meet program requirements and still don't find a job related to your field of study after you graduate, you'll get your tuition back.
Check Out Private Student Loans
If you have no other option but to finance your education through borrowing money, this should be the first type of loan you look into. Although some private lenders only allow you to take out student loans for degree programs, some, like Sallie Mae, allow you to take out loans for programs offered by non-degree granting institutions.
Unlike other types of loans, which require you to start making payments right away, most private loans will allow you to defer payments while in school, or make interest-only payments, in addition to offering a 6-month grace period after you graduate.
However, these loans are subject to creditworthiness, so you'll need excellent credit and a stable source of income to qualify for the best rates, or an eligible co-signer that meets these criteria.
Consider Getting a Personal Loan
While you may feel tempted to swipe your credit card to pay for a certificate program that only costs several hundred dollars or even a couple of thousand, you may want to reconsider this choice.
The average interest rate for credit cards is about 15%, according to Experian, versus about 9% for personal loans. Additionally, interest rates for credit cards fluctuate according to market conditions, while personal loans tend to have fixed interest rates. This means that if you pay for the certificate using your credit card, your minimum payment due could change from one month to the next, making it hard for you to predict how much money you'll need to set aside each time. Yet if you choose to take out a personal loan, your payment amount will remain the same from start to finish.
Still, just like private student loans, personal loans are based on the applicant's creditworthiness, the main difference being that payments usually start immediately after disbursement. Another thing to keep in mind is that not all companies allow you to take a personal loan for educational purposes, so you'll have to do your research before you apply.
More from Money:
Hot Take: Now Is Actually a Great Time to Go to College
Learning a New Skill Can Help You Get the Job You Want. Here's Where to Find the Best Online Courses