Rumors Are Flying of a Thanksgiving Turkey Shortage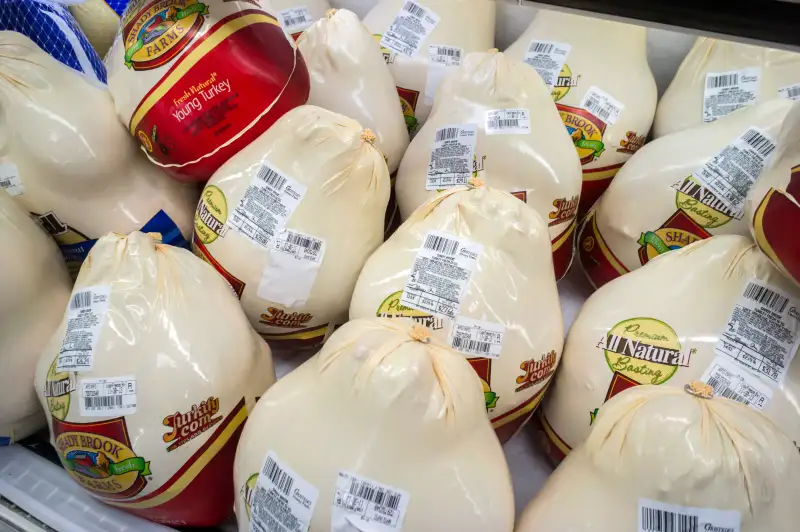 Supermarkets have plenty of turkeys, and prices are incredibly cheap right now. How cheap? How about 79¢ per pound? That's what the Kroger chain of supermarkets is offering in a special deal valid through Thanksgiving, so long as the customer buys an additional $35 or more in groceries.
If that's too pricey, check out the offer from Meijer: When a customer spends at least $20 in the store, the chain's own brand of turkeys are 50% off, which translates to 54¢ per pound for frozen birds and 98¢ per pound for fresh ones. In competitive markets such as western Michigan, meanwhile, some local grocery stores are selling turkeys for as little as 49¢ a pound. The latest Stop & Shop circular is advertising frozen turkeys for 59¢ per pound with a $25 purchase, and the chain says it will match the turkey prices of any grocery competitor. Yet another large player in the grocery field, Hy-Vee, has a coupon valid for a free 10- to 14-lb. Honeysuckle White Turkey for customers who purchase a Hormel whole ham. And ShopRite is giving reward club members a free turkey once the customer meets certain spending requirements (usually $400) over a period of a few weeks.
So why are so many headlines are making the rounds lately indicating that turkey is getting expensive?
It's true that production is down, and that wholesale prices are up for turkey. But the important takeaway for shoppers is that neither of these factors is necessarily translating to rising prices in stores.
Due to long periods of drought and rising prices for feed, production of all manner of livestock has been on the decline in recent years. Beef prices, for instance, have increased to the point that consumers needed smart strategies to keep barbecue costs down over the summer. The Associated Press recently reported that American farmers will produce a total of 235 million turkeys this year, "the lowest since 1986, when U.S. farmers produced roughly 207 million birds."
It sounds pretty dire. And yet, there's nothing remotely true about the idea of there being a turkey "shortage," as some have called it. A shortage means there's not enough to go around—that the supply can't keep up with demand. But as no less an authority than the National Turkey Federation noted that Americans collectively consumed 46 million turkeys at Thanksgiving 2012, and 210 million turkeys during the year as a whole. That, combined with the fact that there are ample supplies of turkeys at supermarkets all over the country, should dispel any claims of a "shortage."
As far as prices go, wholesale prices may be rising—reportedly up 12% in October compared with last year—but, as USDA agriculture economist David Harvey explained to the AP, "There's really no correlation between what grocery store chains are paying and what they're selling them at."
This year—and every year around this time—supermarkets use turkeys as "loss leaders." The stores advertise exceptionally low prices on turkeys, knowing that doing so will be a draw for customers. The grocers don't care if they make little or no money, or even if they lose money, on turkey sales; shoppers who come for turkeys almost always buy plenty more groceries when they're in the stores, especially when they're required to do so, as the best deals stipulate, and it's in these purchases where the supermarkets make their money.
What's more, the idea that there is a turkey shortage and/or that turkey prices are soaring is a myth that pops up regularly around this time of year. Last year's "shortage" turned out to be hype because, once anyone read past the headlines, it was clear that even as the supply of one particular kind of turkey had declined, the vast majority of turkeys (and consumers) were completely unaffected.
In a story published today by the New Jersey Star Ledger, Ashley Myers, co-owner of Ashley Farms, is quoted laughing off the idea of there being a shortage of turkeys. "They say that every year," she said.
And every year, everyone who wants to buy a turkey for Thanksgiving is able to buy a turkey very easily, generally at very low prices—or even free. This year is no exception.