Chicago Bars Are Charging $100 to $1,000 to Watch the Cubs in the World Series on TV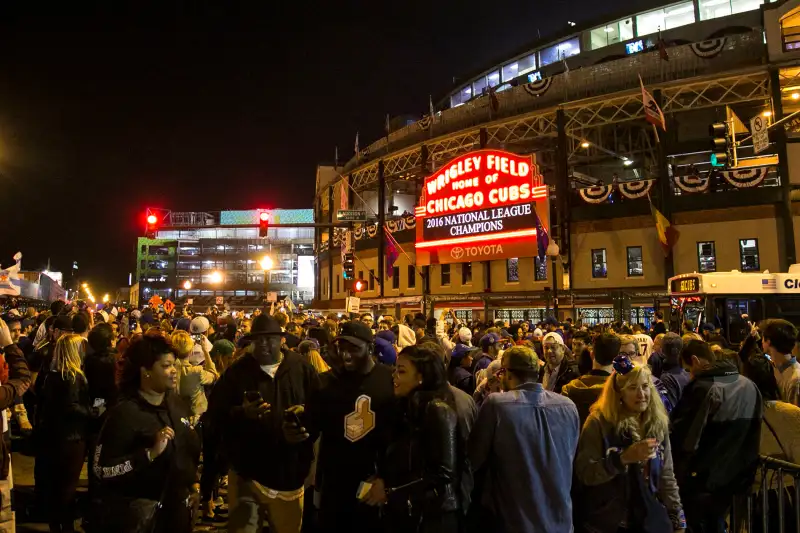 Ashlee Rezin/Sun-Times—AP
With the Chicago Cubs in the World Series for the first time since 1945, it's impossible to overestimate how excited baseball's longest-suffering fans are with the team hosting three games against the Cleveland Indians this weekend.
How psyched are Cubs fans? They're so pumped that one Cubs-specialty retailer, Sports World Chicago, had to stop accepting orders earlier this week because the company is completely overwhelmed. Since at least Monday, the following message has been posted atop the retailer's website:
Here's one more indication of how frenzied Cubs fans are right now: They're apparently willing to drop $100 or more just for the right to sit in a bar and watch the Cubs play in the World Series on TV.
Read Next: How to Watch the 2016 World Series Online
Some bars in the Wrigleyville neighborhood where the Cubs play have cover charges of $40 to $100 just to get inside during this weekend's games, DNAInfo.com reported. Others are charging $200 to $350 for packages that include admission, food, and drinks. And still others will allow you to reserve a table for small group at a clip of $500 to $1,000. At least a bottle of champagne and a bottle of Grey Goose vodka are thrown in with the latter.
Take note that there is a ban on parking on streets around Wrigley this weekend, and that legal parking spots near the ballpark are being priced at $150 to $300.
Chicago Alderman Tom Tunney pointed out to USA Today that not all bars around Wrigley Field have cover charges, and there are no entrance fees to most bars throughout the Windy City: "The whole city is celebrating and there will be plenty of neighborhoods where you can find a more reasonable price for a beer."
Read Next: Chicago Cubs vs. Cleveland Indians: A Money-Focused Look at the World Series
Meanwhile, even as ticket prices have retreated somewhat from when it first became clear that the Cubs were in the World Series, seats for this weekend's games will still cost a pretty penny. As of Friday morning, the cheapest tickets for Friday night's game were listed at around $1,500 to $1,600 at resale sites like StubHub and Vivid Seats.