Christine Blasey Ford Received More Than $190,000 in Donations During Her Testimony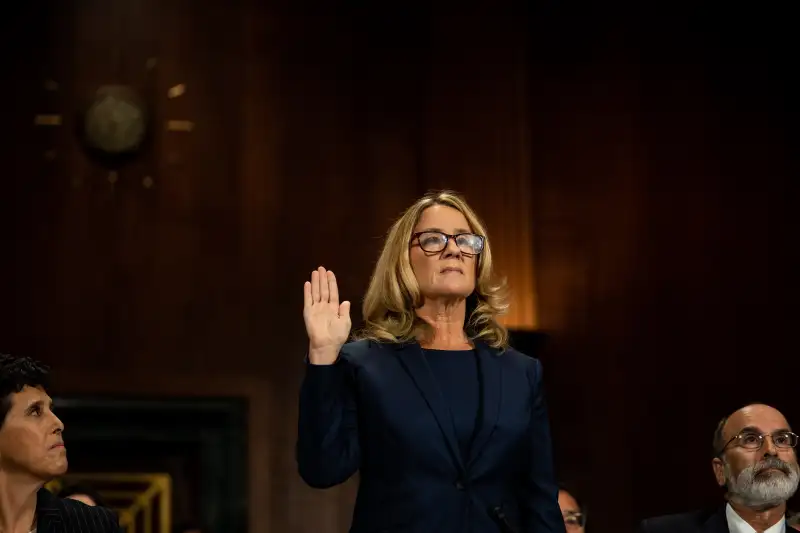 As Dr. Christine Blasey Ford delivered her testimony in front of the Senate Judiciary Committee Thursday, supporters donated more than $190,000 today to a growing GoFundMe campaign aimed at funding her security expenses and other costs incurred by coming forward with her story.
The spike in donations came as Ford, a psychology professor at Palo Alto University, detailed her allegations of sexual assault against Supreme Court nominee Brett Kavanaugh more than a week after she came forward with her story publicly. Two other women have come forward with their own allegations against Kavanaugh, and Ford's testimony proved critical amid a national reckoning with sexual assault and during a heated confirmation process as a crucial Supreme Court seat remains vacant.
As of Thursday afternoon, supporters have raised more than $573,000 for Ford and her family through two official GoFundMe pages over the last week. Only one of the verified pages – which received the hefty chunk of funds during her testimony – is still accepting donations.
Ford testified that she and her family were forced to move out of their home as a slew of death threats came her way and reporters staked out her home. A hacker gained access to her work email and sent out messages "supposedly recanting" her allegations, she said. Ford also said she had to hire a private security team to keep her and her family safe.
Both GoFundMe pages were created last week to help with these financial costs, organizers wrote in the fundraisers' descriptions. Organizers responsible for the active GoFundMe page wrote that initial donations will go toward helping Ford pay off costs for security. New donations will go toward security as well as any other expenses determined by the Ford family.
Ford told Rachel Mitchell, a prosecutor hired by Republican senators to question the professor, during her testimony that she was aware of "several GoFundMe sites" created to help her financially. "I haven't had the chance to figure out how to manage those because I've never had one," she said.
A representative at GoFundMe tells Money the Ford family "has been added as the beneficiary to both campaigns and the funds are being transferred directly to them."
Ford's comments about her knowledge of the GoFundMe pages came amid a line of questioning from Mitchell about who paid for her polygraph test. Ford's lawyers told Mitchell they paid for the polygraph test — "as is routine" — and clarified they were representing her pro bono.
Legal representatives for Ford did not respond immediately to a request for comment.