TSA Employees Are Reaching a Breaking Point: 'This Is Ri-damn-diculous'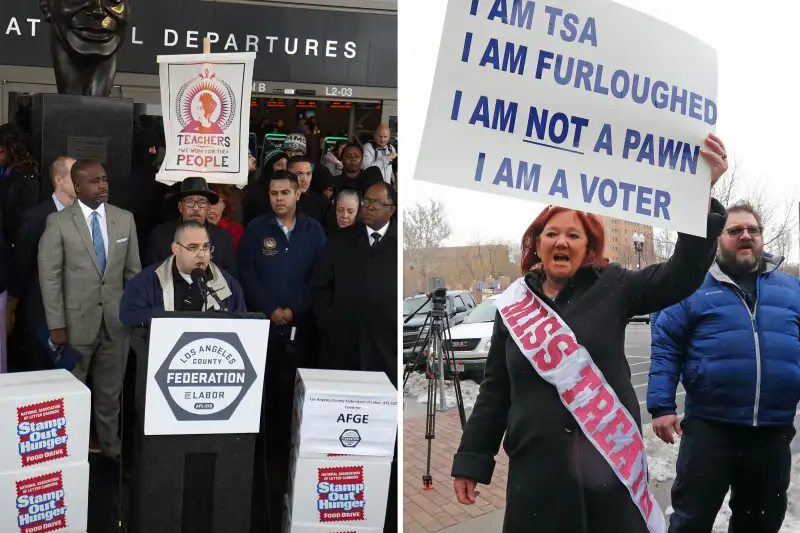 (left) Getty Images; (right) Shutterstock
Shakina Givens has spent more than 10 years working her way up the ladder at the Transportation Security Administration. But now, she says, the historic length of the partial government shutdown has threatened the trajectory of her career.
The 32-year-old lead transportation officer based at Hartsfield-Jackson Atlanta International Airport doesn't want to leave the job she loves, but says she is now forced to consider other career options while scrambling to find part-time gigs and other forms of income to stay afloat as she continues to work full-time without any pay.
On Tuesday, she painted one of her bathrooms in case she has to rent her home on Airbnb.
"That's still a disheartening feeling to know that you can get up and go to work today, and get to a place that I even have to consider letting strangers come into my house because I have to make sure my bills are paid," Givens, who is also the president of the local chapter of the American Federation of Government Employees union, says. "It's hurtful."
As the longest government shutdown in U.S. history drags on, some TSA employees say they are reaching their breaking point. "We've been shut down before — for some hours, some days — and that felt like no big deal. But now, at this point, this is ri-damn-diculous."
Morale falls lower with each day, and TSA officers — many of whom live paycheck to paycheck and are among the lowest paid federal workers — are feeling the hit of missing their first paychecks this past weekend. Now, after that significant milestone, even more officers are thinking seriously about quitting, union officials say.
"We're in uncharted territory," says Bobby Orozco, a TSA officers at Los Angeles International Airport and president of his chapter of the AFGE union. "Folks don't know what they should do: Should I quit and look for another job, or should I try to hang on and see how long I could go on for?"
Some TSA officers have already quit their jobs since the shutdown began, the union has said, and a higher percentage of employees have called out of work each day in recent weeks, according to data from the agency. But, according to TSA officers, these call-outs come as the roughly 53,000 impacted agents struggle with childcare costs, car payments, healthcare costs, rents, and mortgages. TSA officers have been getting groceries at food banks and filing applications for food stamps just to put a meal on the table. Some say they are trying to pick up extra work with Uber, Lyft, or food delivery services. To curb gas costs, some TSA employees are carpooling to work, and others have been sleeping over at each other's houses to shorten the length of their commute.
The growing length of the shutdown makes the situation more untenable — and staying financially afloat becomes less feasible.
"We're trying to scrape by," says Victor Payes, a TSA officer at the Los Angeles International Airport. "If there's no money coming in at all, I definitely couldn't go until the end of this month."
"A lot of us did not expect to be in the position we've found ourselves in," Payes adds.
To lessen the blow, on Jan. 11, TSA Administrator David Pekoske said in a tweet that agents would receive one day's worth of pay and a $500 bonus — both of which agents were supposed to receive Tuesday. Some TSA officers say they received their checks this week and bonuses Thursday morning. But others haven't received theirs at all — or got less money than they were expecting, officers say.
"While I realize this is not what you are owed for your hard working during pay period 26 and what you deserve," Pekoske wrote, "I hope these actions alleviate some of the financial hardship many of you are facing."
The impact of the shutdown has reared its head at some major airports — like those in Atlanta and Houston — as security lines grow longer due to staff shortages. Videos shared on social media show makeshift lines spanning the halls of these airports and hundreds of passengers waiting to go through security. "Airports may exercise contingency plans due to call-outs and traveler volume in order to maintain effective security standards," a spokesperson for TSA says.
Other federal workers inside and out of these airports are feeling the heat of the shutdown, too. The National Air Traffic Controllers Association, in addition to AFGE and other federal employee unions, filed a lawsuit against the Trump administration for forcing employees to work without pay. On Wednesday, a NATCA union official described air travel as "less safe" than it was before the shutdown began.
This week, the Trump administration ordered tens of thousands of furloughed employees to return to work — without pay — as their positions became, once again, essential. Thousands of federally contracted workers around the country have been furloughed without the guarantee of back pay, and the longer the shutdown continues, the more contracted workers will be put in the same position.
There's little optimism the shutdown itself will end anytime soon, too. President Donald Trump, sparring with Democrats over funding for his proposed wall along the U.S.-Mexico border, said earlier this month the shutdown could last "months or even years."
"We're tired of being played like political pawns," says Orozco, who has worked at LAX for nearly 11 years.
But even when the shutdown ends, some workers worry about what could come down the road — especially as the Department of Homeland Security sits at the center of the ongoing border wall debate.
"It's almost like there's a willingness to push these boundaries again in the future," Payes says.
For now, TSA employees worry about how much longer they can last. On top of fielding her colleagues' concerns as the local union president in Atlanta, Givens faces critical, career-altering questions of her own — whether she likes it or not.
"There are a lot of other things I could do," Givens says. "But that's not what I want to do. I want to continue doing what I've been doing for the last 10 years."