The Government Shutdown Is Already Causing Havoc for the Super Bowl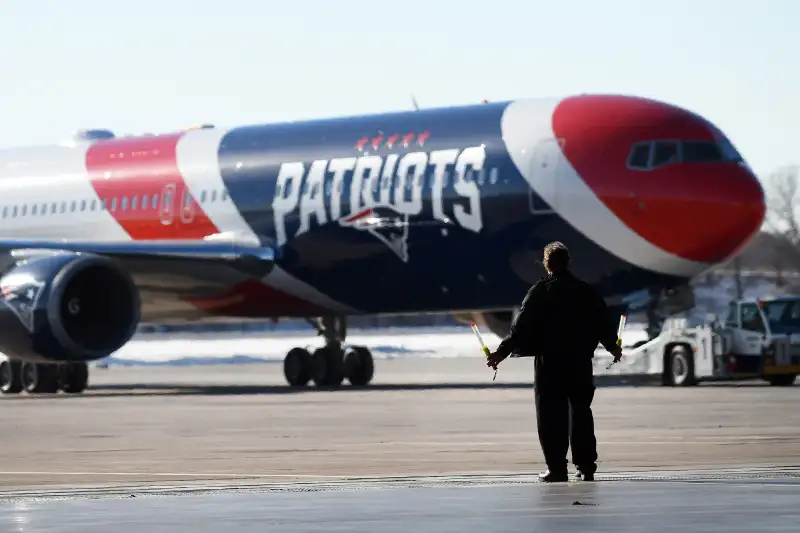 Nick Wosika/Icon Sportswire—Getty Images
With an additional 110,000 travelers flooding Atlanta's airport for the Super Bowl in February, air traffic controllers and TSA officers at the world's busiest airport are bracing for a chaotic weekend — all while working without pay.
The partial government shutdown has altered planning procedures for air travel officials ahead of the Super Bowl, with at least one meeting between airport employees, officials, and the NFL canceled since the shutdown began, according to Dan McCabe, an Atlanta-based air traffic controller and representative with the National Air Traffic Controllers Association union.
TSA officers, air traffic controllers, and other federal workers will operate the event more than a month into the shutdown that has cost them at least two missed paychecks.
"We're really operating on our last best plan," McCabe says. "We're operating on a lot of assumptions on things — assumptions that certain routes will work and certain proceedings will work."
The influx of travelers coming to town for the most-viewed event of the year poses a test for employees and officials navigating uncharted territory as the government shutdown begins its second month. High-capacity events like these take months or more than a year to plan to ensure safety and efficiency, according to agencies involved, and with the added burden of the shutdown, "the potential for delay is real," says McCabe.
"We want it to be safe overall — over everything," he adds. "If that means efficiency is going to be downgraded, that's what will happen."
Significant delays tied to the shutdown have already struck air traffic around the country. On Friday, the Federal Aviation Administration said "a slight increase" in sick leave with officers at two airports has resulted in delays and the rerouting of aircraft, with New York City's LaGuardia Airport, for example, reportedly halting inbound flights.
Officials from the Department of Homeland Security, TSA, and FAA insist the shutdown will have minimal impact on Super Bowl operations despite declining morale and a higher percentage of call-outs among TSA officers and air traffic controllers. Nationwide, around 7% or so of TSA officers have called out of work, compared to the usual percentage that hovers around 3%. (The FAA did not give specific percentages on air traffic controller shortages.)
The Hartsfield-Jackson Atlanta International Airport anticipates 110,000 additional passengers will travel through the airport during Super Bowl weekend — adding to the usual 270,000 passengers who visit the airport each day. That's quite a jump as travelers through the airport itself have reported longer security lines during this shutdown. In recent weeks, the TSA has reported the maximum wait time for passengers traveling through Atlanta to be near or above 30 minutes — with it spiking to upwards of an hour and a half. On Friday, there were gate holds and taxiing delays of up to 30 minutes at Atlanta's airport, too.
For Super Bowl weekend, an undisclosed number of officers from the agency's National Deployment Force will join the staff in Atlanta to help manage the higher capacity of travelers. Some furloughed FAA officials, who were without work or pay for the last several weeks, have returned to their jobs in recent days "in order to do everything required to ensure a safe, secure, and minimally delayed event," an FAA spokesperson told Money in an email. The Department of Homeland Security says it will continue to support local public safety partners, too. "The current lapse in government funding will have no effect on our commitment to assuring a safe and secure event," Tyler Houlter, press secretary for the department, said in an email. (The NFL did not respond to a request for comment.)
Even so, federal employees responsible with providing safety and security through air travel and major events like the Super Bowl have highlighted the severe morale issues and financial difficulties the shutdown has forced them into. Earlier this week, TSA confirmed "many employees are reporting that they are not able to report to work due to financial limitations," and TSA agents who spoke with Money say they are reaching their breaking point. Among the 800,000 federal employees and thousands federally contracted workers without pay, some have resorted to visiting food banks and applying for unemployment.
This week, representatives from the National Air Traffic Controllers Association, along with unions representing pilots and flight attendants, said in a joint statement they "cannot even calculate the level of risk currently at play, nor predict the point at which the entire system will break" and worry that safety analyses may not be "100% operational due to reduced FAA resources."
"As union leaders," the statement concludes, "we find it unconscionable that aviation professionals are being asked to work without pay and in an air safety environment that is deteriorating by the day."
For air traffic controllers, working without pay has led to even lower morale, on top of navigating a 30-year-low in staffing. During Super Bowl weekend, air traffic controllers are not just focused on safely guiding flights in and out of Atlanta's major airport, but also monitoring a slew of private planes and corporate jets to satellite airports in the area. McCabe worries that razor-sharp focus needed for air traffic controllers to safely do their jobs may be hard to come by as employees worry about their finances — and consider applying to new jobs.
"It's playoff football season. Everybody at work should be talking about the playoffs," McCabe adds. "Instead they're talking about, 'This is how many checks I can miss,' 'How many did you miss?' 'I had to cancel this vacation,' 'Hey, my wife has to stay home because we can't afford childcare.' I've heard conversations of people having to drive for Uber, some having to leave the agency for another job. That's scary."