Government Workers Without Paychecks Are Flooding Food Banks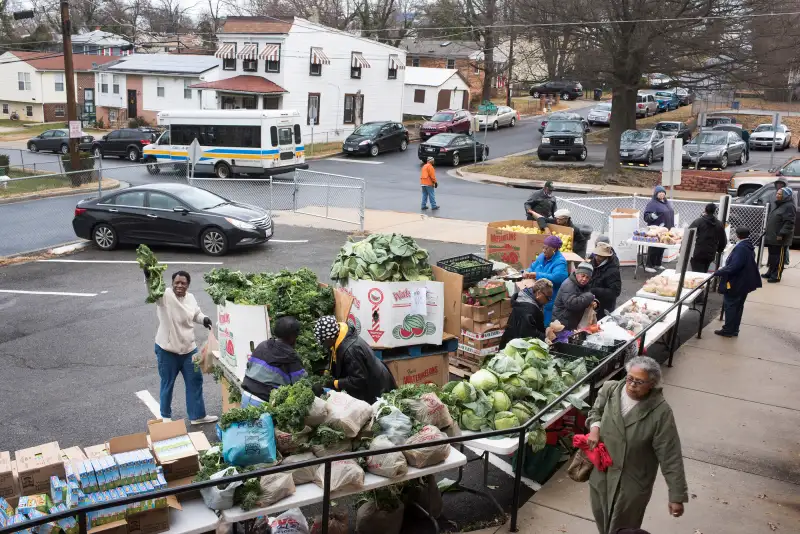 Marvin Joseph—The Washington Post/Getty Images
More than three weeks into the longest government shutdown in history, an influx of impacted federal employees and contractors have sought assistance from food banks around the country as they struggle to make ends meet without their paychecks.
"We've been hearing from a lot of food banks that this is increasing by the day," says Robert Campbell, policy director at Feeding America, which operates more than 200 food banks around the country. "Hunger is a symptom of a lack of resources, and that includes, of course, people's livelihoods and income from their jobs."
An estimated 800,000 federal employees have missed at least one paycheck since the government shutdown began on Dec. 22. While Democrats and President Donald Trump have been sparring over a $5.7 billion funding proposal for a wall along the U.S.-Mexico border, some federal workers, who say they live paycheck to paycheck, have been applying for unemployment, struggling to provide for their families, and worrying about hefty medical bills and healthcare costs.
Now the longest government shutdown in U.S. history, impacted federal employees and contractors are entering uncharted territory.
Navigating the unfamiliar
Over the weekend, more than 2,200 federal employees without pay visited pop-up markets organized by the Capital Area Food Bank around the Washington, D.C., area, says Radha Muthiah, the food bank's CEO. There has been a 20% increase in calls over the last week or two, with some impacted federal employees and federally contracted workers reaching out for assistance with food for the first time, she says.
"These are individuals who are not as familiar with how to navigate food assistance networks and asking questions about how to do so, where some of these food pantries might be, and if they qualify," Muthiah says.
"Many are just trying to juggle various bills they have to pay," she adds, noting that many of these employees live paycheck to paycheck.
There are around 362,000 federal employees living in the area the food bank serves, Muthiah says. Capital Area Food Bank, which provides supplemental food and nutritional needs to lower-income communities and those on food stamps, typically makes 3 million meals in the month of January. This month, however, they will provide 300,000 to 600,000 more.
"This isn't necessarily something we budgeted for," Muthiah says. But suppliers, companies, and volunteers are offering more support in recent days as the shutdown grows more untenable. "This feels unique compared to prior shutdowns, and that's why we're being resourceful and creative," she says.
'Plan for the worst'
The flood of federal workers to food banks spreads beyond the nation's capital. St. Mary's Food Alliance in Phoenix gave out groceries to TSA employees working without pay at the Phoenix Sky Harbor Airport on Monday. Partnering with food banks and organizations in the area, the Tampa Bay International Airport is also gathering resources to help TSA employees. Major food banks in Massachusetts met on Monday to discuss how to best serve impacted employees and low-income residents who rely on their services in the wake of the shutdown. And the Central Pennsylvania Food Bank is launching a program to help thousands of impacted employees in the state.
Joe Arthur, the executive director of the Central Pennsylvania Food Bank, says the organization has received more phone calls than usual in recent weeks. Starting Tuesday, the food bank will offer a specialized program for impacted federal employees and contractors in need of their assistance. It's unclear how many employees in the state will take advantage of the program, Arthur says, but the food bank has prepared about 1,000 sets of groceries for impacted federal employees.
"Always better to plan for the worst and hope for the best," he adds.
It's a familiar situation for the food bank, too. Amid a months-long state budget impasse in 2009, the food bank assisted thousands of workers who were left without paychecks. Now, as the government shutdown drags into its fourth week, Arthur says the food bank may set up pop-up locations near the work sites of impacted federal employees, like those working in federal penitentiaries.
"There are a lot of families that are using our assistance services or are a paycheck away from it," Arthur says. "Now, we're going to test that again."