The Government Shutdown Ended Four Months Ago, but Hundreds of Thousands of Workers Are Still Fighting for Back Pay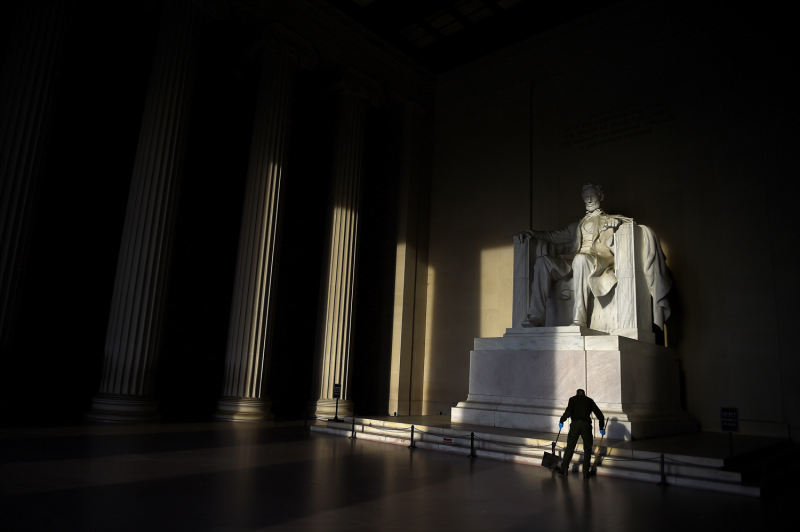 Audrey Murray-Wright bought lottery tickets for the first time a few months ago during the government shutdown.
The cleaning supervisor at the National Portrait Gallery in Washington, D.C., was put on furlough during the longest partial government shutdown in U.S. history, and she was desperate to find solutions to her missing paychecks. A new widow still grieving the death of her husband of more than 30 years, she had a $1,800-a-month mortgage and a monthly electricity bill that cost upwards of $200. Her car notes, water bill, and gas bill stacked up, and she told her two adolescent sons to ration their food and drinks.
Four months later, Murray-Wright is still buying lottery tickets, hoping the long-shot gamble could help rescue her from her debt. Unlike federal employees, federal contractors — who are some of the lowest-paid government workers — never received any back pay and are still grappling with the long-term financial and emotional distress caused by the 35-day shutdown.
"If I got my back pay, I could have at least gotten out of that hole," Murray-Wright tells Money. "I can't move forward until I get out of that hole. I'm just fighting — and I'm going to keep fighting."
Murray-Wright is one of the estimated 800,000 of federal contractors who were never guaranteed back pay after going weeks without a paycheck. Nearly four months after the shutdown came to an end, impacted contractors around the country have returned to work but never received compensation like federal colleagues employees. Many of them are still climbing out of debt, workers and union leaders tell Money, and some are recovering after rationing their medicine or finding new transportation options after giving up their cars.
"It's just one of the most horrific things you can go through as a worker," says Jaime Contreras, the vice president of the Washington, D.C. area's 32BJ SEIU chapter, a union that represents around 2,000 of these contractors in the District who were impacted by the shutdown. "The money the government is saving is on the backs of these workers."
Since federal contractors do not receive their paychecks from the government itself, these workers historically have gone without pay following shutdowns unless their employers find the funds to do so themselves. Some employers were able to provide financial relief, like a $2,500 stipend or donated vacation days. But many of the most vulnerable workers, like those who sweep the floors of federal agencies or protect visitors at Smithsonian museums, never received any form of compensation. This most recent funding lapse — historically long and all the more harmful as a result — has brought the burden of these debts into a new light and displayed how many Americans live on the brink of financial collapse.
"The shutdown revealed just how many families are living on the margin," Massachusetts Rep. Ayanna Pressley tells Money.
"That cycle [of income inequality] and these inequities only become further entrenched, and that cycle is only perpetuated when we don't take action."
Pressley and other Congressional colleagues like Minnesota Sen. Tina Smith and District of Columbia Rep. Eleanor Holmes Norton introduced bills that would have granted back pay for federal contractors and set a precedent to do so following shutdowns in the future. In January, more than 30 senators sent a letter to the Office of Management and Budget imploring them to provide back pay for contractors. (The Office did not respond to a request for comment.)
Last week, members of Congress held a hearing where federal contractors described their difficulties finding financial footing in the months following the shutdown. In those hearings, business leaders who employ some of these contractors detailed how their workers were forced to take paid leave during the shutdown and are still in need of financial assistance.
De'Von Russell, a 31-year-old security guard at the Smithsonian's Natural History Museum, missed between $2,200 and $3,000 in his paychecks — depending on whether he would have worked overtime — as a result of the shutdown and says he's only now caught up on his bills. Still, Russell says he's "in the depression as far as my finances go." The unemployment checks he received during the shutdown barely helped soften the blow, and his savings account is depleted. He's now prioritizing his car payments over credit card bills and rent checks over paying back loans.
"This whole process and situation is stressful and has taken a toll on me," says Russell, who has found solace in devoting his energy to his three-year-old daughter.
Lila Johnson, a 72-year-old janitor at the Department of Agriculture whose story was cited in a Senate bill advocating for back pay for these employees, is still playing catch-up, too. She took out a cash loan last month to help make ends meet, and is still hesitant to treat her grandsons to a trip to the movies or new clothes. "They understand what grandma is going through," Johnson says. "Thank God I made it."
Pressley and other members of Congress haven't given up on this issue. A group of 48 members of Congress sent a letter in March to the House Appropriations Committee to push for the inclusion of back pay in the next appropriations package, which will likely be considered in the coming weeks.
"It's a matter of justice and fairness and reciprocity. There's nothing charitable or benevolent about this," Pressley says. "This is what these workers are owed for what it is they do every day, in the very institutions in which we govern."
For many of these contractors, the shutdown won't be over until they're debt-free. Back in January, Murray-Wright, the National Portrait Gallery cleaning supervisor, tried applying for other jobs but had no luck. She started receiving unemployment checks but "that couldn't pay my mortgage," she says. Murray-Wright's brothers and sisters, as well as other extended family members, helped cover her expenses, filling up her family's fridge and paying for her sons' sports trips. She still owes them around $5,000 in total, she says, and it weighs heavy on her.
"As long I have that hole," Murray-Wright says, "I'm not going to have nothing."