The Latest Shutdown Deal Includes Exactly Nothing for the One Million Federal Contractors Who Never Received Back Pay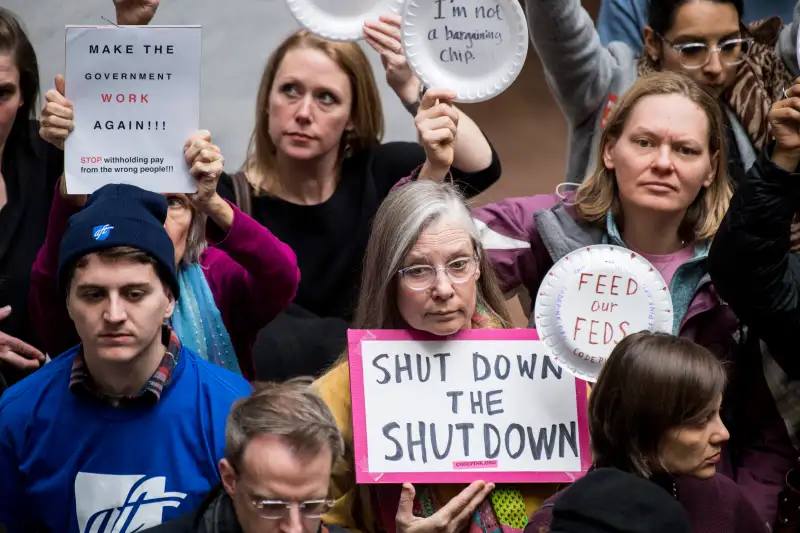 Bill Clark—CQ-Roll Call,Inc.
The wide-ranging spending package lawmakers will vote on to avert another funding lapse does not provide back pay for an estimated 1 million federal contractors who missed multiple paychecks during the longest government shutdown in U.S. history.
Lawmakers debated the inclusion of this funding this week as they neared their Feb. 15 deadline and are expected to vote on the budget deal Thursday. Despite receiving bipartisan support, providing back pay for federal contractors was met with opposition from President Donald Trump, Sen. Roy Blunt told reporters Wednesday. Last month, Congress and the president guaranteed back pay for the 800,000 federal workers who were impacted by the partial government shutdown.
Historically, federal contractors who missed paychecks due to a government shutdown have not received back pay since they are paid by third-party agencies and not directly from the government. The unprecedented nature of the 35-day shutdown, however, spurred action from lawmakers in the Senate and the House, where separate bills were introduced to provide these workers with retroactive pay.
Last week, a bipartisan group of lawmakers urged the Committee on Appropriations to include back pay in the spending bill. "The hardworking federal contract workers who work day in and day out to serve the American people should not be forced to bear the brunt of a shutdown," the letter read. Unions that represent federal contractors and federal workers rallied behind the initiative as well, holding protests during and after the shutdown and demanding lawmakers provide these workers with compensation.
Good Jobs Nation, a labor group, estimated that more than 1 million federal contractors went without paychecks during the partial government shutdown. These federal contractors consist of a wide array of workers, from janitors sweeping the floors of the State Department, security guards working across in Smithsonian museums, and analysts with the U.S. Customs and Border Protection agency, among many other positions. Contractors who spoke with Money in recent weeks described how they fell behind on mortgage payments, car payments, electricity bills, and childcare expenses. Some say the shutdown put their health at risk due to their inability to pay for their diabetes medicine, healthcare premiums, and other costs.
"It seems they are left out in the cold, with no back pay," Sen. Tina Smith, who led efforts in the Senate to provide back pay for contractors, said in a statement. "My legislation to right this wrong, which had bipartisan support, should have been included in the final budget deal, but I'm not done fighting to make this right, and I'll keep working to get it done."
The 1,159-page bill does, however, include $1.375 billion in funding for border fencing — a fraction of the $5.7 billion in funding Trump initially desired and what sent the government into its longest shutdown ever in the first place.
For now, some federal contractors say they are struggling to get back on their feet without the back pay to help them recover financially. In the weeks since they've returned to work, some contractors say they feel forgotten and left behind.
"When they look at you and don't want to give you back pay, that's terrible," Tamela Worthen, a Smithsonian security guard who has struggled to pay for her diabetes medication and mortgage without the paychecks she missed due to the government shutdown, told Money this week. "That's like saying we ain't nobody."