People in New York Are Charging $1,000 for Christmas Trees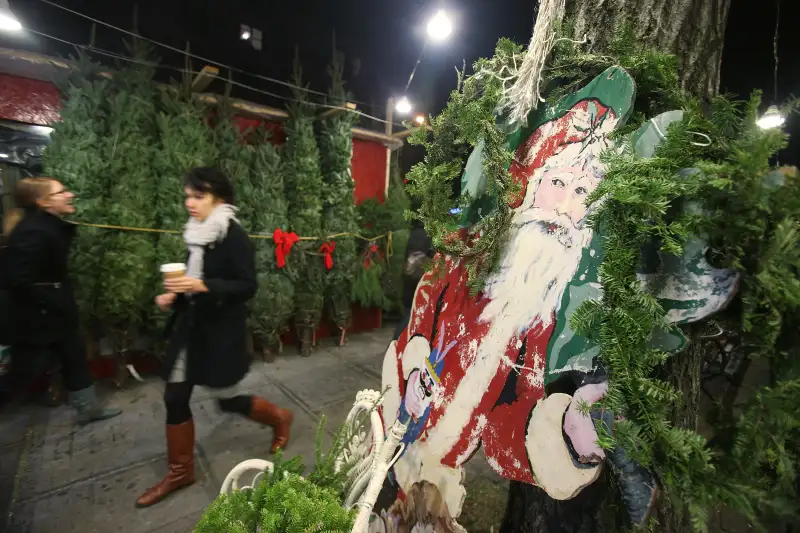 The cost of Christmas trees is up this year around the country, mostly due to tree shortages caused by drought. But the unusually dry climate in 2016 doesn't come close to explaining how expensive some Christmas trees are in New York City.
Christmas trees are always priced at a premium in New York—Manhattan especially—because they generally have to be transported from quite a distance away, and because sellers have to pay big money to rent tree stand space in parks and on sidewalks. Last year, one vendor wound up paying $56,000 for the right to sell Christmas trees for the season in SoHo, an increase of nearly 20% over 2014.
During the 2016 holiday season, the New York Post reports, one seller in Greenwich Village is asking $77 per foot for the tallest, nicest breeds of trees. "This 13-foot tree — a beautiful fir — is $750, and with delivery, installation with a stand and tip would be $1,000," the saleswoman told the Post. According to the National Retail Federation, mind you, the average consumer plans on spending a total of $935.58 for the entire holiday shopping season.
Theoretically, Christmas trees prices could go well over $1,000: A top notch 15-footer might run $1,200 at the same tree stand, with delivery and setup included. So far, however, the priciest tree sold at the spot was "only" $500, for a Nordmann fir that standing 13 feet high.
Bear in mind that it's not necessary to pay anywhere near these prices, even in New York City. AM New York reported last year that tons of sellers offer 2- to 4-foot-high "tabletop" trees for around $25, and it's relatively easy to find 5- to 7-foot-high trees for under $100 throughout the city.
Prices may be slightly higher this year due to the drought and other factors, and delivery and setup will cost extra. But, so long as you're OK not having some fancy breed of tree and you're willing to shop around a little, there's no reason to pay hundreds of dollars for a Christmas tree.
The other option, of course, is to buy an artificial tree, like this $67 7-footer from Target, which comes with free shipping. You have to handle the setup yourself, though.