Here's Where Coffee Costs the Most (and Least) in the U.S.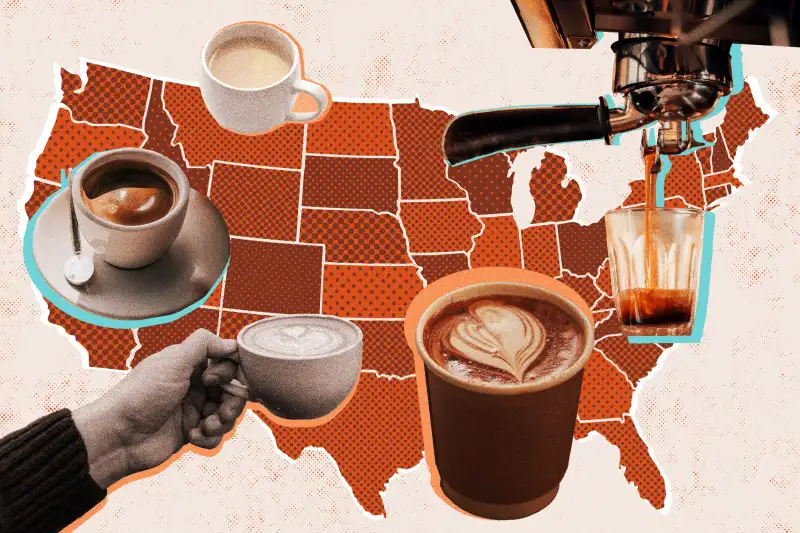 Eddie Lee / Money; Getty Images
Coffee consumption is on the rise, according to a recent survey from the National Coffee Association that found U.S. coffee drinkers increased their intake by 14% since January 2021. But not all cities are made equal when it comes to buying a cuppa joe.
While coffee prices have fluctuated in response to inflation (along with every other item in the grocery store), having a cup in certain cities can cost consumers big time. The real estate site Clever analyzed the average prices of a cappuccino in 50 U.S. cities, breaking down the least and most expensive places to grab your morning mud.
What the data says
Virginia Beach, Virginia, has the most expensive cappuccino in the U.S., according to Clever's analysis, while people in Riverside, California, are spending the least on average on their visits to the cafe.
Most expensive cappuccino
Virginia Beach, Virginia: $5.75 per cup
Las Vegas, Nevada: $5.40 per cup
Minneapolis, Minnesota: $5.37 per cup
New York, New York: $5.31 per cup
San Francisco, California: $5.21 per cup
Least expensive cappuccino
Riverside, California: $3.88 per cup
Cincinnati, Ohio: $3.95 per cup
Pittsburgh, Pennsylvania: $4.12 per cup
Buffalo, New York: $4.12 per cup
Milwaukee, Wisconsin: $4.14 per cup
The takeaway
Like almost every consumer good, coffee has increased in price lately (by about 14.3% between December 2021 and December 2022, according to Bureau of Labor and Statistics data). While those numbers only apply to coffee purchased in the store and not pre-made coffee, the rising cost of beans means consumers felt the impact at the cafe, as well.
An agricultural report from financial services company Rabobank predicts coffee prices will dip early this year, but not enough to overcome the historic highs consumer goods have reached amid inflation. However, the report also expects a better crop of coffee beans — weather permitting — in 2023, potentially providing higher quality coffee supply at lower prices.
More from Money:
How to Make Coffee Without a Coffee Maker
Here's What Investing Experts Are Watching in 2023, From Inflation to China's Economic Reopening
Amazon, Uber and Other Companies Are Dropping Fuel Surcharges After Gas Prices Plunge