How To Connect a Phone to a Smart TV in 4 Steps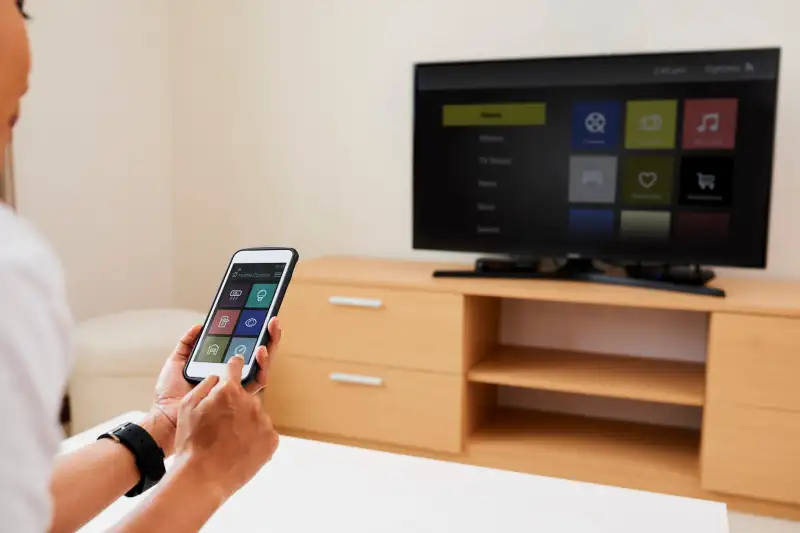 Do you want to watch your favorite content on the big screen? With modern technology, you can now do this with ease. You can connect your phone to your smart TV with just a few simple steps and start streaming.
This article shows you how to do this in four steps. First, we'll cover what type of connection you need, the cables to use and how to get your phone and TV talking to each other. You'll be watching all your favorite shows on the big screen by the end of the day.
Overview of what's needed
Before we get started, a few items will make connecting your phone to your smart TV much easier. First, you need a compatible TV (ideally a smart tv with casting built-in) and a compatible phone. Secondly, you'll also need any necessary cables and adapters. Depending on the type of connection you're going for, this could be an HDMI or USB cable.
Step 1: Enable screen mirroring
The next step is activating screen mirroring on your phone and TV. Again, this process will vary on your phone, depending on your device. For example, if you're using an Android device, you must go into Settings > Display > Cast menu and enable it from there. On iOS devices, this can usually be found under Control Center > Airplay (or Screen Mirroring).
With your phone enabled for screen mirroring, it's time to turn on your smart TV's feature. Again, the procedure will vary depending on the model and brand of TV you own. Still, you can typically find this under the Settings menu or in the Video Options section.
Step 2: Connect devices
Once screen mirroring is enabled on both devices, it's time to connect them using a wireless or cable network. To go wireless, turn on Wi-Fi on both devices and ensure that they are connected to the same network (this could be your home Wi-Fi router). Once confirmed, both devices should be automatically connected.
If you'd rather use a cable connection for better-quality streaming, then you'll need an HDMI or USB cable. Many choose HDMI cables for HD streaming; however, some TVs may not have enough ports for an HDMI connection, so USB cables can also be used. In this case, most phones usually come with suitable USB cables. It's important to note that USB cables may require an adapter to work with some smart TV models.
Step 3: Select TV from the device
Once connected via wireless or cable, it's time to locate your TV from your device's list of compatible screens. Next, an icon representing your TV should appear, which you can click to begin connecting them (you may have to initiate pairing first on the TV before it appears).
Step 4: Enjoy!
Once the connection is established, it's time to start watching! Anything displayed on your phone should now appear on your TV, whether pictures, movies, or even online streaming services like Netflix or Hulu.
Conclusion
Watching content from your phone on your smart TV is a great way to enjoy your favorite shows and movies on the big screen. Thanks to the advances in modern technology, connecting your phone to your TV couldn't be easier. You can now stream your content in no time by simply following these four steps. Just remember to make sure that you have all the necessary cables or adapters, activate screen mirroring, and connect both devices using wireless or cable connections. With the right instructions, you'll enjoy your favorite shows and movies in no time. So, what are you waiting for? Get your phone and TV connected, and start streaming!