Coronavirus and Grocery Stores: Every Major Chain's Store Hours Right Now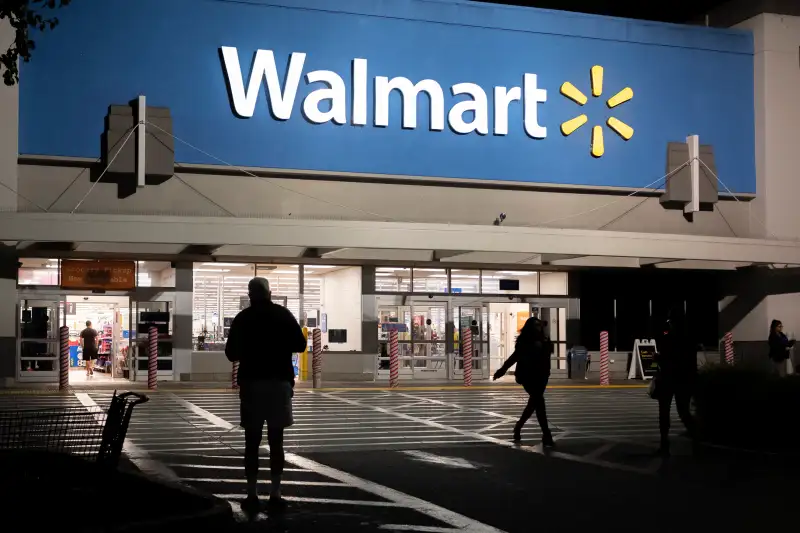 NurPhoto—NurPhoto via Getty Images
The coronavirus pandemic is affecting nearly every aspect of American life — including where and when people can shop for groceries and other essentials.
From coast to coast, major supermarket chains have reduced store hours amid the coronavirus outbreak. Even Walmart, which under normal circumstances is famous for keeping many of its stores open 24/7 every day of the year except Christmas, is cutting business hours and closing locations no later than 8:30 p.m. daily.
Other supermarkets, like Trader Joe's, Stop & Shop, Publix, and Wegmans, are also cutting store hours, even though demand among shoppers has actually increased — and online grocery shopping has proved difficult as a sharp rise in customers try to order for delivery. Grocery stores say they are being forced to scale back hours in order to allow more time for employees to clean stores and refill shelves, which are being emptied daily by worried shoppers eager to stock up.
In select parts of the country, nonessential stores began reopening in May. In many cases, grocery stores and other retailers are requiring that employees (and sometimes customers) wear masks.
Here are more specifics for store hour changes due to the coronavirus:
Walmart Store Hours
While many Walmarts are normally open 24 hours a day, seven days a week, store hours are being reduced in order for employees to clean stores and restock shelves that have been depleted by shoppers during the coronavirus outbreak. First, the company announced on Sunday that Walmart stores and Neighborhood Markets will currently be open for a maximum of 6 a.m. to 11 p.m., until further notice. Then on Wednesday, March 18, Walmart said that most store hours would be reduced further, to 7 a.m. to 8:30 p.m. daily.
As of August 17, Walmart said that most of its stores would have closing times of 10 p.m. Also, every Tuesday, Walmart stores will open one hour earlier than normal just for customers ages 60 and older.
Target and Costco
For weeks, Costco has had special store hours, with all warehouse locations closing at 6:30 p.m. Monday through Friday. More recently, most Costco stores have gone back to regular hours. Store hours vary by location, they many Costco stores are now open from 10 a.m. to 8:30 p.m. Monday to Friday, 9:30 a.m. to 6 p.m. on Saturday, and 10 a.m. to 6 p.m. on Sunday.
Target announced early on in the pandemic that it was reducing store hours. But hours have since gone back to normal in most locations. Also, Target stores will be open the first hour of every Tuesday and Wednesday strictly for "vulnerable guests, including the elderly and those with underlying health concerns."
Of course, just because a store is opened, it does not mean that it will have everything you want in stock. Shoppers have been reporting that Target and Costco stores are frequently sold out of hand sanitizer, and toilet paper has sold out at some locations. Several kinds of coronavirus panic purchases — including hand sanitizer, toilet paper, and face masks — are listed as out of stock online at Costco and Target and not available for shipping.
In addition to pandemic-related store changes, as of May 31, Target announced that it was temporarily closing stores in select large cities because of protests over the killing of George Floyd and others. Many Target stores have reduced hours temporarily as well.
Grocery Stores and the Coronavirus
Several major grocery store chains have reduced hours at stores, as a way to address health concerns and restocking issues related to the coronavirus. Among the supermarkets that have changed store hours stores at least in select locations are:
Every Tuesday and Thursday, Albertsons stores will be open from 7 a.m. to 9 a.m. strictly for "vulnerable shoppers," including "senior citizens and other at-risk populations, such as pregnant women or those with compromised immune systems, who have been advised to avoid leaving home as much as possible." Alberstons' grocery store brands include Vons, Shaws, Safeway, Acme, and Albertsons. Check your local store for hours, which have been adjusted.
Discount grocer Aldi says that "some stores will be temporarily closed or have limited hours," though it "cannot provide specific location information" for the time being. Aldi also says that on every Tuesday and Thursday, stores will open at 8:30 a.m. for one hour strictly for vulnerable shoppers, including older customers, pregnant women, and those with health risks.
All Giant Eagle and Market District supermarkets will be open from 7 a.m. to 10 p.m. daily, seven days a week, as of March 15.
As of March 15, all H-E-B grocery stores will be open from 8 a.m. to 8 p.m.
Kroger, which operates its flagship brand in addition to grocery stores like Ralphs, Harris Teeter, and City Market, has reduced store hours in many locations. Use the company's store locator to check on business hours at your nearby supermarket.
As of May 15, Meijer stores open at 6 a.m. daily. Seniors and customers with chronic health conditions will have exclusive access to stores every Tuesday and Thursday, from 6 a.m. to 8 a.m., while 6 a.m. to 8 a.m. on Monday and Wednesday will be reserved for shopping by essential workers and Meijer employees.
For weeks, all Publix stores have been closing at 8 p.m. daily. Starting on Saturday, May 16, Publix hours are 7 a.m. to 9 p.m. daily, with normal hours for pharmacies. There will also no longer be any specific hours reserved for older shoppers and customers with special needs and health risks.
Stop & Shop says that as of Monday, March 16, business hours at most stores will be 7:30 a.m. to 8 p.m. Pickup services at stores are temporarily suspended as well, due to product shortages. Also, starting on Thursday, March 19, Stop & Shop is launching special hours for older shoppers: From 6 a.m. to 7:30 a.m. daily, stores will be open only for people ages 60 and up.
As of May 11, most Trader Joe's stores are open until 8 p.m. daily, and in New York City they're open until 9 p.m. Also, every day, the first hour stores are open is reserved for "senior customers over the age of 60 and customers with disabilities who may need additional assistance while shopping."
Store hours and services may be changed, depending the location. All Wegmans supermarkets in Maryland are now open from 6 a.m. to 10 p.m., for example, while stores in New England, New Jersey, North Carolina, Virginia, and nearly all of Pennsylvania are open from 6 a.m. to 11 p.m.
Amazon-owned Whole Foods has adjusted store hours, and most locations open at 8 a.m. daily. Starting on Wednesday, March 18, stores are open one hour early only for customers ages 60 and older. Whole Foods is also requesting that customers wear face masks, and stores are giving out free masks.
Retail Store Closures
Most nonessential stores in the U.S. were closed for weeks. But malls and stores have been reopening in select states, starting in early May.