What It Really Costs to Attend Coachella 2017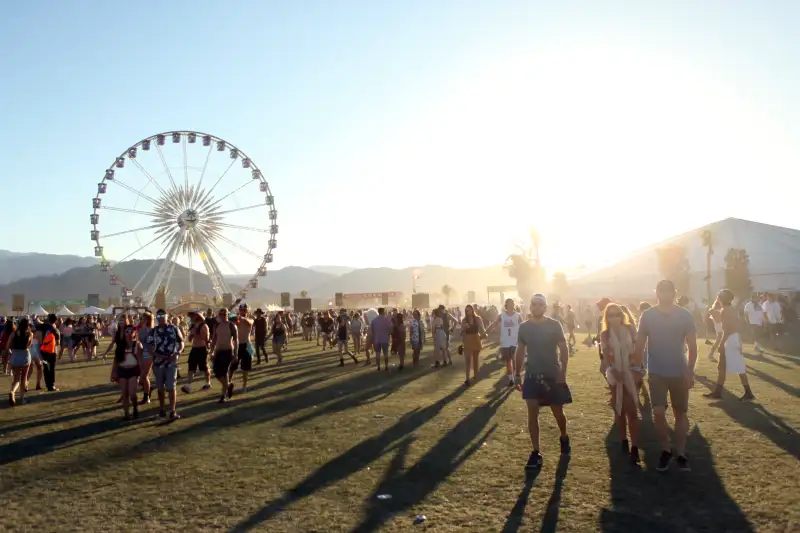 Matt Winkelmeyer—Getty Images
See what it costs to attend Coachella in 2018 here.
Although Beyoncé will not be gracing the stage at this year's Coachella Valley Music and Arts Festival, prices for the event haven't dropped much. Expect to spend big if you attend—even if you're planning to be a total penny pincher.
The annual music festival, which takes place east of Los Angeles, near Palm Springs—spans two weekends, April 14-16 and 21-23. Almost 100,000 people descend on Coachella and the surrounding area for each day of the festival, with tickets to access the fun ranging from $400 for general admission to $900 for VIP passes.
But entry fees are only half the battle. You'll spend quite a bit on lodging, transportation, food and alcohol as well. In fact, hotel prices for Coachella weekends are 140% higher than normal, according to hotel booking website Trivago. Even compared to last year, hotel costs for properties within 10-miles of the festival are up by $120. A mid-range hotel in Indio will set you back about $416 a night, on average, Trivago reports.
Whether you're looking to splurge on a trip of a lifetime or simply hang out for the weekend on a shoestring budget, Money scouted the options and priced out what it really costs to attend Coachella 2017.
Luis Sinco—LA Times via Getty Images
For the Total Cheapskate…
$399: General admission tickets (If you haven't purchased yet, passes are selling on Stubhub for around $500)
$50 for gas roundtrip (Your motto: if you can't drive there, forget it)
$113: Coachella car camping pass
$50: Food and water (Embrace the bring-your-own policy with an empty, non-metal water bottle and stock up on snacks at the local Walmart)
$15: Alcohol (Stick with a 24-pack of Bud Light at your campsite)
Total: $627
_____________________________________________
For the Out-of-Towner…
$280: Plane ticket to LAX (this is an average price - if you're coming from Maine, be prepared to drop some cash)
$474: General admission + Any Line, Anytime Shuttle pass
$70: Shuttle from LAX to Coachella (don't be fooled, you'll still be walking quite a bit)
$590: Mid-range hotel for two nights (try for some of the hotels in Palm Desert along the shuttle line)
$100: Food and water (Trust us, you'll want what these vendors are selling: Afters ice cream and BeerBelly's fries)
$75 for alcohol (plan for a mix of BOYB and a few beers from the Heineken House)
Total: $1,589
__________________________________________________________
Frazer Harrison—Getty Images for Coachella
For the YOLO Attendee…
$7,500: Safari Tent Experience (includes your VIP Coachella passes - and sleeping in a pimped-out tent)
$330: Roundtrip average airfare to Palm Springs International Airport (slightly more expensive than LAX, but a far shorter ride to the fun)
$100: Uber Black from PSP airport to Coachella Campgrounds (because you don't take a cramped, packed shuttle)
$225: 4-course dinner at Hacienda Del Toro +VIP Rose Garden access (so you can rub elbows with celebs, or at least sneak an awkward selfie)
$150: Food and water (Plan for meals at pop-ups like Playa Provisions)
$150: Alcohol (It's $12-$15 for those craft beers and artisan cocktails)
Total: $8,455
______________________________________________________
How Money Calculated the Costs
Coachella has a variety of resources, including several planning guides Money utilized to price out accommodations, including the car camping and Safari Tent experiences. Mid-range hotel prices were estimated using data provided by Airdna, a company that tracks Airbnb and comparable hotel pricing.
Airfare to Los Angeles International Airport was provided by flight booking app Hopper. The cost was based on an average price of flights to LAX booked from other U.S. cities. Most flight searches occur eight days before the start of Coachella, despite the fact that the optimal time to book is 40 days in advance, Hopper reports.
The cost of gas was calculated using the national averages for price and car fuel efficiency for the average road trip of 261 miles, according to the Bureau of Transportation Statistics. Uber's app was used to estimate the cost of using an Uber black car to get from LAX to Coachella.
Money based food and alcohol costs on restaurants' posted prices, both from the 2016 Coachella, as well as prices in their normal location. Additionally, the U.S. Department of Agriculture's February 2017 food plan guide was used to calculate BOYB food costs.