What It Really Costs to Attend Coachella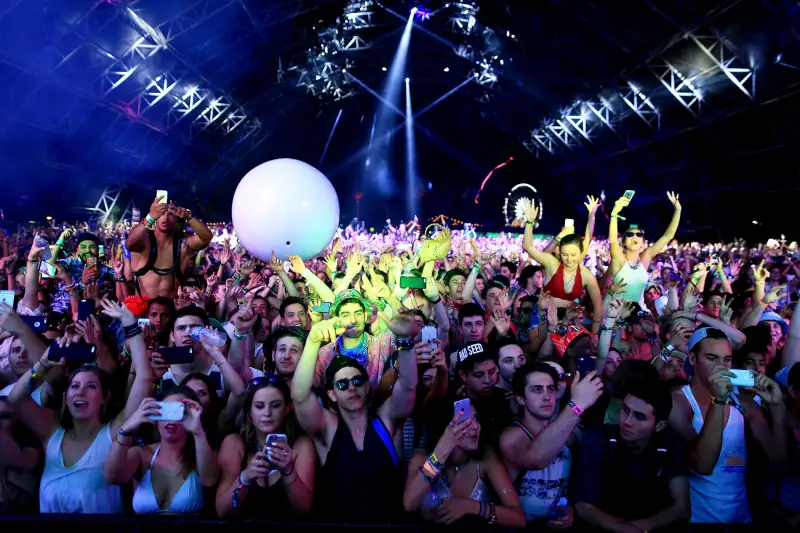 Christopher Polk—Getty Images
See what it costs to attend Coachella in 2018 here.
The unofficial kickoff of the 2016 summer concert season started this past weekend with the Coachella Valley Music and Arts Festival, which takes place in the Colorado Dessert east of Los Angeles, near Joshua Tree National Park. Attendees this year should be prepared to spend hundreds, if not thousands, to attend the much-loved music event.
According to Nielsen Music, live music events are more popular than ever. In fact, more than half of all consumer spending on music last year involved some type of live event, with music festivals taking 10% of the overall spending. Over 32 million Americans attended at least one U.S.-based music festival last year. Almost half of those attendees, 14.7 million, were Millennials. Last year, 198,000 tickets were sold for Coachella alone.
This year, Coachella attendees will spend at least $399 for basic admission for each weekend of the festival. The event spans two weekends, April 15-17 and April 22-24. Tickets to the festival have steadily climbed over the 17-year history of the event. A decade ago, a two-day pass cost just $165 per person for a general admission. Keep in mind that VIP passes this year started at $899 for each weekend.
But scoring tickets to the festival is only the beginning. Essentials like travel to the festival, lodging, and dining during the weekend usually command the larger part of a festival-goer's budget. Colin Heinrich, founder of travel blog Elsewhere Man, estimates an extremely cheap trip to Coachella can cost upwards of $593 on top of the price of any flights or train travel. A "splurge" budget could set attendees back as much as $2,595, according to Heinrich.
"By the time you get into the show, you're broke," says Ross Gerber, CEO of LA-based financial firm Gerber Kawasaki and a long-time festival attendee.
---
Adding Up Coachella's Costs
Cheapskate
+$399 for weekend general admission
+$380 for average plane ticket
+$50 for airport shuttle
+$99 for camping pass
+$40 for food at festival (PB&J anyone?)
+$38 for drinks and supplies (no $12 festival beers for you)
__________
Total
$1,006
–––––
Splurger
+$899 for weekend VIP pass
+$380 for average plane ticket
+$3,300 for a weekend at a one-bedroom casita through Airbnb
+$225 for four-course dinner one night located in Coachella Rose Garden
+$368 for additional food, beer, etc. in and out of the festival
__________
Total
$5,332
---
Travel
Once you've secured tickets, the next step is travel. For most attendees, this will include some combination of plane, train, bus, or car travel to the festival grounds located in Indio, Calif. On average, people travel 903 miles to get to a U.S. festival, according to Nielsen.
In the case of Coachella, the nearest major commercial airport in Palm Springs is still 25 miles from the festival. Not exactly walking distance. Those looking to use a taxi from the airport or a Palm Springs hotel are likely to pay around $85. An Uber trip from Palm Springs to Indio last year cost around $50, but the app's surge pricing drove prices as high as $100 for the same trip during the peak hours of the 2015 event, according to the Desert Sun newspaper.
For those checking into an area hotel, you can purchase the "Any Line, Anytime Shuttle Pass" for $60 per weekend. The shuttle will pick up and drop off festival goers at almost a dozen different area stops.
---
Lodging
Camping is the most budget-friendly option, but if you haven't already purchased passes, you may have to spend more on resale sites like Craigslist. A tent camping spot pass for the weekend sells for about $100.
If camping isn't your style, be prepared to pay up. During the 2015 festival, hotel room rates rose 70% according to the LA Times. A room at a one-star hotel cost an average of $343 a night, and that was one of the best deals around, the paper reported. Airbnb wasn't much better. Last-minute bookers can find single rooms in the area for $425 a night.
"The biggest cost is lodging—it costs a fortune now," Gerber says. "Everyone is gouging every Coachella goer."
---
Dining
If you're avoiding the $225 dinner in the Coachella Rose Garden, there are plenty of other dining options in the form of three full-service pop-up restaurants available this year. Each of the restaurants are taking reservations through OpenTable; entrees range from $10 to $30.
For those looking to spend a moderate amount on food, Heinrich recommends budgeting about $80 for the weekend, as well as $80 on alcohol if you decide to partake in the beer gardens.
"Once you get into the show, what we do (and most people do) is try to smuggle in drinks and food because it saves you a lot of money," Gerber says. "If you're not drinking the $12 beers, you're probably not spending that much."
---
Extras
"Going to Coachella is a little bit about survival of the fittest, so a lot money is spent on survival things like food, alcohol, and clothing," Gerber says. He recommends bringing a backpack to hold a water bottle (you can fill up at several stations throughout the festival grounds), sunscreen, and a change of clothes. It's the desert, so it's important to keep cool during the day and then bring a sweatshirt, sweater, or jeans for colder evening shows.
During the festival in recent years, there have been dust storms and wind storms, so merchandise sales have spiked. Those looking to avoid these last-minute costs should bring a bandana or scarf to cover your face.
"By the time you get into the show, you just run, you're so happy. You're thinking: I made it, I'm in—I got through the gauntlet of security, and parking and traffic," Gerber says.