What It Really Costs to Attend the Kentucky Derby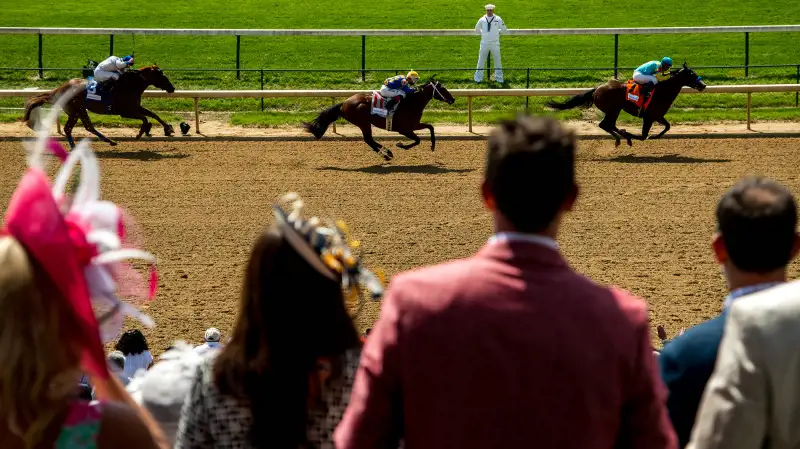 Scott Serio—Eclipse Sportswire/Getty Images
It's been called the most exciting two minutes of sports. But what can you expect to pay to attend the Kentucky Derby and sip a traditional mint julep from the sidelines?
The Derby, as it's called, takes place every year on the first Saturday in May and is the kickoff of the Triple Crown horse racing championship. Thousands gather to watch the nation's best thoroughbreds zip around the two-mile track at Churchill Downs. And they spend a lot for that privilege. The average cost of even a budget hotel in Louisville for May 5 weekend is $361 a night—roughly 160% above the average, according to travel booking site Hipmunk.
Here, Money breaks down what you can expect to spend for a day (or, perhaps, a weekend) at the races. And don't forget to bring your cash if you're feeling lucky. Under Kentucky laws, you can't put any bets on your credit card.
For the Budget-Minded
$75 for general admission tickets: No assigned seat, but you'll get access to the paddock area to see the horses saddled before the race.
$50 for gas: You could road trip to get there, rather than flying.
$107 for two nights at the Econo Lodge in Lexington: You'll save your pennies by staying in this city, about 80 miles away.
$75 for "Rally Bus" from Lexington to Churchill Downs: Saves on a parking pass and allows you to generously sample that Kentucky bourbon.
$70 for food and drinks: Stop by the grocery store to grab a boxed lunch—but since you can't bring in alcohol, skip the lines by ordering via the Churchill Downs app.
Total: $377
For the Weekender
$648 for average ticket on Stubhub for Section 111 of Clubhouse seating: This includes both the Kentucky Derby and the Oaks race, held the day before.
$478 for roundtrip airfare to Louisville
$1,083 for three nights at a mid-range Louisville hotel
$150 for a rental car for the weekend: You'll want to get around town before and after the races.
$40 for offsite parking: Walk to the racetrack from there.
$113 for snack at the track and dinners after the races at restaurants like the Brown Hotel later for the original "Hot Brown" sandwich.
$22 for drinks: Because you can't resist at least a couple of mint juleps, at $11 a pop.
Total: $2,534
For the Big Spender
$6,780 for a ticket (via Vivid Seats) to the super swanky Millionaire's Row seating section
$478 for roundtrip airfare to Louisville.
$2,997 for three-night stay at Galt House: It's both historic and luxurious.
$80 for Uber Select rides to Churchill Downs: Uber has designated drop-off points this year.
$213 for the Bowties & Bourbon Derby Day Party: Make sure to pack your hat.
$1,000 for a limited edition Mint Julep: It's made with Woodford Reserve bourbon and served in a commemorative cup.
$150 for dinners after the race at Louisville's top restaurants like Holy Grale
Total: $11,698
---
How Money Calculated the Costs
The organizers of the Kentucky Derby have a variety of resources, including several planning guides that Money used to price out ticket packages and dining experiences. Resale prices for Kentucky Derby tickets were pulled from Stubhub and Vivid Seats, while costs of the mid-range VIP ticket packages were retrieved from Derby Experiences.
Hotel prices for Louisville—as well as car rental rates—were provided by Hipmunk. Airfare to Louisville International Airport was provided by flight booking app Hopper. The cost was based on an average price of flights booked from other U.S. cities.
The cost of gas for a road trip was calculated using the national averages for price and car fuel efficiency for the average road trip of 261 miles, according to the Bureau of Transportation Statistics.