You Can Buy a $2,500 Mint Julep Served in a Gold Cup at This Weekend's Kentucky Derby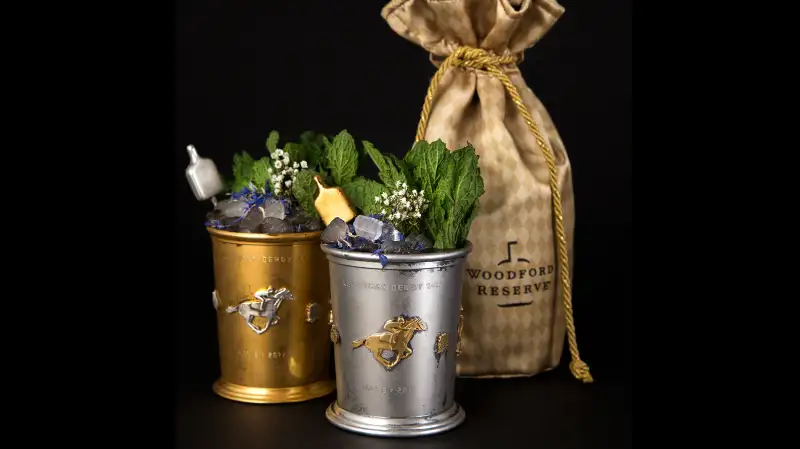 courtesy of Woodford Reserve
If you balk at paying $15 for a cocktail, then the specialty mint juleps available at the Kentucky Derby will blow your mind.
For 12 years running, Kentucky bourbon manufacturer Woodford Reserve has sponsored a program that sells luxury mint juleps at the Kentucky Derby. And they're far more expensive than the cocktails you can purchase at the track for over $10 a pop.
Starting at $1,000, you can purchase a "Noble Cup" mint julep. This handcrafted cocktail is served in a commemorative metal cup—hand-crafted by Louisville-based jeweler, From the Vault—featuring a gold-plated horse design based on Eadweard Muybridge's famous "horse in motion" filmstrip. (In case the cocktail ends up muddling your memory, the cup includes the Derby date, which this year is May 6, 2017.) Each cocktail is also served with a gold-plated Woodford Reserve sipping straw.
The distillery is selling 90 of these mint juleps during the Derby this year.
But wait—that's not even the most expensive mint julep available. Fifteen people will be able to purchase one of Woodford's "Royal Cups," which go for a whopping $2,500 apiece. These mint juleps are served in a gold-plated cup of the same design and include a silver Woodford Reserve sipping straw.
Both the $1,000 and $2,500 mint juleps are presented in a silk "purse," a play off the winnings purse given to victorious thoroughbred owners. While the cups are still available, you can purchase one online through May 5, and then pick it up in the special Woodford Reserve tent and branded bar at Churchill Downs on the day of the Derby.
Once inside the swanky bar, you'll have your photo taken to commemorate your lavish purchase. This year, the bar will also have historical artifacts on display from the Kentucky Derby Museum—the charity designated to receive the proceeds from Woodford's specialty julep sales this year.
The charitable payoff may make the purchase slightly more palatable. (Since launching the program for the 2005 Derby, Woodford has raised over $450,000 for charities focused on "equine and humanitarian causes.") Just be aware that, according to the distillery's website, the purchase of Woodford's specialty mint julep is not a tax-deductible contribution.
Also, don't expect a bottomless cup for your money. Whiskey expert Chris Morris tells Fortune there are only around 22 sips in each cup.
If spending thousands on a cocktail isn't your style, you can enjoy this Derby staple for far less—albeit without the precious-metal vessel. The recipe on Woodford Reserve's website calls for about 1.5 oz Woodford Reserve Kentucky Straight Bourbon, along with Pimm's liqueur, Elderflower cordial, mint-infused simple syrup, Earl Grey bitters, and a handful of fresh mint.