Here's How Much Money I Saved Not Owning an iPhone for 10 Years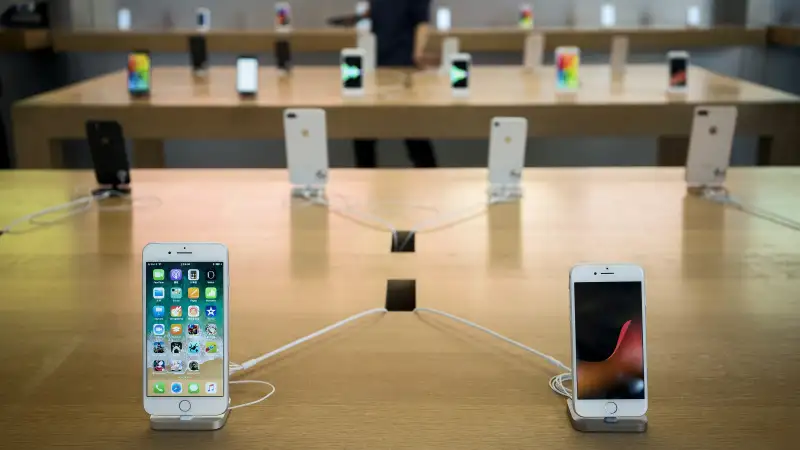 Giulia Marchi—Bloomberg via Getty Images
The special tenth anniversary iPhone X from Apple, which features a sleek edge-to-edge screen and facial recognition technology, goes on sale this fall at a price of $999.
That's just for the 64GB model. A fully-loaded iPhone X with 256GB of storage will retail for a whopping $1,149.
I won't be buying either. In fact, the base cost of the new iPhone X is more than my wife and I have ever paid for a full year of cellphone usage—wireless plans included.
For the last decade, we've gotten by with basic phones and cheap prepaid plans from the likes of Virgin Mobile, Cricket, and AT&T's GoPhone. Even when we upgraded devices, we've never spent more than $1,000 total in any 12-month period since the iPhone was born.
So the iPhone's tenth anniversary got me wondering: How much extra money does my family have in the bank now because we weren't early adopters and haven't been iPhone loyalists for the past 10 years?
The short answer, as surprising as it may seem, is around $20,000—and perhaps well over $30,000.
Before getting into the math, let me acknowledge that we've probably missed out on quite a bit by being mostly iPhone-less. We've all seen the commercials (shot with iPhones, of course) that show how rich and amazing life can be thanks to Apple technology. There are countless videos and photos that we do not have because we didn't have iPhones handy at every turn in our lives. An iPhone would have been helpful periodically for directions (I used physical maps for quite some time, and still like them), and Siri could have provided some useful assistance here and there.
What's more, the original iPhone, which debuted in the summer of 2017, was priced at $499 for a 4GB handset, and $599 for the 5GB model. In light of the technological advancements made since then, it's undeniable that iPhone users today get much more for their money.
Still, iPhone costs (then and now) seem outrageous to people like me.
When the first iPhone went on sale in 2007, I didn't even have a cellphone. I worked at home and relied on our landline, and I borrowed my wife's "dumb" wireless phone if I needed it. In the late '00s, our annual cell phone bill was a grand total of $100. That was the minimum to keep an AT&T GoPhone active. This may all seem crazy, but bear in mind that even as late as 2011, only 35% of American adults had smartphones, and about 20% had no cellphones at all. (Today, 77% have smartphones, and only 5% have no cellphones whatsoever.)
My wife and I have since both upgraded to smartphones, and spend considerably more per year. My wife uses a serviceable Android that cost under $100. As for me, I broke down and purchased an older unlocked iPhone on sale for $150 a couple years ago. But our bills remain under control: We pay a total of $70 per month, all taxes and fees included, for service from Cricket Wireless. (Cricket was also one of Money's Best Cell Phone Plans this year.)
That's a lot less than the typical annual expense that comes with iPhone ownership.
To calculate that number, I've looked back over 10 years of new iPhone launches—including the iPhone 3GS in 2009, the iPhone 5 in 2012, and the supersized iPhone 6 and 6 Plus in 2015—and reviewed the most popular wireless plans at the time. For example, in addition to paying $599 for the original 8GB iPhone in 2007, users paid $60 to $120 per month (not including taxes and fees) to AT&T, which was the only provider available at the time. Back then, everyone got unlimited data, but you paid extra for additional text messaging and voice minutes—that's right, 10 years ago people still thought phones were for mainly calling people.
Over the years, some plans with big data allowances ran upwards of $140 per year plus taxes and fees. If you upgraded your iPhone every year and opted for a high-end plan, you easily spent around $2,000 annually. That's $20,000 over 10 years. And that's potentially $40,000 for two iPhones over 10 years.
I estimate that my wife and I, by contrast, have spent a total of about $5,000 on cellphones over the past 10 years, wireless plans included. (We have also been paying $20 to $40 per month for a landline over this span. Some people justify their high-end smartphones because it's allowed them to drop their traditional monthly phone bill, but many other owners of smartphones still have landlines too.)
Granted, most people didn't splurge upgrading their iPhones every year. Many surely traded in or sold their old iPhones, bringing their total expenditures down. Going for family plans or limited plans rather than unlimited individual wireless plans would have decreased the total further still.
So, more realistically, the typical individual iPhone user has probably spent more like $1,500 per year, on average, what with periodic upgrades and middle-of-the-road plans. For a couple getting a group discount, the average is perhaps more like $2,500 per year.
Even so, at the low end, that adds up to $25,000 over 10 years for a couple, or $20,000 more than my wife and I have spent on cellphones.
It's also worth considering that we've been in a bull market for nearly all of the last decade. Thanks to compound interest and regular investing of the money we've saved, the difference between owning and not owning iPhones for 10 years is much, much bigger than $20,000 for us.
If we'd been investing our savings all along in Apple stock, it would be worth $62,000 now. We didn't do that, unfortunately. But we have been investing regularly, netting us at least an extra $5,000 on top of the original $20,000 in savings.
And we'll continue to save more compared to households full of iPhones as our kids get older and demand their own phones. In fact, it's already happening. We waited until our oldest son turned 13 last fall to get him his first phone, and—no surprise here—the poor kid did not get an iPhone.