Costco's Freezer Aisle Is a Treasure Trove of Cheap Lunch Options. Here Are 8 Favorites for Under $2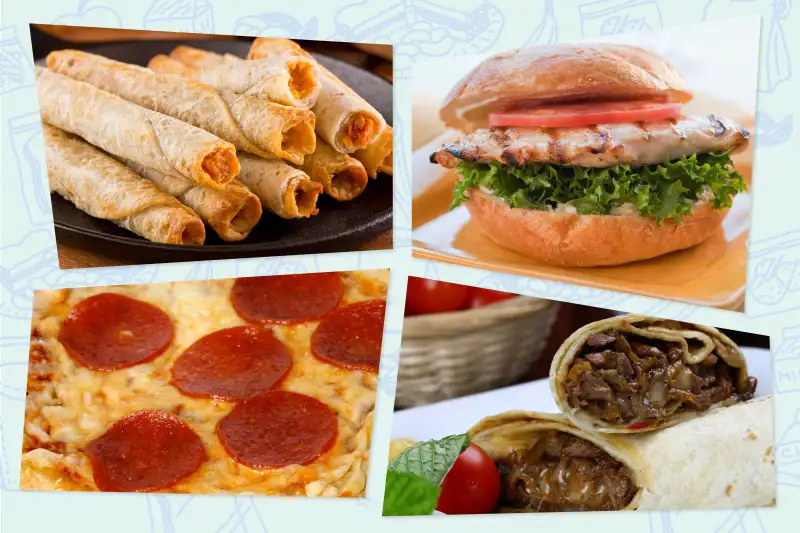 Buying lunch at work or school can be costly and time-consuming.
Based on the average cost of a takeout lunch — the usual range is between $5 to $15 — imagine what you could do with an extra $1,200 to $3,600 every year?
And it's not just a waste of money. Standing in line during the lunch rush kills a lot of your lunch hour — and that's time you could spend doing something else.
While bringing your own lunch to work each day is a good way to save a lot of money, sometimes homemade lunch options can become rather boring and uninspired.
As The Frugal Convert, I'm always looking for affordable lunch options to take to work and to give my kids for school. Costco offers a good selection of freezer meals that work for adults and kids alike, and many of them come out to less than $1 or $2 per serving (prices and selection may vary based on location).
Here are 8 budget-friendly lunch options from Costco that I've found are adult- and kid-approved.
1. Pizza Singles
A small personal pizza is easy to pack and easy to prep during your lunch hour. The box comes with 12 individually-sized pizzas for $9.99. For only $0.83 per pizza, you just can't beat the price.
2. Chicken Melts
Courtesy of Gina Zakaria; Getty Images
If you'd prefer to have a hot sandwich for lunch, this would be a good option. The chicken melts are made with chicken breast and cheese, and are nestled in pita bread. They are currently on sale for $7.89 for the pack of 15, but even at the regular price of $10.89, they are a solid choice.
Where else can you get a chicken sandwich for $0.73?
3. Burritos
Courtesy of Gina Zakaria; Getty Images
With most fast food restaurants offering burritos for anywhere from $3 to $5, you can save a lot of money by bringing your own premade burritos to work.
Costco offers both a meat option and vegetarian option (selection may vary based on location).
Posada's shredded steak and cheese burritos come in a box of 18 individually wrapped burritos for $13.99, which means each burrito costs $0.78.
Courtesy of Gina Zakaria; Getty Images
Because the Lilly B's bean, rice, and cheese burritos burritos are organic, the price is a bit more than the non-organic option. However, the 8-count box of burritos for $9.99 still portions out to $1.24 apiece, which is much less expensive than a fast food burrito.
4. Taquitos
If you combine taquitos with a bit of sour cream, lettuce, avocado, and tomato, you can have a well-rounded lunch option that will be enjoyable and inexpensive to take to work or school.
The 30-count box of taquitos costs $9.99, which comes out to $0.33 each. A lunch-sized portion of three or four taquitos will cost between $0.99-$1.33 and makes for an easy to-go option.
5. Grilled Chicken Sandwich
Courtesy of Gina Zakaria; Getty Images
This is a more affordable option than a fast food burger and you'll have a healthy meal that takes only a few minutes to prepare.
The 12-count box costs $9.99, which makes each chicken sandwich cost $0.83.
If you compare this grilled chicken sandwich with those found in popular fast food restaurants, you're saving more than two-thirds the price. In addition, you can add the toppings of your choice, since it's basically a blank canvas that you can spruce up any way you like.
6. Philly Cheesesteak Sandwich
Filled with shaved seasoned steak, onions, and cheese, this is a great alternative to a standard Philly cheesesteak sub.
This is a bit more expensive than the other options mentioned, with a 6-count box selling for $11.89, which makes each sub cost $1.98. However, if we compare this price to a six-inch steak and cheese sandwich from Subway, which costs $5.69, you're saving a lot of money.
7. Chicken Bakes
I always used to buy chicken bakes from the food court during my Costco visits. They are creamy, delicious, and filling! The size is comparable to a foot-long Subway sandwich, maybe just a tad smaller.
In any case, Kirkland chicken bakes are a good lunch option any day of the week because they're easy to pack and easy to reheat. A 6-count box for $10.99 means you get a filling lunch choice for $1.83.
8. Hot Pockets
Hot Pockets personally bring up some nostalgic memories for me because as a kid they were one of my favorite lunch options. Needless to say, this option is kid-approved.
If you can't decide between a pizza or a sandwich, a Hot Pocket might be a good option for lunch, especially if you add a side salad. The box is currently on sale for $8.99, but even at the regular price of $11.99 for a box of 17, each pocket only costs $0.71.