The Extreme Lengths Costco Goes to Keep Your Rotisserie Chicken at $4.99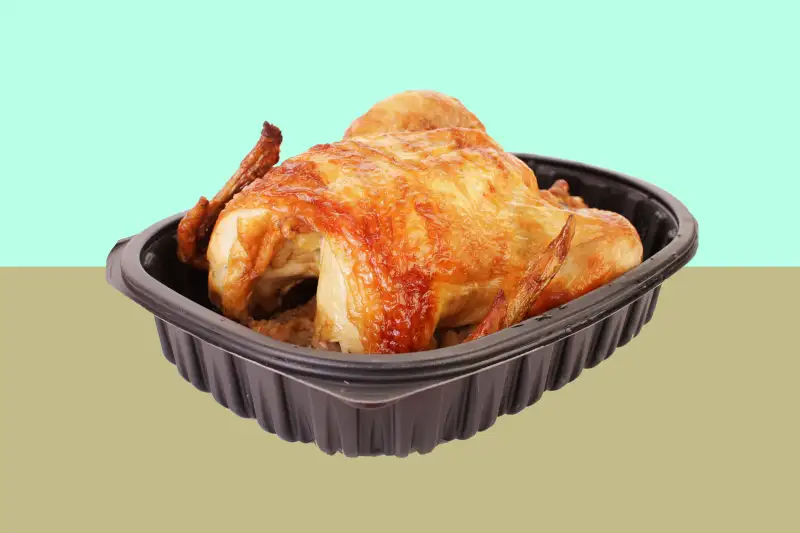 Costco's business model is that customers pay for warehouse club memberships, and then save money on big-ticket items like televisions and giant tubs of cheese balls. But there is one cheap Costco item that perhaps shines brightest of all: its $4.99 rotisserie chicken.
Costco's signature bird was introduced in 2009, and remains one of their most popular items, with 91 million Kirkland Signature chickens sold last year. And according to CNN Business, the company takes major steps to keep their chicken at the $4.99 price point.
Because Costcos have a tendency to be located in areas that don't naturally have a lot of foot traffic, the company has to find ways to get people into the store...and then into the back of the store, so they pass through many aisles and hopefully drop more items into their cart. There's a reason the chicken is always located in the back — the store hopes that by luring people in with this quick meal, they'll pick up costlier items on the way to grab their dinner.
Costco is going to great lengths to keep people buying its cheap chickens. It has begun investing in high-efficiency ovens and food containers made with less plastic. And in an effort to to bring production in house, it has opened a $450 million poultry complex in Fremont, Nebraska. The 400,000 square-foot plant will employ 950 workers, with the goal to save 35 cents per bird by controlling the process from farm to production, and also insure that it gets the right size of bird, an issue Costco and other retailers have had problems with in the past.
Environmental activists and Nebraska residents worry about the plant, citing concerns about "water contamination from runoff, ammonia from chicken feces and other health risks."
Costco's three-pound rotisserie chicken is actually cheaper than the uncooked chicken you can buy in the store. And as Mashed reported, when the 2015 Avian flu upended the U.S. poultry industry, Costco held firm on their price point. Costco's chief financial officer Richard Galanti once told The Seattle Times, "When others were raising their chicken prices from $4.99 to $5.99, we were willing to eat, if you will, $30 to $40 million a year in gross margin by keeping it at $4.99. That's what we do for a living." Clearly, Costco is particular about its poultry.