Why Paying More for Imported Beers Is a Big Waste of Money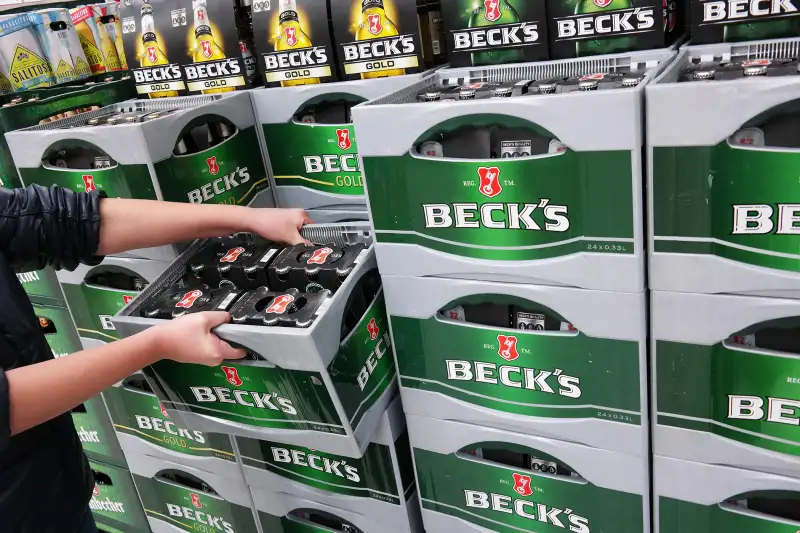 A recently settled lawsuit means that customers who have purchased Beck's beer in recent years may be entitled to refunds—up to $50 for purchases made since 2011. Customers who don't have receipts can receive up to $12; to get a refund higher than that, receipts are necessary.
The settlement should serve as yet another alert to beer drinkers that "imports" such as Beck's, Kirin, Bass Ale, and Foster's—which are perceived to originate in Germany, Japan, England, and Australia, respectively—are actually brewed right here in the U.S. of A.
As the Wall Street Journal reported, the settlement arose from a class-action suit filed in Florida against beer giant Anheuser-Busch InBev, the owner of the Beck's brand, over claims that consumers were deceived into thinking that the Beck's beer they were buying was imported from Germany. Beck's packaging includes phrases like "Germany Quality" and "Originated in Bremen, Germany." In fact, the Beck's sold in the U.S. has been brewed in Missouri for years.
The settlement comes a few months after a similar agreement regarding Kirin, another Anheuser-Busch product that's seemingly imported but is also made in the U.S. In a settlement reached in January, the beer company agreed to pay up to $50 per household purchasing the faux Japanese brew, though at the same time AB InBev released a statement maintaining, "We believe our labeling, packaging and marketing of Kirin Ichiban and Kirin Light have always been truthful."
The larger truth, however, is that over the past decade or so imports—faux or genuine—have rapidly lost their status as the best brews money can buy. How this happened is that firstly, as pointed out above, many popular "imports" stopped being imported and began being brewed in the U.S. Many beer enthusiasts insist that the taste of the Bass Pale Ale brewed in Baldwinsville, N.Y., for instance, is vastly inferior to the truly English-made product of old.
Secondly, a little thing called craft brewing completely changed the beer scene in America and beyond. Craft beer production in the U.S. was up 42% last year, and craft beer sales surpassed 10% of the overall beer market in 2014 for the first time ever. Craft brews accounted for only 5% of sales as recently as 2010.
What's more, according to the Brewers Association, which represents craft beer interests, America exported $100 million worth of craft beer in 2014, an increase of 36% year over year. Regions renowned for great beer traditions, including Germany and much of western Europe, have been welcoming American craft beers with open arms. And the reason this is so is that smaller labels have consistently delivered fresher and more interesting flavors than any macro brew, and that America's robust and creative craft brewing scene is viewed as the envy of the world.
Considering how beer-loving nations around the globe are eager to import American craft beer because of its superior taste and quality, why would American beer enthusiasts pay extra for beer that seems to be imported from somewhere else? Especially when in fact this beer is brewed in the same facilities that make the macro labels they disdain? Increasingly, the standard menu at bars and restaurants, in which imports are separated by higher prices (and presumably, higher quality) from American brews, seems out of touch with the times.
The point American beer lovers should take to heart is that there are many compelling reasons to drink local. Above all, if you're going to pay a premium for beer, be sure that it's based on the product's taste, not because of some outdated idea about which countries have the best beer. This goes doubly in terms of supposedly upscale and high-quality "imports" that aren't imported at all.