Inside the World of 'Craftivism,' the DIY Protest Art Fueling Knitting Circles Everywhere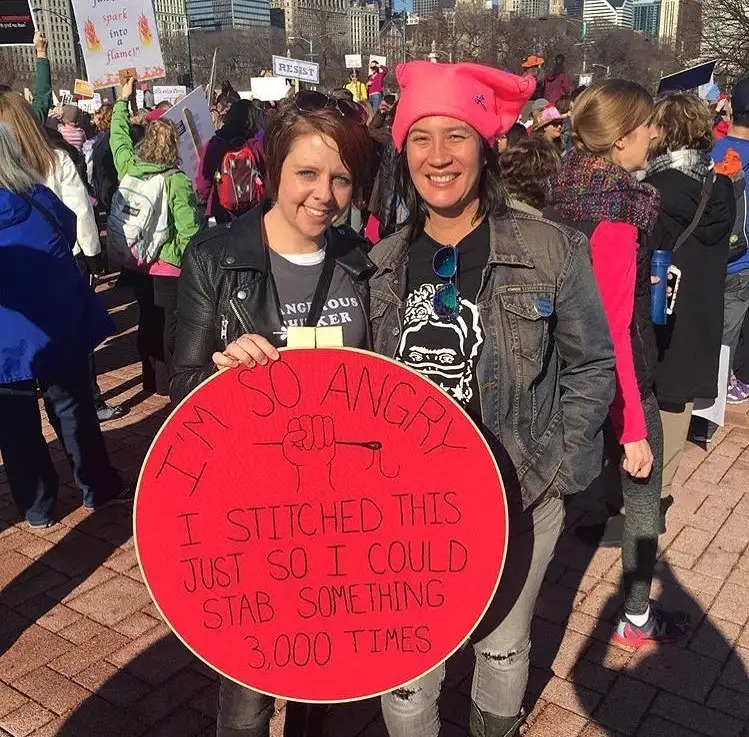 Courtesy of Shannon Downey
Like it or not, the "pink pussy hat" will enjoy a long, polarizing run as the de facto icon of the feminist opposition to Donald Trump's presidency.
Those knit beanies have given pundits plenty of think piece fodder, but the collective effort behind them, which has twice now managed to turn bubbling political rage into possibly the biggest craft project ever, is undeniably powerful.
The movement isn't slowing down, either. Over the past year, "craftivism" has transformed retro hobbies once confined to home economics classes and retirement home activity nights into a form of peaceful protest. Now, there's resistance-themed knitting circles in Detroit and Western Pennsylvania, radical screen printing workshops in the Midwest, and feminist craft parties in Appalachia, Minnesota, and everywhere in between.
"It's become a therapeutic tool," says Chicago-based cross stitcher Shannon Downey. "Creating space to think about systemic problems is part of the therapy."
Downey runs "Badass Cross Stitch" a punk rock take on the bluebirds and petunias of antique fair display cases.
She first turned to cross stitch as respite from technology — she picked up the hobby while working as head of a digital marketing company, a job she'd held for about a decade, which was making her feel burnt out, over-connected, and uncreative. But it quickly became more than that.
Downey made her first big craftivist project, an embroidered image of a gun, after a bullet shattered her bedroom window. When she posted a picture of the finished product on Instagram, a flood of fellow cross stitchers asked her for the pattern, so she posted that too, and asked people to send her their own versions. In just a few months, Downey got 200 pieces in the mail, and sold them all at a gallery show — raising more than $5,000 for Project Fire, an organization that works with young people injured by violence.
Our modern lives, and modern attention spans, have made our personal connection to societal ills as fleeting as the average news cycle, Downey says. Cross stitch forces her to actually contemplate them.
"This is how I process things," she says.
Of all the DIY sewing hobbies, Downey picked one of the most accessible. Mastering cross stitch takes practice, but you don't need to be a trained artist to get started, and there are many beginner-friendly patterns. In its simplest form, cross stitch uses a needle and thread to replicate an image laid out on a grid, akin to an advanced version of those paint-by-numbers kits for kids.
It's also pretty cheap: A basic cross stitch kit costs between $5 and $10, and if you buy in bulk, each piece drops to less than $3. Even Downey, who has completed hundreds of personal projects at this point, has only spent about $1,000 on her craft (if you include the materials she's bought for young cross stitchers and free community workshops, that figure is closer to $3,000). Sewers, by comparison, can easily spend more than $10 on just one yard of fabric, and most garments require 2, 3, 4 yards or more. There's a higher barrier to entry, too — sewing machines start at about $100, and can run upwards of $2,000.
Today, Downey works as director of development at a racial justice nonprofit, and holds cross stitch workshops for budding craftivists on her downtime.
After the election, she became something of a cross-stitch celebrity. A sign Downey brought to the 2017 Chicago Women's march, a massive embroidery piece that read, "I'm so angry I stitched this just so I could stab something 3,000 times," was one of the most widely-shared images of the nationwide event. Another one of her designs, featuring a crossed out "Boys Will Be Boys," and "will be held accountable for their f--cking actions" written underneath, has been seen by millions of social media users, according to Vogue's estimates.
As a whole, retro hobby crafts are experiencing something of a renaissance. In just six years, the size of the U.S. craft industry — which includes everything from knitting needles to scrapbooks — has grown 20% to $36 billion, according to the Association for Creative Industries.
Young people are responsible for much of that growth. BurdaStyle, an online sewing community with over half a million registered members, says the average age of its member base is 29. And while there's no data to show how the rise of craftivism has impacted sales, the proof is in the pussy hat. Ravelry, another online forum that lets crafting enthusiasts share their work, says the pink cap was the "most knit pattern" on their site in 2017. The "most queued pattern," or the pattern on the "to do" lists of the most Ravelry members, was a scarf inspired by the Wonder Woman logo.
There's a certain camaraderie to craftivism, a kinship that draws from DIY political tools of the past, like hand-stitched suffragist flags and Riot Grrrl zines.
In its current iteration, the trend has grown to resemble something closer to guerilla marketing. Take "Welcome Blanket Gatherings," a project spearheaded by Pussyhat Project cofounder Jayna Zweiman, which enlists knitters across the country to turn 2,000 miles of yarn (the projected length of Trump's "border wall") into blankets for refugees.
Also sprouting up across the globe are The Handmaid's Tale sewing circles, a smattering of craftivist groups that recreate the puritan-inspired garb of the Margaret Atwood novel-turned-Hulu series about women forced into sexual servitude.
Many of these groups take shape organically through Facebook and book clubs — Meetup's search tool shows that at least one book club meets to discuss The Handmaid's Tale every single day. The pared-down aesthetic makes for a striking culture clash, especially when they're deployed to protest sexist policies at state capitol buildings, the Golden Globes, political rallies, and Mar-a-lago.
"It feels so badass to wear. I feel empowered," says Marie Porter, a Minneapolis-based seamstress who makes patterns, and leads sewing classes for women who want to make the costumes.
Porter has been sewing since she was 11. Technically, cosplay, short for "costume play," is her hobby of choice. "The Handmaid's" universe is cheaper to emulate than the elaborate, Comic Con-style costumes Porter is used to making — about $100, compared to the average $300 to $500 she usually spends.
The clothes are simple, too — they're just large, red cloaks and white pilgrim bonnets. Still, many of the women in her workshops have never made a single piece of clothing. "Some of them don't even know how to thread a needle," she says.
In one class, she asked why this particular project drew them in. Turns out, it was a long-term investment.
"Lots of people were looking forward to wearing them to protests," she says. "One girl said that there will be plenty of opportunities over the next four years."