3 Moves to Cut Your Cable Bill Right Now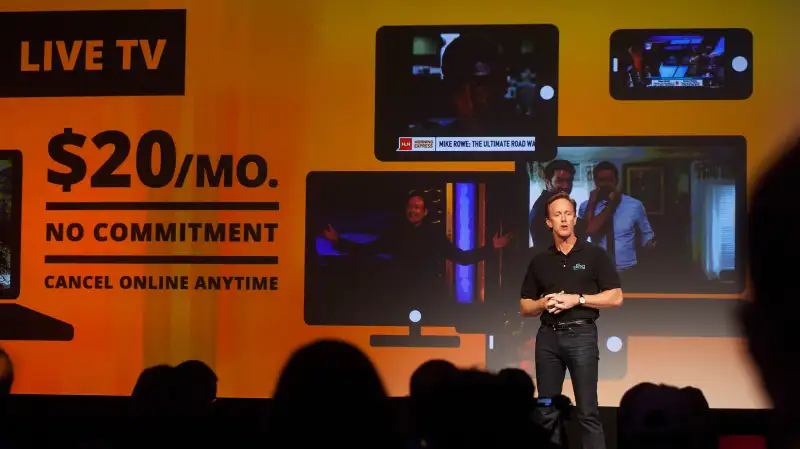 Michael Nagle—Bloomberg via Getty Images
According to the NPD Group, the average pay TV subscription package in the U.S. cost $86 per month in 2011, and projections call for that figure to hit $200 as soon as 2020. Thankfully, however, we may never get there. And there's no reason you personally should be anywhere near there. The emergence of more options for cord cutters and a long-awaited increase in competition from satellite and streaming upstarts should loosen pay TV giants' stranglehold on America's monthly TV bills.
Lowering your pay TV bill is very possible right now, though it's up to you to take action. Here are three suggestions, based on recent shifts in what's being offered in the marketplace:
1. Buy Your Own Modem
How much you'll save: $96 to $120 a year
Cable TV companies have been experiencing a net loss of subscribers, and it's no mystery why: The combination of awful customer service and rising monthly bills from pay TV giants, plus expanded streaming options for Internet-only viewing, have together chased consumers away from traditional bloated and overpriced pay TV packages.
Comcast and Time Warner Cable understand that blatantly jacking up monthly package prices is likely to turn even more customers into cord cutters. So as a sneaky alternative, both just hiked an assortment of fees instead. Specifically, both raised the rental fees for customers using the company's modems. You might not even notice the fee on your bill because the word "modem" isn't stated; instead a vague "Voice/data Equipment" line item is listed. For Comcast customers, that line item went up from $8 to $10 per month at the start of the year. Time Warner Cable, meanwhile, raised its monthly modem fee from $5.99 to $8, a hike of over 30%, while also boosting the monthly nickel-and-dime sports channel fee (on top of your regular package price) from $2.25 to $2.75.
These bill hikes may seem like small potatoes—a few bucks extra per month—but they're galling nonetheless because they're cash cows for pay TV companies and, in the case of the modem at least, there's an easy way to drop the fee to $0. David Lazarus, the consumer beat columnist for the Los Angeles Times, noted that anyone can simply purchase a Time Warner-compatible modem for $90 to $130 rather than leasing one. By raising modem fees, the pay TV companies give customers more reason than ever to go this route, as the investment will pay off sooner, roughly in a year. (Lazarus also pointed out the shady way that Time Warner Cable upgraded customer modems "for free" recently, only to follow up with a monthly fee hike; it's just this sort of deceptive double talk that insults customers' intelligence and will push subscribers away, if for no other reason than spite.)
A Motley Fool post reports that both Comcast and Time Warner Cable have web pages that list modems available for purchase that will work with their respective Internet services. In some cases, compatible modems cost as little $70, the same amount you'd pay to rent one from Comcast for just seven months.
2. Switch to Dish's Sling TV $20 Streaming Package
How much you'll save: $360 or more per year
On Monday, the Dish Network announced a new streaming service that could very well upend pay TV as we know it. It's a streaming service called Sling TV that offers an online package of 11 channels for $20 per month. The package includes TNT, TBS, HGTV, CNN, Cartoon Network, Disney Channel, and, most importantly, ESPN and ESPN2. ESPN is by far the most valuable cable channel, and the prospect of losing live sports broadcasts is believed to be what's stopped millions of subscribers from dumping their pay TV packages. "Sports is the one thing keeping many people on pay-TV services," one analyst told Bloomberg News. That changes with the arrival of Sling TV, however, as sports fans can cut the cord and still get the two best sports channels (plus a few other channels probably enjoyed by the rest of the family) for a mere $20.
While 11 channels may seem paltry in light of the 189 channels available in the average pay TV household, bear in mind that most people only tune into only 17 channels, and some watch far fewer. When the basic 11-channel package is combined with an on-demand streaming service like Netflix and/or HBO's standalone Go package—both of which will be available without a traditional pay TV package in 2015—you can have access to a robust selection of viewing options while still significantly cutting your monthly bill.
3. Buy an Antenna for Broadcast Networks
How much you'll save: $72 or more per year
The one problem some—sports fans in particular—might have with the Sling TV option is that it doesn't include access to the big "free" broadcast networks such as Fox and CBS, which at least for the time being retain most rights to air NFL games. The easy fix is to pay $30 to $100 for an HD antenna, which will provide up to 30 local TV channels (ABC, CBS, Fox, NBC, PBS) in crystal clear clarity, for free.
Pay TV providers like Comcast offer basic TV packages that include only broadcast networks such as those listed above, but they'll charge you for those "free channels," to the tune of $6 or more per month.
Read next:
How to Break Up with Your Cable Company
5 Packages That Will Replace Pay TV as We Know It