How To Break Up with Your Cable Company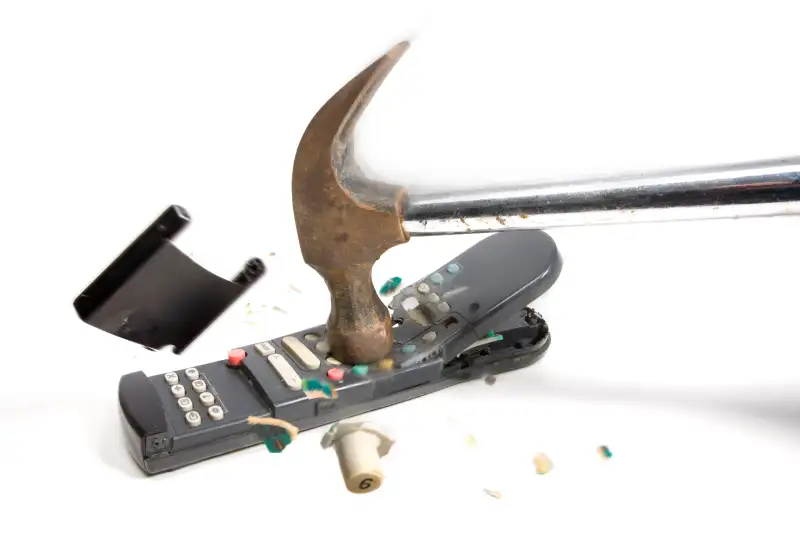 If your relationship with your cable provider is driving you mad like this man, brace yourself. It's only going to get worse.
The average monthly cable TV bill is rising 6% a year. It's projected to hit $123 a month next year and top $200 by 2020, according to market research group NPD. To be fair, part of the surge is because the cost cable providers pay to license shows is getting steeper. But the near-monopoly that cable TV companies have in many places is to blame, too.
Most areas have just one or two pay-TV providers. And even if you're lucky enough to have more choice, that will probably change if the Time Warner Cable-Comcast and AT&T-DirecTV deals are approved. And less choice means that the providers that remain don't have to go above and beyond on customer service. As if they did already.
Can't live without your favorite programs but fed up with the bill? Here are four moves you can make to cut the cost—and not all require you to cut the cord.
Downsize. How many of the 700+ channels that you get do you actually watch? A growing number of pay-TV providers are offering pared-down packages. Verizon recently rolled out its Select HD no-sports package that's $15 a month cheaper than its $65 a month standard Prime package. Last year, Time Warner Cable launched Starter TV, a bundle of 20 premium channels plus HBO for $29.99 a month—40% less than its 200-channel, no-HBO option. And Cox Communication's TV Starter is $24.99 a month for 155 channels vs. $49.99 for its Advanced package of 220 channels.
Play hardball. Despite their dominance, pay-TV providers are still loathe to lose customers, says digital media analyst Dan Rayburn. Call the cancellation department to talk with a retention specialist trained to hang on to customers. Ask about promotions or a discount if you're a long-time customer. They'll try hard to keep you, but if they don't give, you can likely get a better deal as a new subscriber if you have a satellite dish or cable competitor where you live.
Go a la carte. Even though the Aero service that delivers low-cost broadcast TV via Internet shut down thanks to the recent Supreme Court ruling, there are still plenty of other lower cost alternatives for those who want to cut the cord, says technology industry analyst Jeff Kagan. Hulu Plus costs just $7.99 a month and shows many current programs the day after they air. If you can wait a season or two to catch up with your favorite shows, Netflix is $7.99 a month (though will go up $1 or $2 for new subscribers). Amazon Prime Instant Video, which comes with Amazon's $99 a year Prime membership, gives you unlimited streaming movies and TV shows.
NetFlix, Hulu and Amazon are also spending millions on high quality original content. In May, Hulu announced that it would be tripling its budget for exclusive programs and launching six new shows this year, including the much-buzzed-about reality show parody Hotwives of Orlando, which premiers tonight.
Get an antenna. Today's antennas aren't the rabbit ears of your parents' generation. An HD antenna for your roof or TV set top will cost you about $30 to $100,and you can get local TV channels for free. You won't get cable programs, but you'll pick up more than 30 broadcast networks (such as ABC, CBS, NBC, PBS, FOX). And picture quality is even better than cable, says Kagan.