24 Things to Do With $10,000 Now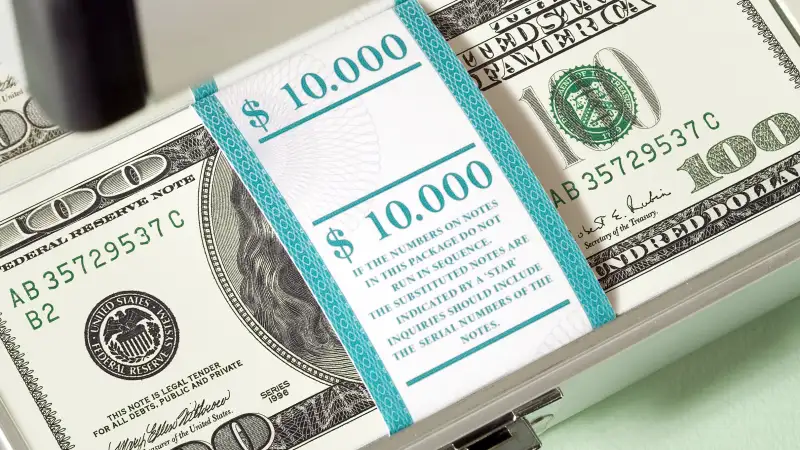 Adapted from "What to Do With $1,000 Now," which appeared originally in the September 2014 issue of Money magazine.
1. Stash your cash in a CD. Really.
Believe it or not, putting a portion of your emergency fund into a CD looks like a decent idea. Synchrony (née GE Capital Retail) Bank offers 1.05% for a 12-month CD of $10,000. Meanwhile, a one-year Treasury yields 0.11%. And Vanguard's Short-Term Investment Grade bond fund returned 2.6% over the past year, which is not a lot of compensation for the greater risk.
2. Write the book that will launch your career
Julia Child's first cookbook helped turn her into a star. Follow her recipe, but get to the table faster by self-publishing. You can hire an editor, designer, and formatting expert for some $6,000 via BiblioCrunch.com; use the rest of the $10K to pay a publicist.
3. Create a D.I.Y. home theater
The average home theater costs $26,000. But Dave Pedigo of the Custom Electronic Design & Installation Association helped Money put together this one for under 10 grand, with wiggle room for extras like 3-D glasses, movies, and a gaming console.
Seats: Novo Home Viewpoint (around $1,400)
Screen: LG's 55-inch LED TV ($3,300) or Stewart Filmscreen ($1,200 to $1,500) plus Epson projector ($2,999).
Sound system: Sonos Playbar ($699) plus Sub subwoofer ($179) and a pair of Play:1 speakers ($199 each)
Concessions: Nostalgia Electrics vintage popcorn maker ($29) and Avanti's 3.1-cubic-foot stainless- steel beverage cooler (around $169).
4. Go to the jungle
Traveling with four or more gets expensive fast. But a trip to Ecuador can help you stretch your budget. Since the opening of a new international airport in Quito, airlines have instated new routes to the city and are offering roundtrip flights from the East Coast for as low as $400, says Smartertravel.com's Anne ­Banas. G Adventures was recently advertis­ing a nine-day tour of the country, including a visit to the Amazon jungle and hot springs, for $1,599 a person, down from the usual $1,999.
5. Give like Gates
Create your own mini version of the Bill & Melinda Gates Foundation—without administrative hassles or billions of bucks—by opening a donor-advised fund. Fidelity lets you start one with as little as $5,000. You don't have to decide which charity gets the money right away, "so you can be more intentioned about the giving," says Burlingame, Calif., wealth adviser Sean Stannard-Stockton. But you get to write off up to 50% of your income this year—which is especially valuable when you're at your peak earnings.
6-8. Snap up an income property
In some locales, a $10,000 down payment gets you a three-bedroom home that will rent for twice your mortgage payment. "For a strong pool of renters, jump into a market with a big student population," says Daren Blomquist of RealtyTrac. Here are three:
9-10. Put Paul Bunyan in your portfolio
A tighter labor market may ramp up wages and lead to higher prices. Stocks can help you hedge, but for an unexpected support, try trees. Timber is a commodity, so it rises with inflation. Also, it's used to make houses, and housing prices rise when investors seek shelter in hard assets. Global investment firm GMO predicts that timber will be the best-performing asset class over the next seven years, with gains of 5.4% annually after inflation, vs. 2.1% for high-quality stocks and 0.5% for U.S. bonds. Get your lumber through the Guggenheim Timber ETF and ­iShares Global Timber and Forestry .
11. Lock in a great deal on a ski vacation
Ski resorts are eager to get people to book early, before there's a sense of what kind of winter it will be, says Leigh Crandall, managing editor of Jetsetter.com. For example, Ski Holidays Canada recently offered a 10-day 2015 hotel and ski package in Banff, Alberta, for $4,000 for a family of four, about 40% off the regular rate. Flights to the Calgary airport from the East Coast start at $500 a person in January.
12-14. Get your house ready to sell
If you want to sell next spring, focus on amping up curb appeal, starting now. For $10,000, you could revamp the plantings. Replace what's along the foundation with a mix of evergreen shrubs of different textures ($2,000 to $4,000), add beds of colorful perennials with different bloom times ($500 and up) and put ornamental trees at the house's corners ($500 to $1,500 each). Or paint the exterior, which can help your house sell faster, which usually means a better price, says Pasadena architect and realtor Curt Schultz. Or add, upgrade, or replace a deck or patio—since buyers "like to be able to step right outside onto an outdoor room that feels like part of the house," says Schultz. You might be able to get a 20-by-40 deck, a 20-by-20 deck with a barbecue or a fire pit built in, or a 10-by-10 patio with a roof for 10Gs.
15. Give your investments a boost
Research has demonstrated that certain stocks—those that regularly grow divi­dends, have stable prices, are undervalued compared with fundamentals, or have re­cent­ly appreciated—tend to outperform. Split your $10,000 among these characteristics as follows:
16. See Europe by boat
The market for travelers who want to explore the continent by boat is growing exponentially, says Colleen McDaniel of CruiseCritic.com, but the launch of two dozen new ships last year has created competition to fill cabins. Recently you could get a seven-night late-fall cruise on the Danube for about $1,500 a ­person (a savings of $1,360). Nonstop flights from the eastern U.S. start at around $1,200. So a little over $10,000 would have a family of four out on the river in style.
17-19. Buy a great used car
Check out these three picks for $10,000 from Patrick Olsen of Cars.com:
2008 Ford Fusion: The roomy Fusion— which is "great for a small ­family running errands around town," according to ­Olsen—has a V-6 engine and gets about 23 miles per gallon.
2008 Kia Sportage: While no-frills, the Sportage is one of the few quality SUVs at this price point. "It's good for small-business owners and parents whose kids play sports," Olsen says.
2007 Toyota Prius: This second-genera­tion Prius "is good for those who have a long commute," says Olsen. "You'll save a lot of money on gas." It gets 46 mpg.
20. Practice living in your retirement town
To determine whether a place is really a good fit for you, you need to visit different times of the year and stay for longer periods, suggests Miami financial planner Ellen Siegel. Allocate $10,000 to travel and costs to stay for, say, a month in the summer and a week in the winter. Rent a condo or house in a neighborhood where you want to live and get to know area residents to make the simulation more real.
21. Make yours a chef's kitchen
Many homebuyers love the industrial looks of pro-style appliances, but a Wolf range can ring in at $10,000 and a Sub-Zero fridge might cost $16,000. And if you invest in one or two high end appliances, but stick with economy versions for the rest, buyers will likely penalize you for that old dishwasher more than they reward you for the gleaming "prosumer" cooktop, real estate agents say. "Still, you don't need to invest that much to get the professional look in the kitchen," says Mechanicsburg, Pa., kitchen designer John Petrie, who's president of the National Kitchen and Bath Association. "Moderately priced brands like Jenn-Air, Kitchen Aid, and Whirlpool have jumped on the commercial trend." So, you can now outfit the entire kitchen—and cook like a semi-pro—for under $10,000.
22. Chase a market sector before it's over
Since we're late in the sixth year of the bull market, many analysts think it's nearing the end. Certain sectors perform well in the last year of a bull run, including energy (34% average returns in last year of bull), health care (27%) and tech (23%), according to research by Ned Davis. Both energy and technology companies have a lower forward p/e than the S&P 500, and are expected to outgrow the market over the next five years. Meanwhile, "the outlook for the health care sector is promising," says Eddie Yoon, a portfolio manager and research analyst for Fidelity Investments, "based on factors including an aging global population, an expanding middle class in many emerging markets, and a strong product innovation style." Look to Money 50 funds Sound Shore , which allocates almost half of its holdings to energy, technology and health care, and Primecap Odyssey Growth , which has two-thirds of its holdings in health care and technology companies.
23. Invest in the frontier
BRICS is so 2012. With emerging markets countries (recent case in point: Russia) struggling to sustain economic growth, it may be time to look toward faster growing smaller countries (like Ghana and Vietnam). These "frontier" nations have been expanding fast: iShares Frontier 100 is up 15% this year, but is still less expensive than the S&P 500. (The MSCI Frontier Index forward p/e is 13.6). Moreover, an index of frontier funds has actually been less volatile over the past 15 years than its emerging markets counterpart, says Morninstar's Patricia Oey.
24. Sprechen Deutsche
If you work for a firm that does business internationally, becoming fluent in another language may pay off. A second language is correlated to an average 2% to 3% increase in annual income, according to research from Wharton and LECG Europe. Chinese provides the highest return. But if you don't have it in you to learn an entirely new alphabet—and your company is trying to land clients in Deutschland—try learning German, which is correlated to 4% higher pay. One way to get up to speed: A language vacation. LanguagesAbroad.com offers language immersion programs for travelers in 35 countries. An intensive two-week course with 20 group lessons and 10 private lessons in Berlin is $2200, not including airfare or accommodations. On a $100,000 current salary, it would only take you three years to recoup a $10,000 investment.
Related: 35 Smart Things to Do with $1,000 Now
Tell Us: What Would You Do With $1,000?