'Sex and the City' Star Cynthia Nixon Is Running for New York Governor. Here Are All the Celebrities Giving to Her Campaign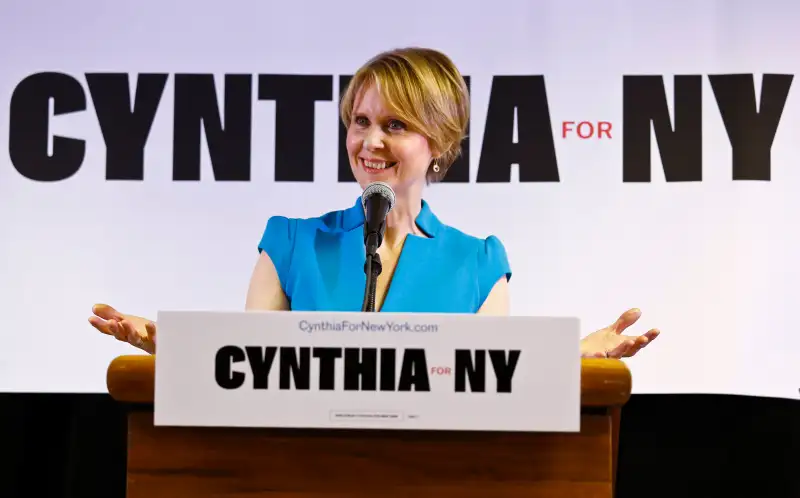 Bebeto Matthews—AP/REX/Shutterstock
A star-studded set of celebrities — many of them female — have opened their wallets for Cynthia Nixon's campaign for governor of New York.
"I'll keep giving," tweeted actress Lena Dunham, who has given $10,000 to the campaign. "I am so proud to stand behind this truly progressive candidate."
A financial disclosure released this week showed hundreds of thousands of dollars in celebrity contributions, with donors putting Nixon's total haul at over $1.6 million since she launched her campaign in March.
The largest celebrity donor is Rosie O'Donnell at $21,000; Alec Baldwin isn't far behind, giving $16,000.
As you might expect, the list includes a who's who of Sex and the City alums: Sarah Jessica Parker, Kristin Davis, and Christopher Noth, who played Parker's maddening on-again off-again love interest Mr. Big.
Actress Susan Sarandon, a staunch supporter of Bernie Sanders in the 2016 Democratic primary and of Democratic Socialist congressional candidate Alexandria Ocasio-Cortez, gave Nixon four donations totaling $13,000.
Nixon also got donations of $5,000 from actresses Mary-Louise Parker, Carrie Coon, Sarah Paulson, Edie Falco, Allison Janney, Jane Lynch, and Taylor Schilling.
On Wednesday, Schilling appeared with Nixon at an event promoted as "cocktails and conversation with the future first female governor of New York State, Cynthia Nixon, and the women who will get us there."
Broad City stars Ilana Glazer and Abbi Jacobson gave $5,000 and $2,500, respectively. They also autographed a bong for the Nixon campaign, which then held an online raffle for it. Nixon has supported legalization of recreational marijuana sales and 1,638 of Nixon's donations were for $4.20.
Other actresses who donated: Debra Messing (Will & Grace), Laura Linney (Ozark, Mystic River); Audra McDonald (Beauty and the Beast), Kyra Sedgwick (The Closer), Kathleen Chalfant (The Affair, House of Cards), and Melissa Leo (I'm Dying Up Here, The Big Short).
Two prominent women comedians also shelled out: Chelsea Handler and Lea DeLaria, who plays Big Boo on Orange Is the New Black.
Actors on the list include Zachary Quinto (Star Trek), Jonathan Groff (Frozen, Looking), John Lithgow (3rd Rock from the Sun) Alan Cummings (The Good Wife), John Slattery (Mad Men), and Denis O'Hare (American Horror Story).
The Nixon campaign now has about $660,000 in her campaign chest for the run up to the Democratic primary election in September. That's far less than her opponent Gov. Andrew Cuomo, who holds $31.1 million.
His financial disclosure was light on celebrities, with the exception of $130,000 combined from entrepreneurial twins Cameron and Tyler Winklevoss.