This 22-Year-Old Has Stashed Away $10,000 in Savings While Traveling the World. Here's How She's Doing It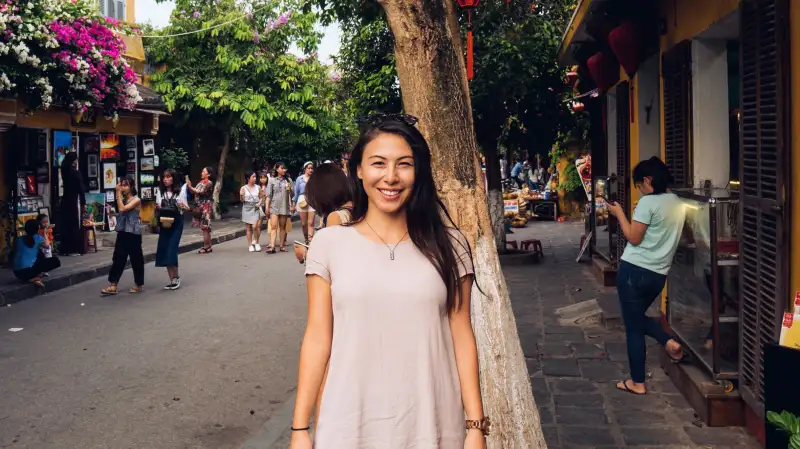 When Amanda Fink discovered the job that would allow her to travel the world and save money doing it, she figured it was a scam.
"It sounds too good to be true, but I'll apply," thought Fink, who was then about to graduate college and Googling for jobs at her apartment in Orlando, Fla.
After a few interviews, the now 22-year-old nabbed the position, which involved tutoring Chinese children in English over online video conference. Over the past two-plus years, the work-anywhere job has allowed Fink to travel to the street markets of Northern Thailand, the lush beaches of Bali, and the bustle of Hong Kong — while stashing away roughly $10,000 in her bank account.
Fink is one of many millennials exchanging financial stress in the United States for online tutoring abroad, where low expenses allow them to live comfortably and save money doing it. They share travel tips in tutor-focused Facebook groups with tens of thousands of members, and hang out with each other in cities across the world.
"Once you get over the hump and buy that one-way ticket, living is cheap and you meet a great group of people," Fink says. "It's difficult to make that leap, but then it's your reality."
Fink tutors with VIPKID, one of the larger companies in a $4.5 billion online-education industry that connects English teachers with students in China and elsewhere. In the five years since it was founded, VIPKID has reportedly raised $850 million in financing, building a roster of 40,000 teachers and 300,000 students. That growth is expected to continue, as tens of millions of parents in China alone seek extra English lessons for their kids, according to Forbes.
The high demand for teachers, especially American and Canadian ones, helps young tutors like Fink secure rates of about $20 per hour right away. No teaching experience is required, though tutors must have a bachelor's degree. After a 30-minute interview, a few training videos, and a mock class, VIPKID tutors are ready to go. Teachers select which days and times they can teach the 25-minute one-on-one sessions; then they wait for parents to book the slots.
"You create your schedule," Fink says. "You are the boss of your own life. It felt very empowering, as somebody who has come from multiple sales positions."
When she began in April 2016, it took Fink a few months to build a reliable base of students. Once she did, she booked a flight to Chiang Mai, in Northern Thailand, and rented an apartment. She typically taught 30 hours per week, bringing in about $2,400 a month. That money went far, allowing her to splurge on three-course meals and massages, even a motorbike. And she still had money left over, putting away as much as $1,500 in one particularly cost-conscious month; at one point, before a visit home, her savings were as high as $13,000. (Fink says she has no college debt to pay off, so once she covers expenses, she can devote her extra money to travel and savings.)
"I was able to save a good amount of money and live comfortably," she says — "something I'd never been able to do in the U.S."
She soon realized she could work anywhere — as long as it had decent wireless internet. She and her boyfriend, who also works remotely, spent a week in Malaysia, hopped back to Thailand, then followed that up with stints in Hong Kong, Vietnam, Bali, and Japan. In January of this year, they settled down in the Vietnamese coastal city of Da Nang, where they live minutes from the water.
Online tutoring can prove rocky for some, at least at the start. VIPKID rejected California native Walter Hampton, 28, when he first applied, after what he says were less-than-stellar interviews. He tried to apply again from a different email address, but the company caught him. Finally VIPKID promised him the job so long as he took a two-hour training course, he says.
"I was really nervous about my first class," says Hampton, who has been living in the city of Merida, on Mexico's Yucatan Peninsula (and one of Money's Best in Travel destinations for 2018). "I actually almost overslept." As it turns out, his student didn't even show up for that one. Hampton got paid anyway.
Hampton added the online gig last November to supplement the $8 per hour he was already making teaching part time at a local school. Gradually, the tutoring grew to 30 hours a week and generated the bulk of his income. In seven months he made about $11,000, and put away $4,000 of it.
He came to Mexico after travels in China, Thailand, and Berlin; he says he's on a quest to gain fluency in seven languages by 2023 — seven tongues in seven years. With English and German under his belt, and the expectation he'll have proficiency in Spanish by the end of the year, Hampton says he plans to travel from country to country learning French, Portuguese, Italian, and Japanese.
He'll tutor online along the way. "Online teaching allows me to be locationally independent," he says. "That's a game changer."
The job has its downsides, among them some badly behaved students. "Kids quite frequently go to the bathroom in the middle of class," Hampton says. "They take the iPad and sit on the toilet."
Plus, the time difference between Mexico and China forces Hampton to wake up at 3 a.m. so he's ready for students when they get home from school. (By keeping most of her travels in Asia, Fink has avoided the worst of these time zone mismatches.)
Because they work abroad, tutors are exempt from American income taxes. But as independent contractors they pay a federal self-employment tax of about 15%, due in one lump sum each year. "That's a six-grand surprise" for some people, Hampton says. "A lot of teachers save up for that tax avalanche."
As independent contractors, the tutors also get no health insurance or other benefits. Fink has foregone health insurance altogether, she says. Three months after she moved abroad, she and her boyfriend were struck by a car while on her motorbike, slicing open her calf. Thankfully, insurance through the motorbike rental covered an ambulance and surgery. "It was lucky," she says.
And the itinerant lifestyle might make quiet moments feel, well, lonely. But both Fink and Hampton rave about the community they've found through Facebook groups like Digital Nomad Teachers and Tutors, which not only offer troubleshooting forums but also help tutors find people to hang out with in a new city. One of the Facebook groups alone has 15,000 members, Fink says.
Tutors even occasionally bump into each other in cities popular with expats. "I just hear in passing someone teaches with VIPKID, and we bond over that and become friends," Fink says.
For Fink, online tutoring has become a career. In addition to teaching, she now interviews and trains prospective tutors for VIPKID. She balances those commitments with part-time work managing a local organic food market, a labor of love she says she aims to deepen with an MBA program online or in Europe.
But she has no intention of dropping her tutoring.
"I could do this for the next 10 years," she says. "There's no limit on it for me."