This Millennial Activist Found Out She Had a Trust Fund Worth Millions. Here's What She Did With It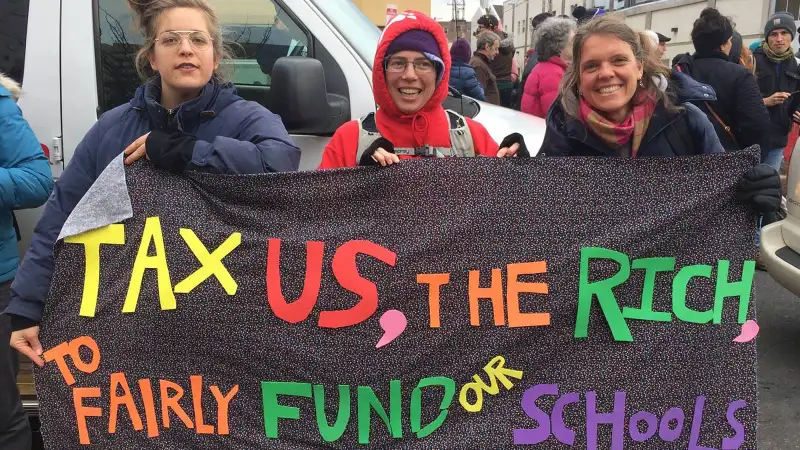 On a brisk September afternoon nearly seven years ago, Kate Poole joined hundreds of demonstrators in Lower Manhattan for the first day of Occupy Wall Street, a protest encampment that would remain in the global financial capital for almost two months.
Like many of the protesters, Poole was young and angry about the lingering economic fallout from the Great Recession. Unlike many, she had two trust funds in her name worth millions of dollars — a fact her mother had revealed to her just a few months earlier, albeit one she didn't tell any of the demonstrators that day.
While economic disquiet has loomed over millennials saddled with college debt or unable to afford health insurance, it has also touched some of the generation's well-off. These wealthy 20- and 30-somethings have come together in organizations like Resource Generation, which brings together rich millennials to give away their money for the express purpose of redistribution.
"What does it mean to have compassion for 99-percenters but not be in the 99%? It's an existential crisis for people to walk through," says Ian Fuller, managing director at the wealth management firm Westfuller Advisors and a board member with Resource Generation.
The money in Poole's family originated in an early 20th-century straw hat factory in downtown Baltimore and a tract of land nearby — both owned by her maternal great-grandfather, she says. At age 5, when her parents divorced, Poole moved with her brother and mother into her great-grandfather's large home outside Baltimore. She says she remembers vacations to the Galapagos, South Africa, and Austria. "I knew my family was wealthy," she says. "But it wasn't talked about as something I needed to think about."
Compunctions about her wealth boiled over on a study abroad trip in Southeast Asia during her junior year at Princeton University. She spent a month at a Buddhist temple in Bangkok called Santi Asoke, where brown-robed monks lived communally and sold household goods for just enough to break even. "To mark them up would've been a demerit, in terms of karma," Poole says.
She had an insight that would guide the next decade of her life: "What we believe about the economy should directly connect to what we believe about spirituality and ethics," she says.
After she returned to the United States and graduated from Princeton, Poole learned of the trust funds in her name. Her mother said she had set aside the money for a big future expenditure, like a down payment on a house, Poole recalls. What her mother wouldn't say: how much money was in the trust, and exactly how it was invested.
The stonewalling angered Poole. "It wasn't like I needed the money to survive," Poole says. "I felt it was something I needed to deal with because it could be doing harm in my name."
Her mother continued to refuse, Poole says, fearing that her daughter would mismanage the funds. It took a couple of years and many arguments with her mother before Poole learned exactly how much she was worth. "Every time we talked about it, we cried," Poole says.
Meanwhile, Poole was developing some professional expertise around values-based investing — first at the Schumacher Center for a New Economics, a group that promotes local and sustainable investment, and then as a researcher for economist Michael Shuman, who focuses on similar topics. Those jobs were giving her specific ideas about what she wanted to do with her money.
Finally, she says, her mother relented. "I was expecting $100,000 or $200,000," Poole says. The trust funds had $2.1 million. "I was like 'holy sh--,'" she says.
It was several more years until Poole had full control of the money. As she gained access, Poole says she began giving some away — the total has reached $600,000, she says — and investing much of the remainder in an array of community development financial institutions, a set of government-backed lenders that focus on low-income communities, as well as direct loans to community projects.
She donated some stock holdings she had particular moral qualms with — like Exxon and international mining firm Newmont Mining, which she said were "destructive and violent to the planet." (By contrast, she retained her Berkshire Hathaway shares, although she says she intends to give those away.)
Poole also co-founded Regenerative Finance, an organization that brings together affluent millennials, educating them on investing and helping them make zero-interest loans. One typical recipient: Renaissance Community Cooperative, a cooperatively run grocery store in Greensboro, N.C.
Meanwhile, she was traveling nationwide and giving investing workshops, where she heard a common refrain from younger attendees: "Tell me where to invest my money."
To that end, she has recently become a financial advisor. Now based in Asheville, N.C., Poole works for the firm Natural Investments, where she helps affluent millennials find ways to sync up their investments with their social and political values — even if those values include undoing economic inequality altogether.
"Rich young people reach out to me all the time," she says. "They feel a disconnection between the activism they're doing and what their money is doing."
Meanwhile, she and her mother are back on good terms. They even talk about investing, Poole says. (Her mother declined to comment beyond saying that she was proud of Kate's work — and that her daughter's investment "knowledge and recommendations" had even influenced other members of the family.)
"For the older generation, building wealth was a loving thing to do for your family," Poole says. "I'm thinking more broadly about what is meant by 'family.'"