Digital Federal Credit Union Auto Refinance Review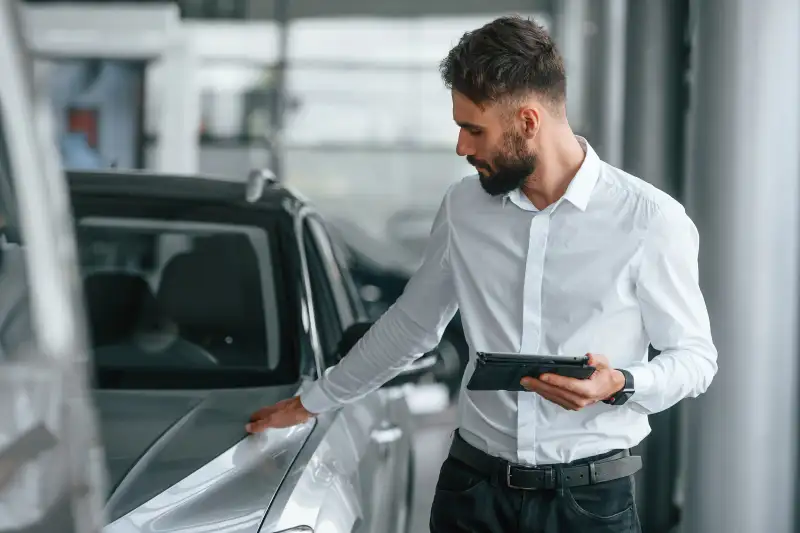 Digital Federal Credit Union (DCU) is the largest credit union in New England, providing members nationwide with banking products and loans, including auto refinancing. This review highlights what you need to know about Digital Federal Credit Union loans if you want to refinance or purchase a car. You must be a DCU member to borrow, and there are several options for meeting eligibility requirements if you decide DCU is the right lender for you.
Best for multiple loan types
Refinancing is just one of the many types of auto loans provided by DCU. It has offerings for new and used car buyers, even if the car is a classic or antique, a mobility vehicle or a recreational vehicle. DCU offers flexible loan terms and annual percentage rate (APR) discounts, but if you borrow and interest rates drop, you can refinance almost any auto loan through DCU.
Digital Federal Credit Union auto refinance pros and cons
Pros
No loan payments for the first 60 days
24-hour customer support
Several loan types available
Cons
Credit union membership required
Discount opportunities only available to high-level members
Pros explained
DCU auto refinancing provides many of the same features and benefits you'll find with other lenders, but some stand out.
No loan payments for the first 60 days
If you qualify for DCU auto refinancing, you can delay payments 60 days after loan closing. However, interest will accrue from day one.
24-hour customer support
If you apply online for DCU auto refinancing, you may have questions. You can get assistance during the application process and the life of your DCU loan by calling a Consumer Loan Call Center representative any time, day or night.
Several loan types available
DCU offers a wide range of auto loans, including financing options for new, used, classic, mobility and recreational vehicles. Most DCU auto loans have no restrictions on the model or age of the car you wish to finance.
Cons explained
You should be aware of a few notable cons to DCU auto refinancing if you consider applying.
Credit union membership required
Only DCU members are eligible for DCU loans. However, you don't have to be a member to apply. Digital Federal Credit Union membership is open to residents of many communities in Massachusetts and southern New Hampshire, employees of companies in those communities and their family members, and members of various organizations. You can join DCU by opening an account and making a $5 deposit.
Discount opportunities only available to high-level members
Only DCU Plus members receive a 0.50% APR discount for electing auto-pay as a loan payment method. You must set up and maintain direct deposit into a qualifying DCU account to qualify for Plus membership. If you don't want to set up direct deposit with DCU, you might get a better refinancing rate from another lender.
Digital Federal Credit Union auto refinance offerings
DCU offers several types of auto loans in addition to auto refinancing. Most loan terms are up to 84 months, but you'll get the best APRs on loans with shorter terms. Below is a quick overview of the different auto loans offered by DCU. If you're new to auto financing, it can help to know how auto loans work before beginning your search for a lender or a loan.
Auto refinance loans
You can refinance a Digital Federal Credit Union auto loan or a loan from another lender. This list of best auto refinance companies can give you an idea of how DCU refinancing terms and rates compare to other lenders.
Depending on your car's value and outstanding loan balance, you might qualify to refinance up to 130% of your vehicle's value with DCU. Financing more than your vehicle is worth will leave you "upside down" on your auto loan. Owing more than your car is worth may cause future financial strain as your car's value decreases over time.
Auto purchase loans
DCU offers auto loans for new and used vehicles, whether you're shopping at a dealership or buying from a private owner. If you haven't yet started your car search, you can apply for DCU auto financing to determine how much car you might qualify for, which will speed up the financing process once you find a vehicle.
Auto lease buyout loans
Are you nearing the end of your auto lease or simply tired of paying for a car you don't own? You won't find much information regarding lease buyout loans on the DCU website. Still, it's one of the many loan options available on the online loan application and has similar terms to DCU's other auto loan offerings.
Mobility vehicle loans
You can use a mobility vehicle loan to purchase a new or used vehicle or modify an existing vehicle to accommodate those with disabilities. You may qualify to finance up to 125% of the value of the purchase or conversion.
Classic and antique auto loans
DCU sometimes requires an appraisal when financing a classic or antique car, but you may be able to borrow up to 90% of the appraised value. You also can finance your classic or antique car for up to 10 years if eligible, rather than the seven-year repayment term for other vehicles.
Digital Federal Credit Union auto refinance pricing
If you compare Digital Federal Credit Union interest rates to those of other lenders, you'll find DCU doesn't have the lowest or the highest rates available. It falls somewhere in the middle. Several factors, including your credit score, loan term and payment method will determine your DCU rate. DCU Plus members who select auto-pay as their payment method may be eligible for a 0.50% APR discount. You may also receive a 0.25% discount if you're refinancing an eligible energy-efficient vehicle.
You won't pay any fees to refinance an auto loan from another lender with a DCU loan. However, if your current loan is with DCU, you may be charged an administrative fee based on the balance of the refinanced loan.
If you're looking for more affordable auto insurance on your refinanced vehicle, DCU also offers insurance products to its members. It might be worth getting a quote to see how DCU's insurance rates compare to some of the nation's best car insurance companies.
Digital Federal Credit Union auto refinance financial stability
If you're not a DCU member and are unfamiliar with the name, you may question the stability of this financial institution. Digital Federal Credit Union is the largest credit union in New England and one of the 20 largest in the U.S. DCU was founded in 1979 and currently serves as the chosen credit union for more than 700 companies and organizations, with 1 million members across all 50 states. Like all federally chartered credit unions, it's regulated by the National Credit Union Administration (NCUA). In 2021, the company reported a 6% increase in membership and $2.3 billion in auto loans. Its financial records indicate an increased income in 2021 and a trend of general reliability for consumers.
Digital Federal Credit Union auto refinance accessibility
The following is a quick overview of DCU loan availability, the various ways to apply for DCU auto refinancing and what you can expect from the loan process. If you're a first-time car buyer, familiarizing yourself with how to buy a car can make understanding the loan process easier.
Availability
Only DCU members are eligible for DCU refinancing, but you don't need to be a member to apply. You can apply and then join if you're approved and decide to accept a loan offer. You can qualify for a DCU membership by joining one of the many DCU partner organizations if you don't qualify based on where you work or live.
Auto loan refinancing is available to members in all 50 states. DCU doesn't disclose any loan restrictions on its website so most vehicles and loans should qualify even if you have a brand-new loan. It also doesn't disclose minimum credit requirements for auto refinancing. You may qualify even if your credit score isn't great.
Contact information
If you have general questions about DCU auto refinancing, you can contact DCU by email, phone, an in-person branch visit or via the website chat feature. Information Center hours are Monday to Friday, 8 a.m. to 9 p.m. and Saturday, 9 a.m. to 3 p.m. EST.
You can apply for DCU auto refinancing online, at a local branch or by phone. If you have problems or questions when applying online or wish to apply by phone, you can contact a DCU Consumer Loan Call Center representative 24/7. The Digital Federal Credit Union phone number is 800-328-8797.
User experience
Most financial experts agree that getting preapproved for a car loan is financially beneficial before you begin car shopping. An auto refinance doesn't require car shopping, but that doesn't mean you can't benefit from loan pre-approval. DCU provides pre-approval and APR estimates based on your creditworthiness, so you'll know what a DCU auto refinance may cost you before applying. The company reviews applicants for pre-approval using a soft credit pull but requires a hard credit pull for the application process.
If you decide to apply for refinancing, have the following information handy:
The estimated amount of your current auto loan
The desired refinance loan term
Your personal identification, such as a driver's license or passport
Your co-applicant's information, if applicable
Your monthly expenses
Your employment status and gross monthly income
If you're approved for a DCU loan and accept an offer, you must submit information regarding your current lender and vehicle so DCU can pay off the other lender upon loan closing. You may also need to submit additional documentation, such as income verification. Once DCU reviews all requested documentation and approves your loan, you will sign the documents, and DCU will pay off your original loan.
Digital Federal Credit Union auto refinance customer satisfaction
Considering that DCU has been operating under the name Digital Federal Credit Union since 1999, relatively few DCU customer reviews can be found online. It only has 59 customer reviews on the BBB website. Although very few are about DCU auto loans, it only has an overall customer rating of 1.27 out of 5 stars.
DCU has only 32 customer reviews on Trustpilot, with an overall rating of 1.9 out of 5. The highest overall rating on other consumer review sites is 2.6 based on 246 reviews. Most complaints concern frustration with the online banking website, app, and Digital Federal Credit Union customer service.
Digital Federal Credit Union auto refinance FAQs
If you're considering auto refinancing through DCU, you might find these answers to commonly asked questions helpful.
How long does the application and funding process take with DCU?
If you apply online, you can often receive same-day approval, but not same-day funding. Funding happens at loan closing, which doesn't occur until all required loan documentation is submitted and reviewed. DCU doesn't disclose how long auto loan processing may take. You'll have to look to another lender if you need same-day funding for an auto refinance.
Can low-credit borrowers apply for an auto refinance loan with DCU?
DCU doesn't disclose credit score requirements. A low credit score won't necessarily make you ineligible for a DCU auto refinance. DCU also considers your credit history, employment status, gross monthly income, monthly expenses and other factors for loan approval.
Is an auto refinance loan with DCU worth it?
If you qualify for DCU's best rate and its 0.50% APR discount, DCU may be a very affordable refinance opportunity. However, no matter what type of car loan you need, you should research the
best car loan rates
and benefits other lenders offer before deciding whether DCU is your best financing option. Several lenders provide lower auto loan rates than DCU.
How we evaluated Digital Federal Credit Union auto refinance
We evaluated Digital Federal Credit Union auto refinance based on the following:
Loan details: We researched the various DCU auto loan types, including terms, fees, APRs and rate discounts.
Accessibility: We reviewed DCU's auto lending restrictions and borrower requirements.
Customer satisfaction: We considered DCU's BBB rating and consumer ratings and reviews on trusted third-party consumer review sites.
Financial stability: We determined how many years DCU has been an established credit union, its membership size and its holdings.
Summary of Money's Digital Federal Credit Union auto refinance review
You'll get flexible terms and a decent APR with Digital Federal Credit Union auto refinance. Its rates aren't the lowest or highest among auto refinance lenders, but it offers a nice discount for qualifying DCU members.
You don't have to become a DCU member to apply for a loan. You can wait to join once you decide to accept a loan offer. You can get pre-approval and an APR estimate before applying to know how much a DCU loan might cost. If you choose to apply, you can do so online, by phone or in person at any DCU branch. Many borrowers receive same-day approval. However, same-day funding isn't available.
Online consumer reviews reflect some frustration with DCU customer service. Still, this financial institution was chartered more than 40 years ago and has more than 1 million members who choose to do their banking with DCU. If you wish to join DCU, you have a good chance of being eligible. DCU has members across all 50 states so you should find it easy to qualify regardless of where you live or work.