Disney World's New Ticket Pricing Is Super Confusing and People Are NOT Happy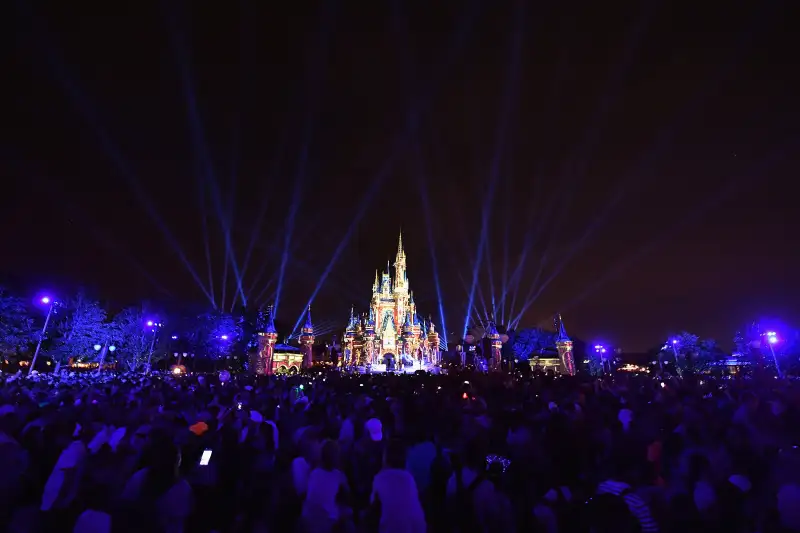 Gustavo Caballero—Getty Images
Walt Disney World introduced a new ticket pricing structure this week that the theme park giant says is "designed to simplify the booking experience" and "deliver the best experience possible for our guests."
The initial reaction to the changes among potential Disney guests, however, has largely been confusion — and annoyance.
On Monday, Disney introduced the new pricing, which takes effect on October 16, in a blog post that included a video of the forthcoming "interactive online calendar" for buying tickets, plus a multi-color infographic detailing "5 Things to Know About Buying Tickets at Walt Disney World."
Yet even with all these resources, it's hard to gauge how much more (or less) you'll actually pay for a ticket in the future. And the confusion is only partially because Disney did not release precise ticket pricing information.
Disney bloggers at travel sites like Theme Park Insider and The Points Guy did their best to make sense of the new ticket pricing structure, but there are still many unanswered questions. Here's the gist from The Points Guy:
Got that? We'll try to explain more.
Disney first introduced variable pricing on single-day tickets in 2016. At that time, a one-day ticket at the Magic Kingdom in Orlando cost $125 during "peak" periods. Those dates included the winter holidays, weekends year-round, and the summertime break from school. One-day tickets dipped to $105 during "value" periods, which were mostly limited to Mondays to Thursdays in low-demand months when kids are back in school. Single-day prices were slightly lower for Disney's other theme parks, but they too featured higher prices during "peak" times and lower prices during "value" times.
The variable pricing only applied to single-day tickets; multi-day passes cost the same no matter what time of year you used them.
As of October 16, though, many of those ticket policies and pricing rules introduced by Disney two years ago will disappear.
Going forward, variable pricing will still apply to single-day tickets. But in a few weeks, all of Walt Disney World's parks will have uniform single-day ticket pricing. So you'll pay the same to visit the Magic Kingdom (now up to $129) as you will to visit EPCOT or Hollywood Studios. Right now, a one-day adult admission generally costs $5 less at one of the latter parks compared to the Magic Kingdom. In other words, there will soon be price increases on single-day tickets to the non-Magic Kingdom parks.
What's more, guests will also encounter variable pricing on multi-day tickets, with prices that change based on the first day the pass is used. The video published in Disney's announcement shows that a four-day pass would theoretically average somewhere between $87 and $97 per day, depending on the first date it was used. (Right now, a four-day adult pass starts at $95 per day, on average.)
But the video states that "prices shown do not reflect actual pricing." So it's unclear how much multi-day tickets will end up costing.
Another issue Disney fans may be wondering about: What if you don't want to commit to an exact first day to start using your pass? As Robert Niles at Theme Park Insider explains, "You can buy an anytime ticket... but you will end up paying the peak price for that."
Disney says that it is instituting the new ticket price changes as a crowd-control measure. "Introducing date-based tickets and pricing will allow us to better distribute attendance throughout the year so that we can continue to improve and deliver a great experience," the company's blog post stated.
Naturally, Disney guests are all in favor of smaller crowds and shorter lines. But year after year of price increases has made it exorbitantly expensive to bring a family to Disney World. Many people also seem increasingly put off by how complicated it is to find out how much the tickets cost, and how Disney is killing spontaneous fun by forcing guests to lock in the first day of their visit as well as advanced reservations for meals and ride times.
"For a company with an amazing reputation in hospitality, they've really gone out of their way to make a visit to one of their parks infinitely more complicated than it needs to be," one commenter at Theme Park Insider said.
"I've been pretty OK with most of how the Mouse manages ticket sales, but this just annoys the crap out of me. Buying tickets should not be so complicated," another said.
Others responded to the news with questions: "How is this going to work if you are there for 7 days but only do the park for 5 days? What happens if you need to postpone your trip?" one commenter wondered at another Disney fan site, WDWInfo.com.
Others chimed in on social media to say Disney's new pricing structure is just a bad idea.