10 Ideas for Easy Last-Minute Christmas Gifts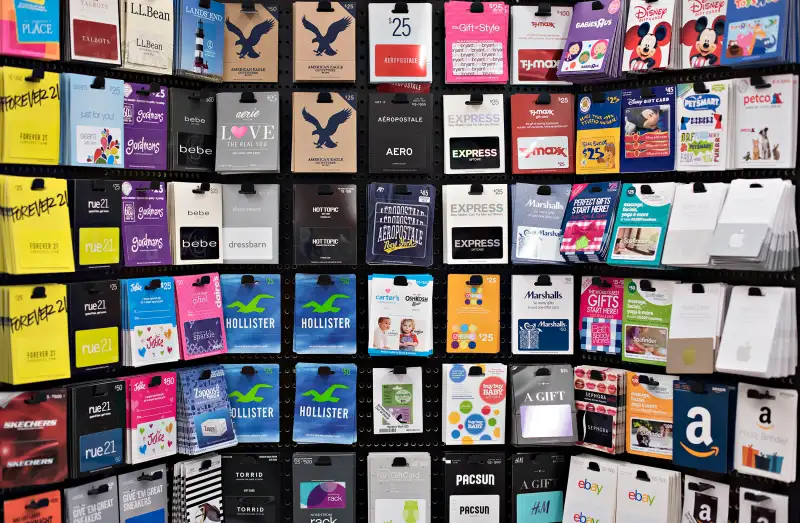 Bloomberg via Getty Images—Bloomberg via Getty Images
Take heed, slacker gift givers. There is still time to pull off a Christmas miracle, in the form of last-minute presents that don't seem entirely thoughtless. Here are some ideas for buying gifts on the quick, with minimal effort.
Traditional Gift Cards
Your nearest supermarket or drugstore is probably open even on Christmas, and it'll have a rack devoted to gift cards from a wide range of retailers—Home Depot, Chili's, Target, Amazon, and so on. Snatch one and name a dollar amount at checkout and you're done. (Unless you're one of those people who think that gift cards are a crime against Christmas).
Restaurant Gift Cards + Bonus Credits
For years, chain restaurants have been adding special bonuses to promote gift card purchases around the holidays. Typically the offer includes an extra $5 credit with the purchase of a $25 card—or, in the case of Olive Garden, a $10 bonus with a $50 card purchase—and it's up to the giver if he wants to keep the bonus or pass it along as part of the gift. The offer is generally valid on physical and electronic gift cards, and if you go with the latter you purchase with a few quick clicks, with no need to run to the store.
Electronic Gift Cards
These can be used just like physical gift cards, and while they might not offer the tangible feel of a gift, they don't require the buyer to leave the couch. In some cases, you can get an extra bonus for buying an e-gift card: At Starbucks, for instance, when you buy an e-gift of $10 or more and pay with Visa, an extra $5 is automatically added to the virtual card.
Read Next: The Best Last-Minute Tech Gifts
Buy Online, Pickup in Store
Though some shoppers have been frustrated by long waits and poor service when attempting to BOPIS—buy online, pickup in store, a.k.a. "click and collect"—the practice is a particularly sensible and smart time-saving solution for last-minute shoppers. Target, for instance, says that roughly half of all online orders placed in the last few days before Christmas are actually picked up in the store, not shipped. And Target is promising shoppers that they can place orders as late as 6 p.m. on Christmas Eve for pickup later that same night.
Browse at Stores with Late Hours
Kohl's, Toys R Us, and Walmart are all open 24/7 in the days before Christmas, so you have options even if the only time you can shop is 3:45 a.m. on Wednesday night. Toys R Us stores are open until 9 p.m. on Christmas Eve too, while most retailers will be shutting down by 6 p.m.
Read Next: These Stores Have the Most Insane Hours Leading Up to Christmas
E-mail a Gift
This season online shoppers are increasingly seeing the option to give e-gifts rather than simply purchasing an item and having it shipped. In this scenario, available for items like cosmetics and clothing from retailers such as Coach and Macy's, the buyer makes a purchase, and the recipient sees the selection via e-mail—and then can exchange it, or change the color or size—before it's delivered. It saves shoppers (and retailers) the trouble of handling physical returns and exchanges, and it also gives buyers an excuse for why an order wasn't delivered in time for gift giving on Christmas morning.
Same-Day Delivery
Deliv, UberRush, Instacart, Google Express, PostMates, and Amazon Prime Now are among the services offering same-day delivery, sometimes in as little as one or two hours after orders are placed. The number of cities where same-day delivery is available is limited, as is the selection of items that can be ordered and shipped in a jiffy. Consumers should expect some hefty delivery charges for such speedy service as well. But hey, these services are saving you the time and effort of heading to the store yourself, and they're also potentially saving your reputation as a generous gift giver on Dec. 25.
Gift Boxes
Available as one-time gifts or regularly arriving deliveries a la "of the month" clubs, gift boxes feature an assortment of items picked to please the interests of different personalities. Birch Box offers gift subscriptions for beauty samples for women (and grooming products for dudes), for instance, while options like Man Crates and the Cat Lady Box may be perfect matches for people on your list.
Lottery Tickets
These qualify as fine gifts because they're fun, and many people wouldn't buy them for themselves. As a bonus for gift buyers, lottery tickets can be picked up on a swing by the local liquor store or bodega. (Alternately, if you're at the liquor store, what's the preferred beverage of the person on your list? Pick up a bottle, toss a ribbon on it, and you're golden.) While Consumer Reports points out that technically it's illegal to gift lottery tickets to minors, the chance of winning a zillion bucks "might be the ultimate no-labor gift." In most cases, of course, they're a total waste of money. But the same can be said of lots of holiday gifts.
Read Next: Why Gift Cards Are a Crime Against Christmas
Cold Hard Cash
Joel Waldfogel, an economist and the author of Scroogenomics, recently engaged in a discussion at Vox to rehash his argument against buying Christmas gifts—because they're often a wasteful, inefficient use of money. "We are able to choose gifts well only for people we know really well," he said. "With everyone else, we might be better off giving cash or gift cards." (Which is why, in the opinion of one Money writer, gift cards are the only present that makes sense.)