Eggflation! Why a Dozen Eggs Now Costs You More Than a Gallon of Gas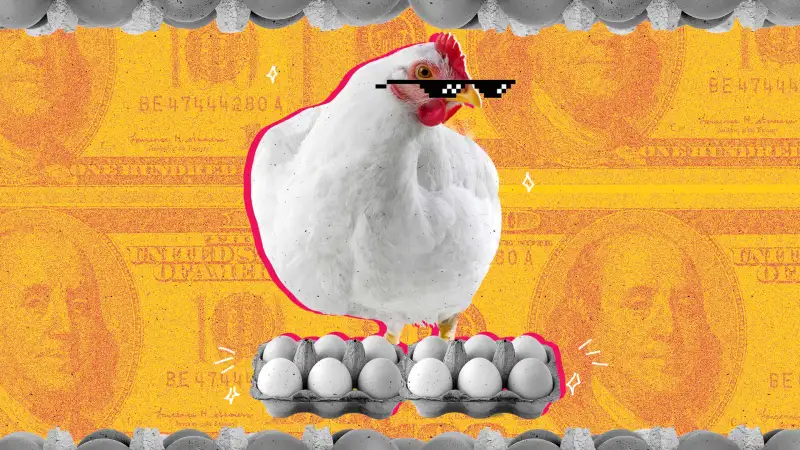 You may want to skip that omelette for breakfast and switch to cereal: The average cost of a dozen eggs is now more expensive than a gallon of gas.
Like most grocery items, egg prices skyrocketed in 2022, according to Consumer Price Index (CPI) data. The wholesale cost of a dozen eggs is about $3.30 now in the U.S. and more than $7 in some states.
American drivers are currently paying an average of $3.27 per gallon, down from a high over $5 last summer.
Bear in mind that the egg prices quoted are at the wholesale level. The actual prices paid by customers in grocery stores are typically higher, as rising wholesale costs get passed down to the consumer.
CPI data shows that the average retail cost in U.S. cities for a dozen eggs increased by more than double, from $1.72 in November 2021 to $3.59 in November 2022. Poultry and eggs posted some of the highest cost increases in 2022, with wholesale turkeys reaching $1.70 a pound ahead of the Thanksgiving holiday, $0.40 higher than the previous year.
Increased consumer demand and a pervasive avian flu epidemic impacting the poultry industry are to blame, according to the United States Department of Agriculture. More than 57 million birds in 47 states have been infected with the virus as of Jan. 6, rendering them and their eggs unfit for human consumption.
USDA data shows that egg production dropped from 9.7 billion in December 2021 to 8.9 billion in November 2022.
States with the worst outbreaks are seeing some of the priciest consequences of the epidemic. In California, where over 750,000 birds have been destroyed due to the infection in the past year, a dozen eggs now runs shoppers $7.37 wholesale, according to USDA data.
Low supply isn't the only factor yoked to increased egg costs: Americans have cut down on purchasing red meat in recent years in favor of healthier proteins like eggs and poultry, the USDA says. While the likelihood of humans contracting avian flu from poultry or wild birds remains low, the financial toll of the outbreak on the industry is expected to continue hitting grocery store shelves.
The last comparable avian flu outbreak occurred in 2015, when 50 million chickens and turkeys were culled. The USDA estimates the epidemic cost the industry about $3.3 billion.
[CORRECTION: In a previous version of this story, we misstated the cost of a dozen eggs in November 2022 as $5.59 when it actually was $3.59.]
More from Money:
Here's What Investing Experts Are Watching in 2023, From Inflation to China's Economic Reopening
6 Best Personal Loans of January 2023
How Low Could Inflation Go in 2023? Here Are 4 Expert Predictions