Are Banks and Post Offices Open Today? Here Is Everything Open and Closed on Election Day 2018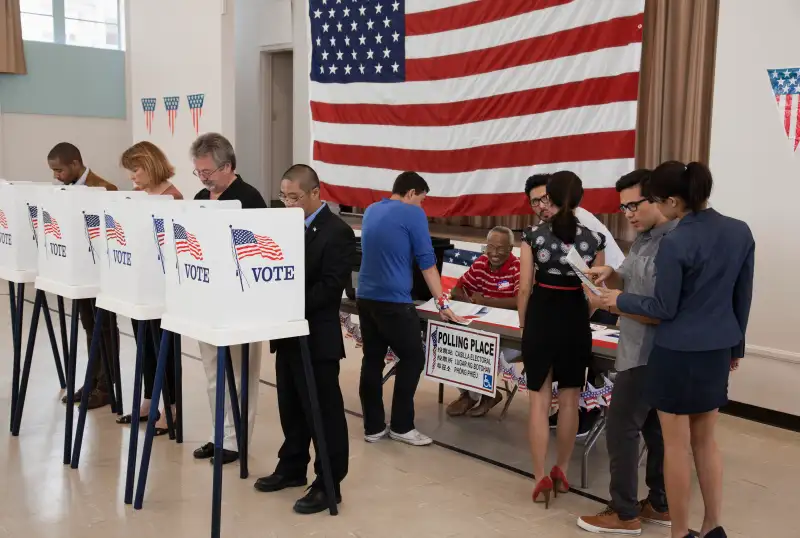 Hill Street Studios—Getty Images/Blend Images
Tuesday, Nov. 6, is Election Day 2018. And while Election Day is mostly business as usual at stores, restaurants, offices, and banks, it's sometimes not clear what is open and closed on voting days.
For instance, many schools serve as polling stations on Election Day, and these schools are closed to students. Check out your local school's online calendar to see if it is open or closed on Election Day. (If you're wondering where to vote in your community, go to RocktheVote.org and enter your address to find the nearest polling place.)
Now, you may also be wondering: Is Election Day a national holiday? The answer to that question is no. While some argue that Election Day should be a national holiday, or that Election Day should be moved to a weekend to increase voter turnout, for the time being the day to vote in the U.S. is generally a Tuesday in November.
As for whether post offices, banks, the stock market, federal offices, and such are open or closed today, here's all the information you need.
Is the Post Office Open on Election Day 2018?
Election Day is not a postal holiday. Post offices should be open with normal business hours on Tuesday.
Are Banks Open on Election Day?
Banks are often closed on major holidays like Veterans Day, Thanksgiving, and Christmas, but as mentioned Election Day is not regarded as a holiday. So banks are open on Tuesday, and regular store hours should be in effect.
Is the Stock Market Open or Closed on Election Day 2018?
The New York Stock Exchange and other markets are closed on holidays like Thanksgiving, Christmas, and New Year's Day, but they are open for normal trading on Election Day.
Are Government Offices Open or Closed on Election Days?
Election Day is not a federal holiday, which means federal offices are open like usual. However, some states — including New Jersey, Maryland, Illinois, Montana, Rhode Island, and Hawaii — consider Election Day state holidays, so state and local government offices are closed on Tuesday and non-essential state workers have the day off.
Are Restaurants and Stores Open on Election Day?
Hundreds of businesses have pledged to give workers paid time off to vote, but not all that many companies close down entirely on Election Day. For the most part, restaurants and stores are open with normal store hours on Election Day 2018. Among the exceptions is Patagonia, which is closing all stores on Tuesday to encourage voting.