Does Your Work Give You Paid Time Off to Vote on Election Day? Here Are All the Companies Spearheading the Movement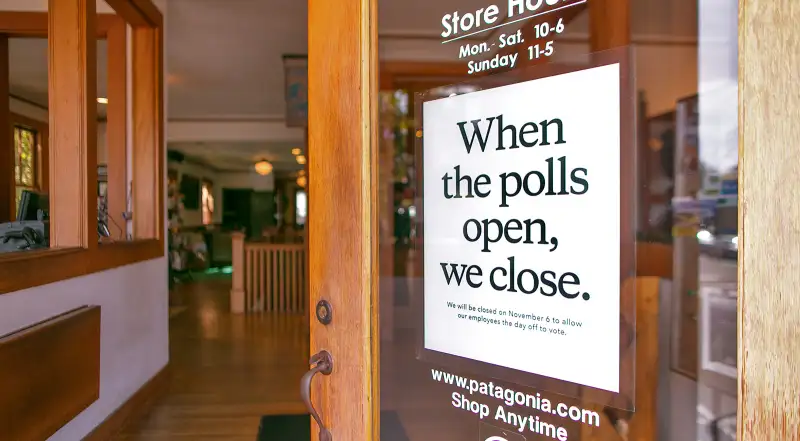 Patagonia stores won't be open on Nov. 6. Instead, a sign will hang from the front doors of the nationwide retailer, reading: "When the polls open, we close."
The company, best known for its outdoor clothing and gear, will close all stores and its California headquarters on Election Day in an effort to give its employees ample time to get out and vote — with paid time off.
"We want to make it as easy as possible for our employees to get to the polls, and we're sending a message to our customers and the public that there's nothing more important," says Maya Spencer, a Patagonia store manager in Boston. "Our store being open on Election Day is not more valuable than us allowing our employees to vote."
More and more companies are giving their employees paid time off on Election Day so they can find the time to vote. This year, a record 44% of companies will grant paid time off for employees on Nov. 6, according to recent research from the Society of Human Resources Management. That's a jump from 2016, when 37% of companies had the same practices, according to a separate report from the organization.
A growing movement from small businesses to Fortune 500 companies is encouraging other CEOs and executives to do the same. More than 300 companies have signed a pledge that they would give at least two hours of paid time off to all employees in an effort to give them adequate time to vote through a campaign spurred by ElectionDay.org, a project developed by the nonprofit Vote.org.
Those policies come in various forms — from Patagonia shutting down its stores entirely to Cava, a fast-casual restaurant chain, giving employees two hours of paid time off at the beginning or at the end of their Nov. 6 shifts. Levi Strauss & Co., which employs around 15,000 people, will give corporate and retail employees five hours and three hours of paid time off, respectively, on Election Day. Dropbox, Stanford University, Pinterest, and many other organizations will get in on the action, too.
For Patagonia, "there wasn't a lot of hand-wringing of questions about our bottom line," says Corley Kenna, director of global communications and public relations at Patagonia, which, as a private company, does not publish its sales numbers. "When we choose the right thing to do instead of the easy thing to do," Kenna adds, "our business benefits." Patagonia says its efforts are nonpartisan, though the company has endorsed two Democratic U.S. Senate candidates and has criticized President Donald Trump.
Vote.org, the organization focused on increasing voter participation, launched its initiative to influence companies to grant paid time off on Election Day in March 2018 after identifying the main reason why eligible voters say they're unable to do so: work or school. Thirty-five percent of Americans who didn't vote in the 2014 midterm elections cited work or school as the reason why according to the Pew Research Center.
Midterm elections have a historically low voter turnout, with about 36% of eligible Americans voting in the 2014 midterms compared to around 60% in the 2016 presidential election. But that doesn't mean they're any less important, says Colette Kessler, director of partnerships at Vote.org. Politicians, activists, and celebrities have been encouraging Americans to register to vote in the 2018 midterms as a number of crucial races for the Congress, governorships, statewide and local positions, as well as a number of policy issues, are on the ballot in states around the country this November. More than 800,000 people registered to vote on National Voter Registration Day in September this year — an all-time record, even including those held before presidential elections.
For years, lawmakers like Vermont Sen. Bernie Sanders have pushed to make election days a national holiday in the U.S. to spur heightened participation from eligible voters. Efforts from the United Automobile Workers have proved successful in the past, too, with the union securing a contract back in 1999 to guarantee auto workers have Election Day off.
There is no federal law that requires companies to give employees paid time off to vote on election days. But in 22 states — including California, Texas, New York, and Minnesota, among others — employees have the right to take paid time off to vote, according to the Society of Human Resources Management. The laws vary on their specifics from state to state, and 21 states and Washington, D.C., have no such mandate.
That's why it often falls on companies to either make employees aware of their rights on Election Day or provide ample time for their workforce to vote on their own.
"Regardless of the federal or state laws, companies still need to be aware of their own workforce and their own employees' specific needs," Kessler adds. "We're really committed to making sure companies have a policy in place that makes sure their employees don't need to take unpaid leave or have to decide between working and voting."
Paid time off to vote also alleviates any concern over losing money from a lost shift, says Spencer, the Patagonia store manager. Indeed, the company's efforts to encourage its employees to vote have not only made it easier for them to do so from a financial standpoint, she says, but also has encouraged customers to think more about taking the time to vote themselves.
So, to the companies that have not created a similar policy for its employees, Spencer asks: "How do you put a value on wanting someone to execute their civic right?"
Companies giving employees paid time off for the midterm elections
While more than 300 companies have pledged to give their employees paid time off on Election Day, here's a list of some of the biggest organizations to do so, plus the range of employees they have. You can find the full list — which is growing each day — here.
Agoda: 3,001-5,000 employees
Burton Snowboards: 500-1,000 employees
Cava: 1,001-3,000 employees
Centro: 500-1,000 employees
Creative Arts Agency: 1,001-3,000 employees
Diageo: 1,001-3,000 employees
Dropbox: 1,001-5,000 employees
Etsy: 500-1,000 employees
Huge: 1,001-3,000 employees
Jackson Hewitt: 5,001-10,000 employees
Kayak: 500-1,000 employees
Levi Strauss & Co.: 10,000-20,000 employees
Lime: 500-1,000 employees
Lyft: 1,001-5,000 employees
Mailchimp: 500-1,000 employees
Mariposa Energy LP: 501-1,000 employees
Mozilla: 1,001-3,000 employees
Okta: 1,001-3,000 employees
OpenTable: 500-1,000 employees
Patagonia: 1,001-5,000 employees
Pinterest: 1,001-5,000 employees
Stanford University: 10,000+ employees
Steptoe & Johnson LLP: 500-1,000 employees
Symetra Financial: 1,001-3,000 employees
The Irvine Company: 10,000+ employees
The YMCA of Greater Rochester: 1,001-5,000 employees
WeddingWire: 501-1,000 employees
William Morris Endeavor: 501-1,000 employees