Here's Where All the 2020 Presidential Candidates Stand on Key Workplace Issues — From Paid Family Leave to Minimum Wage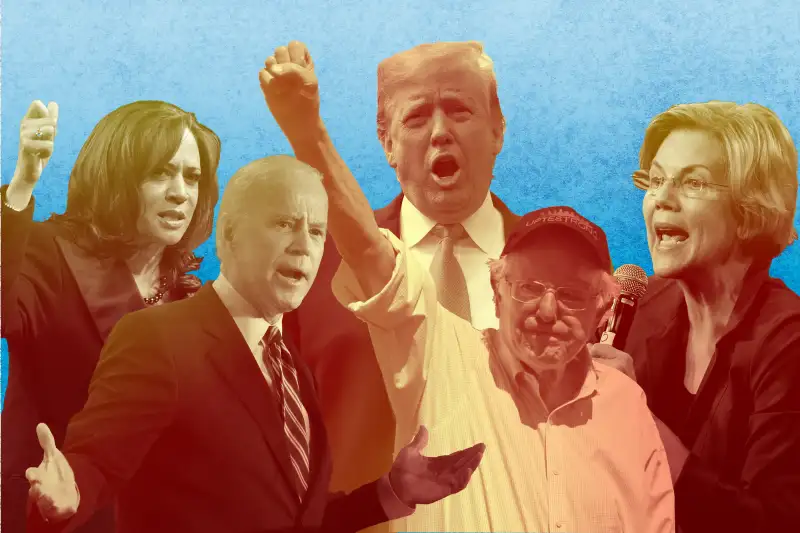 Photo illustration for Money by Sarina Finkelstein; Getty Images (3); Shutterstock (2)
Even at such an early start to the 2020 presidential election, it's clear that workers' rights are front and center.
Democratic presidential hopefuls are flocking to picket lines to support organized workers. Many are speaking in front of union-packed halls around the country. A federal $15 minimum wage is a platform for more than a dozen candidates — and so are federal requirements for paid sick and family leave. Equal pay is prominent, and so is the right to organize.
The election itself comes at a pivotal movement for American workers. Despite low unemployment and a tight labor market, wages are barely growing. Retail workers are losing their jobs or getting fewer hours as their stores shutter. Teachers are protesting around the country for better wages and smaller class sizes. Manufacturing plants are shuttering, and big businesses are growing even larger and more powerful. And the threat of automation stands to demonstrably alter the American workforce and economy.
Here's a complete guide to where each 2020 presidential candidate lands on issues pertaining to American workers.
Joe Biden
Jeff Swensen—Getty Images
"I make no apologies. I am a union man. Period." That's how Biden launched his campaign for president this past week in front of a crowd of Teamsters in Pittsburgh, doubling down on his support for the right to organize.
Throughout his long-speculated run for the Oval Office, the former vice president has endorsed a $15 minimum wage and free four-year public college. He has also called for a ban of non-compete agreements at American companies, as well as for policies that would ensure pay equity regardless of gender. One of those includes wage transparency, which would allow workers to better advocate for their own salaries and do so without fear of retaliation. He also has supported protections against wage theft.
It's clear that Biden is making workers' issues a main tenant of his presidential run. But he has been criticized for his focus on the older, whiter side of organized labor. And 2020 candidate and Vermont Sen. Bernie Sanders has criticized Biden's support for trade deals like the North American Free Trade Agreement (NAFTA), which he argues has hurt American workers.
Read more about his campaign here.
Cory Booker
As a senator from New Jersey, Booker has advocated for an end to restrictive "no poach" agreements and pushed for workers' rights to organize in unions. He also proposed a bill that would have guaranteed jobs in 15 local areas, offering at least $15 an hour, health benefits, and paid family and sick leave and co-sponsored a bill that would have amended the Fair Labor Standards Act to include better overtime protections for farmers.
One of Booker's biggest proposals as a presidential candidate is his baby bonds plan, which is aimed at decreasing the racial wealth gap in America. The plan would give every child $1,000 in a savings account at birth, with additional payments depending on household income.
While Booker has voted in line with labor causes throughout his time in the Senate, he has been criticized for his ties to Wall Street and past statements calling the 2012 Obama campaign's targeting of private equity "nauseating." Now, it appears Booker is hoping to shift his focus to workers and their incomes in relation to corporate profits. In a recent op-ed in The Guardian, Booker targeted the dichotomy of high corporate profits and low wages for workers, advocating for better union protections.
Read more about his campaign here.
Pete Buttigieg
SOPA Images—LightRocket via Getty Images
The 37-year-old Mayor of South Bend, Indiana, is a proponent of paid family leave — having implemented the policy for his city employees — and the proposed Equality Act, which would bring better workplace protections on the federal level for LGBTQ individuals. The candidate also visited Stop & Shop employees this year to support workers as they demanded better pay and health care coverage.
Buttigieg has also expressed concern over the impact of automation on the workforce. Once the chair of the U.S. Conference of Mayors' task force on automation, Buttigieg has said that companies should be held accountable for how they impact their employees and should offer new training for workers and higher wages.
The candidate hasn't yet released specific proposals to combat these issues. He has emphasized a need for a broader conversation for the role of work in Americans' lives.
"We need to begin softening the expectation that the workplace can supply your sense of identity," he told Vice earlier this year. "You're going to be more resilient if your sense of who you are is not only with your workplace."
Read more about his campaign here.
Julián Castro
Ethan Miller—Getty Images
The former Secretary of Housing and Urban Development is showing his commitment to raising the minimum wage by doing it himself. Castro has said that every person on his campaign staff, including interns, will earn at least $15 per hour and have the ability to unionize if they were to pursue it.
A proponent of NAFTA as mayor of San Antonio, Castro now says he would hope to renegotiate the trade agreement to offer better protections for both workers and the environment. In addition to that and the minimum wage, Castro supports Medicare for All, affordable housing, and the right to unionize as ways to improve the lives of working Americans.
"Let's not pretend that when we raise the minimum wage to $15 that everything's going to be fine for our workers," Castro said in an interview with NBC News. "We still have a lot of work to do."
Read more about his campaign here.
John Delaney
Once the youngest CEO of the New York Stock Exchange, Delaney touts himself as a pro-business centrist who supports a higher minimum wage and workers' right to organize.
Delaney, who has represented Maryland's 6th district in the House of Representatives for three terms, encouraged Baltimore-area businesses to increase their minimum wage and has expressed concern over how automation will impact the workforce. He has called himself a "pro-jobs Democrat" and, in turn, "pro-business."
Read more about his campaign here.
Tulsi Gabbard
Sergio Flores—Getty Images
The Hawaii representative and Iraq war veteran is a co-sponsor of the Raise the Wage Act, which aims to increase the federal minimum age to $15 an hour by 2024. The candidate's platform also emphasizes the need to break up big banks and supports paid family and medical leave.
Gabbard also joined more than 230 other House colleagues to introduce the Equality Act in March. The legislation would prohibit discrimination based on sexual orientation or gender identity in the workplace, as well as in education, housing, credit, public accommodations and more. (Gabbard was previously criticized for anti-LGBTQ sentiments in the past and has since apologized.)
Gabbard has also called for the decriminalization of sex work. "If a consenting adult wants to engage in sex work, that is their right, and it should not be a crime," Gabbard told BuzzFeed News. "All people should have autonomy over their bodies and their labor."
Read more about her campaign here.
Kirsten Gillibrand
John Lamparski—Getty Images
Among her other policy proposals to protect workers, the New York senator has worked with fellow presidential candidates like Sen. Bernie Sanders, Sen. Kamala Harris, Sen. Cory Booker, and Sen. Amy Klobuchar to push a wide-ranging piece of legislation to combat workplace harassment called the BE HEARD Act. The bill would increase protections for LGBTQ workers, the use of non-disclosure agreements, end the tipped minimum wage, and prohibit mandatory forced arbitration — an agreement that keeps workers from bringing lawsuits against their employers.
Gillibrand has also been at the forefront of the Congressional response to sexual harassment and abuse in the workplace. Last year, she pushed the Government Accountability Office, as well as the Equal Employment Opportunity Commission, to produce and continue to track the economic impact of sexual harassment in the workplace.
"While employers tend to focus on direct costs to a business, such as legal fees or settlement amounts, the true cost of sexual harassment includes indirect costs such as decreased productivity, increased turnover, and reputational harm," Gillibrand and other lawmakers wrote in a letter last year. "All of this is an impediment to employee performance and employers' bottom-lines."
Read more about her campaign here.
Kamala Harris
NOAH BERGER—AFP/Getty Images
The California senator and former state attorney general has leaned into her support for labor unions and the American workforce as of late, emphasizing her support for a higher minimum wage and better protections for more vulnerable workers.
Harris plans to introduce a bill in the Senate this year that will extend federal workplace protections like the minimum wage to domestic workers and farmers. She's endorsed the end of right-to-work laws, as well as criticized major corporations for not compensating their workers with higher wages.
At the Service Employees International Union (SEIU) gathering in Las Vegas last week, Harris targeted McDonald's — a company at the center of the Fight for $15 movement — for the corporation's employment practices and wages. "You can't go around talking about the Golden Arches, as a symbol of the best of America, when you are not conducting yourself in the best way in terms of supporting the working people of America," she told the crowd.
Harris was also the first presidential candidate in this cycle to support the decriminalization of sex work. That's a shift from her thinking in 2015 when, as California Attorney General, Harris pushed back on efforts to legalize sex work, arguing that laws against it had instead protected workers from sex trafficking.
Read more about her campaign here.
John Hickenlooper
Colorado's former governor is hoping to better arm American workers with the skills needed to adapt to the changing workplace.
In a CNN op-ed, Hickenlooper described his desire for a $15 federal minimum wage, a reimagining of employment in the gig economy, and the requirement of paid family leave and medical leave. He also hopes to "shutdown tax loopholes and end the flood of tax breaks for the largest corporations," as well as provide universal medical coverage to grant people more agency in changing jobs.
"Ultimately, a national strategy for the American workforce seeks to push the country toward a new economic model, which creates more equitable patterns of growth," Hickenlooper wrote.
The former governor also told SEIU workers in Las Vegas last week that he would raise the minimum wage higher than $15 an hour in cities with higher costs of living, like New York and Los Angeles.
Read more about his campaign here.
Jay Inslee
The Governor of Washington has mounted his campaign with an intense focus on combating climate change — and what that could mean for the labor market.
In an April CNN town hall and op-ed for the broadcast network, Inslee has said the economy and job market needs to shift from a fossil fuel-dependent one to a clean energy one. He has cited the fast growth of jobs like solar installers and wind turbine technicians and has emphasized a need to better train the American workforce to adapt to and become better prepared for these new jobs.
"In other words, climate change is not more important than the economy — it is the economy," Inslee wrote in a CNN op-ed. "And it's time for a new national vision to take it to the next level."
As governor, Inslee also signed an executive order in an effort to protect workers from a U.S. Supreme Court ruling last year regarding mandatory arbitration and has also signed higher minimum wages in the state into law, as well as made efforts to close the gender wage gap.
Read more about his campaign here.
Amy Klobuchar
Stephen Maturen—Getty Images
The Minnesota senator has supported increasing the federal minimum wage and closing the gender wage gap. She has also expressed interest in promoting labor organizing at corporations, as well as requiring companies to make a minimum retirement contribution for workers.
As a senator, she has also pushed against corporate consolidation, advocated for providing paid sick and medical leave, as well as more training and education for employees. Like a number of other 2020 candidates, Klobuchar stood alongside Stop & Shop workers earlier this year as they went on strike for better pay and health benefits.
The senator herself, however, has come under fire for her own treatment of her employees following reports from HuffPost and the New York Times. The reports detailed instances of "constant put-downs" and "demoralizing" behavior and a humiliating moment for one staffer that involved Klobuchar, her salad, and a comb. A number of former Klobuchar staffers wrote a letter in her defense after the reports surfaced, and Klobuchar defended herself in an interview with CNN. "If you are a boss, you have to have high standards, and that is what I have always had," Klobuchar said.
Read more about her campaign here.
Wayne Messam
The mayor of Miramar, Florida, has spoken of re-establishing the "American Dream" with jobs with better pay and better protections. Messam, who is a business owner himself, has also cited "corporate greed," tax cuts for corporations, and stock buybacks as examples of ways working Americans have been hurt in the U.S. economy.
"I'm living that American dream but I know that the American Dream is slipping away from most Americans," Messam said in an interview with WBUR. "They have to work two and three jobs just to make ends meet."
Read more about his campaign here.
Seth Moulton
In the Massachusetts representative's platform, he emphasizes the need to create jobs to improve America's infrastructure — a move that would give Americans more access to the workforce and the right jobs for them. He has also supported the Green New Deal and has co-sponsored the Raise the Wage Act, which would raise the federal minimum wage.
"Our tax system should help grow the middle class and small businesses," Moulton says on his 2020 website. "Our family leave policies should make it easier for Americans to raise a family. And our investments should positively impact every community in the country."
Read more about his campaign here.
Beto O'Rourke
Justin Sullivan—Getty Images
The former Congressman from Texas supports a $15 federal minimum wage, a ban on discrimination against LGBTQ individuals in the workplace, and the right for workers to organize in labor unions. In Congress, he also co-sponsored the Paycheck Fairness Act and the FAMILY Act, which promoted equal pay for women and paid family leave.
"When we invest in the American worker, we're also investing in their families. We're also investing in this country," O'Rourke said at the SEIU workers forum last weekend, touting an increase in the minimum wage. "It's a basic function of human dignity."
O'Rourke has also proposed implementing U.S. labor practices and the right to organize in trade agreements with countries around the world, as he detailed at a Michigan union event earlier this year. After his failed bid against Sen. Ted Cruz in November 2018, the Texas branch of the American Federation of Labor published a letter thanking O'Rourke for the attention he brought to labor issues in his campaign.
Read more about his campaign here.
Tim Ryan
An Ohio congressman, Ryan is mounting his bid for the presidency in wake of the closure of the Lordstown, Ohio, General Motor plant earlier this year. "That's why I am running for President," Ryan says on his website. "It's time to do something."
As a member of Congress, Ryan has supported raising the federal minimum wage to $15 an hour, cosponsoring legislation to close the gender wage gap and ensure paid leave. He has also pushed for aid for laid-off workers across the country, as well as cosponsored legislation that would better protect job security for workers who become pregnant. He has also pushed for legislation addressing wage stagnation and shifting to a "green economy."
Read more about his campaign here.
Bernie Sanders
Throughout the Vermont senator's career, Sanders has long pushed for better protections for workers — whether that be through higher wages, pay equity, targeting corporate greed, or supporting unions. The lawmaker has used his platform in Congress and during his 2016 presidential run to address economic inequality through a political revolution.
Sanders has a laundry list of causes related to workers that he has addressed in the Senate. He's at the forefront of the charge for a $15 federal minimum wage. He has targeted major corporations like Amazon, pushing for better workplace conditions, higher pay, and the right to unionize. (Amazon eventually raised its minimum wage to $15 per hour last year.) He's also a cosponsor of the 2015 FAMILY Act, which would guarantee at least 12 weeks of paid family and medical leave.
For decades, his policies have focused on protecting labor unions. He has reintroduced his Workplace Democracy Act this year, legislation that would make joining unions easier and more effective, for years. (And, now, his 2020 campaign staff was the first to unionize among those of other presidential campaign staffs.) During his primary challenge against 2016 Democratic nominee Hillary Clinton, dozens of unions backed Sanders in his run through a concerted effort. "His campaign is drawing attention to what unions and collective bargaining have accomplished for workers and is energizing our movement," the group wrote on its website back then.
He also has spoken out against free trade agreements like NAFTA, arguing that they have led to job losses in the U.S. "When we are in the White House, we will renegotiate all of our unfair trade deals to prevent the outsourcing of American jobs, raise wages, protect the environment, and lower the outrageously high price of prescription drugs," Sanders said in a recent tweet.
Read more about his campaign here.
Eric Swalwell
Swalwell, a congressman who represents the 15th district of California, has a record of pushing for federal minimum wage increases and improving the job search process online. Swalwell is also a co-sponsor of the Equality Act, which would extend federal workplace protections to LGBTQ individuals, as well as the Paycheck Fairness Act, which would help lessen the gender wage gap.
As a presidential candidate, Swalwell has focused on three main areas: gun control, health care, and education. While he has not laid out specific policies, Swalwell says that "too many Americans still find themselves having to choose between paying rent or paying medical bills" or "between buying food or buying prescriptions." Swalwell has also said that his 2020 staff has unionized.
Read more about his campaign here.
Donald Trump
During Trump's 2016 presidential campaign, his messaging and populist positions on trade, among other economic policies, appealed to some (but not a majority of) union workers. Union support for the president has fallen since he took office, with a drop in 15 points between March 2017 and March 2018, according to a Reuters/Ipsos poll. This past week, Trump took to Twitter in frustration after Biden launched his presidential run with the endorsement of the union representing hundreds of thousands of firefighters. (Trump has also used Twitter to target union leaders in the past.)
"The Dues Sucking firefighters leadership will always support Democrats, even though the membership wants me," Trump tweeted. "Some things never change!"
While Trump has been in office, job creation has continued to grow steadily and the unemployment rate has hit record lows. But Trump's trade wars have had adverse effects, pinching farmers and sinking Harley Davidson's profits, and the president has since worked on revisions to NAFTA.
While Trump has made few comments on raising the federal minimum wage since he entered the Oval Office, Labor Secretary Alexander Acosta said he does not support an increase in the minimum wage. In 2017, the Justice Department said federal labor protections should not cover discrimination in the workplace based on sexual orientation or gender identity. The longest partial government shutdown in history — instigated over funding for Trump's proposed wall on the U.S.-Mexico border — also forced hundreds of thousands of federal workers to work without pay or go on furlough, with more than 1 million contracted federal workers never receiving any kind of back pay.
Read more about his campaign here.
Elizabeth Warren
As a lawmaker known for targeting big banks, Warren is known for her efforts to empower workers and dismantle monopolies. In Congress, the Massachusetts senator has introduced a slew of policies related to these goals — including her Accountable Capitalism Act, introduced in August 2018. That bill aims to give more power to workers in selecting who sits on company boards, as well as redirect trillions of dollars to workers.
Now, as a presidential candidate, Warren has released a series of detailed policy proposals, many of which would impact the lives of American workers and the job market. One proposal includes targeting consolidation in the agriculture industry to better protect farmers. Another would make childcare costs less expensive for working families, and give higher wages to childcare workers. And a number of these policies, she said, would be funded by her wealth tax.
Warren has also pushed for basic workplace protections, like a $15 federal minimum wage and the right to organize. Throughout her campaign, Warren has often stopped to meet with union leaders and organizers in different states, including in Massachusetts, where she was the first of the 2020 presidential candidates to show up to the Stop & Shop picket lines during their strike last month.
"We need more power in the hands of employees," Warren told a crowd of union workers at the SEIU workers forum last month. (Her campaign merchandise reiterates these points. Written across a coffee cup: "I like my coffee like I like American unions: strong.")
Read more about her campaign here.
Bill Weld
Hutton Supancic—Getty Images for SXSW
A Republican challenging Trump, Weld is a fiscal conservative who has pushed back on minimum wage increases. Formerly the governor of Massachusetts, Weld was also libertarian Gary Johnson's vice presidential candidate in 2016. As governor, he had vetoed minimum wage increases in the state.
While the former governor has more liberal social views, his fiscal ones remain conservative. "We need the opposite of socialism," Weld said in a speech last month. 'In the federal budget, the two most important tasks are to cut spending and to cut taxes — and spending comes first."
Read more about his campaign here.
Marianne Williamson
Steven Ferdman—Getty Images
Williamson, an author and motivational speaker, supports an increased minimum wage that is based on geographical location, workers' right to organize, paid family and medical leave, and equal pay, among other policies.
Citing the work of fellow 2020 candidate Andrew Yang, Williamson also supports a universal basic income, which would grant $1,000 a month to American adults ages 18 to 65. She also hopes to create new jobs with the Green New Deal and an investment in infrastructure. And she wants a universal savings program, which would come in the form of a cash gift deposited from the federal government into a fund at birth. Then the federal government could match contributions made by family and friends on a sliding scale, based on a family's income.
Read more about her campaign here.
Andrew Yang
Yang, a New York-based entrepreneur and businessman, has a campaign focused on three central ideas that can impact workers: universal basic income, Medicare for All, and what he calls "human-centered capitalism." His universal basic income plan — or what he calls "The Freedom Dividend" — would give Americans age 18 or older $1,000 a month to, in part, to help workers make ends meet and allow them to find better jobs.
The candidate also has a number of fairly specific proposals targeted at helping Americans in the workplace. One of them includes refunding Americans up to $1,000 in moving expenses if they wish to relocate for work. Another would be to create state salary disclosure laws to lessen the gender wage gap. And another would create a mandatory paid leave policy for all full-time workers, as well as contractors.
Read more about his campaign here.