Robots Are Coming to Walmart And Making Employees Scared for Their Jobs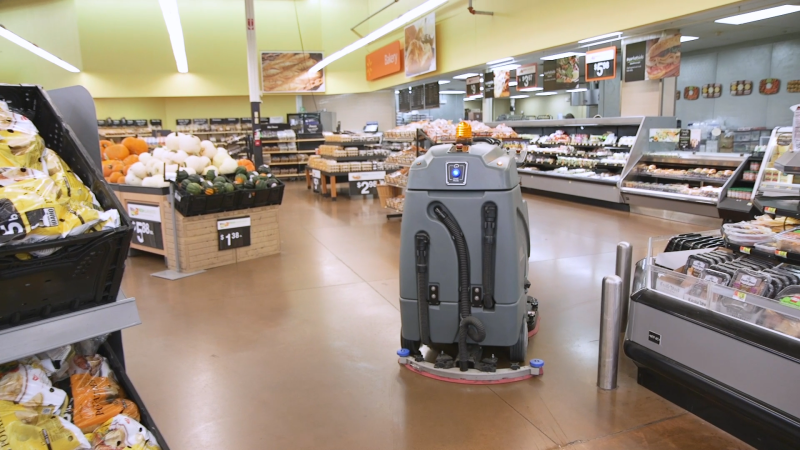 Greeters may be a thing of the past at Walmart — but there will be a lot more metallic help around the stores this year.
Soon, 1,500 autonomous floor cleaners, 1,200 truck unloaders, 900 in-store pick-up towers, and 300 shelf scanners will be deployed across hundreds Walmart stores around the country as the company aims to cut labor costs and repurpose some associate-level positions to focus more on sales and customer service.
But the implementation of these autonomous bots could lead to fewer hours for current employees — a problem the company hopes to skirt with employee attrition or reassignments. Workers are worried the bots will lead to shortened hours, fewer jobs, and further staffing shortages, according to employees and Organization United for Respect (OUR) at Walmart, a labor group that advocates for these retail employees.
"This is one of a series of many decisions that [Walmart has] been making over the years to reduce the amount of humans and amount of staff that are working in the store," says Andrea Dehlendorf, co-director of OUR Walmart. "And [it's] dramatically increased the workload of people who are still working."
"Not one person I've spoken with says it's going to make our jobs easier," she adds.
Walmart is the largest private employer in the country, with around 4,600 stores and 2.2 million associates. The massive retailer has a history of heavily criticized labor practices, including low wages, union-busting, limiting sick day policies, and an increasing number of part-time employees. Now, workers believe this investment in automation may exacerbate these issues for lower paid employees.
"It's the nature of the beast from what we've been experiencing for the last two decades," says Arthur Wheaton, director of Western NY Labor and Environmental Programs at the Worker Institute at Cornell University. "The lowest paid, lowest skilled, and the most at-risk employees in the most precarious jobs are the ones replaced first by technology — not necessarily the CEOs or the people doing the programming."
The role of automation, however, is tricky. Walmart advertises the robots as tools to take care of menial tasks, like mopping the floors and scanning shelves to take track of inventory on the sales floor. Workers can instead invest their time in serving customers and making sales — a critical aspect of the in-store, brick-and-mortar experience, and perhaps a more fulfilling job overall, the company says.
"The idea is that by leaning into the future, associates will be able to have more satisfying jobs as retail continues to change," says a press release from the company this week.
That's not something workers are "philosophically opposed" to, says Dehlendorf, of OUR Walmart. It depends on how these robots are implemented, maintained, and managed, in relation to employees.
Walmart's minimum wage is currently $11 — an amount that has been contended with competitors like Amazon and Target, who have raised theirs to $15 and $13 an hour, respectively, in recent months. The use of automated technology could now be effective in bettering retention rates — but keeping wages low.
"Do you increase wages to adequately fill positions? Or do we find technology to fill in low-skill or low-desirable positions and use our limited resources in other areas?" says Wheaton, of Cornell University.
"It's usually the people who desperately need the job who have lower wages and limited options," he adds.
Robot Hiccups
Walmart has been experimenting with some of these new robots in stores over the last year or so before implementing them more widely. While Walmart has repurposed the tasks of a number of employees already, the automated technology doesn't always work. When WiFi is finicky, the shelf-scanners struggle, some workers say. Or the pickup tower — an automated station customers can visit to pick up online orders — can have technical issues.
To be sure, hiccups like these are to be expected. But workers and advocates worry that, in the long term, the technology that led to a smaller staff in the first place could malfunction and require staff members to step in and do work outside of their reduced roles to make up for it.
"People are pretty nervous about jobs. I'm worried I might have to look for unemployment down the road," says Kristi Branstetter, a sales associate at a Blue Springs, Mo., Walmart and organizer with OUR Walmart who says her store has high turnover and is short staffed. "It's almost like the company doesn't want human workers like me."
Branstetter's not alone. About 66% of all retail employees believe at least some aspect of their job will be replaced by automation, according to a recent study from several labor groups, including OUR Walmart. That reflects predictions from organizations like the World Economic Forum and McKinsey, a consulting firm, that anticipate a high percentage of retail store jobs will be replaced by automation, as well as more than half of day-to-day task of these retail workers.
Walmart views the use of automation as a potential recruitment and retention tactic. Without tasks like mopping floors or scanning shelves, an associate job could be seen as more desirable.
"The tasks being automated are generally things that we struggle to find, hire, and retain associates to do," says Ragan Dickens, director of corporate communications at Walmart, in an email. "As we've started changing the job to take out some of that routine work, it's becoming easier to find people to do those jobs."
Dehlendorf, of OUR Walmart, calls these changes "meaningless" without "compensating the jobs with enough take-home pay that people can live on, schedules people can hold to allow them to be with their families, and full-time positions with benefits." The organization has long pushed for Walmart to adopt new policies surrounding these issues.
"Yes, our payroll is a big expense, but when you're a customer, you really need to have that human interaction," says Branstetter, the sales associate. "People come in for that interaction, whether it be positive or negative. I always try to make it a positive one."
This story has been updated.