This Map Shows Where It's Still Legal to Be Fired for Your Sexual Orientation or Gender Identity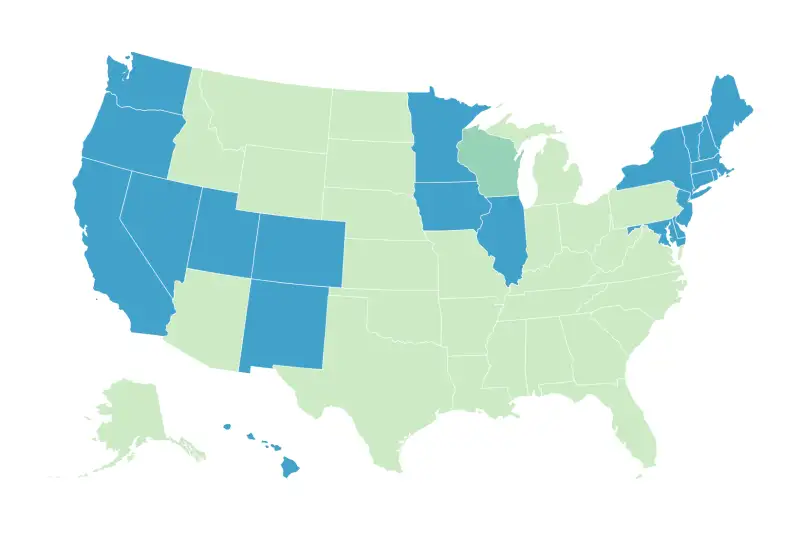 Millions of LGBTQ Americans can be fired — legally — due to their sexual orientation or gender identity. But this harsh reality will soon be put to its biggest test.
This week, the U.S. Supreme Court agreed to consider three cases that hinge on this issue of workplace protections for LGBTQ workers. Depending on how the court decides, this move could expand protections for LGBTQ individuals in the workplace across the country, or upend or stall progress advocates have already made on the state level.
Without a federal law or extension of the Civil Rights Act, 21 states and the District of Columbia enacted legislation in recent years that prohibits discriminatory employment practices based on sexual orientation and gender identity. In 24 other states, at least one city or county has created its own ordinances to do the same for private employees.
It's a complicated issue for workers in many states. Michigan and Pennsylvania, for example, do not have state-wide laws related to this issue but they interpret existing federal laws to offer these protections. In Wisconsin, a state-wide law exists but only prohibits discrimination based on sexual orientation not gender identity, a distinction that leaves out transgender and queer workers. And states like Ohio and Indiana have protections for LGBTQ state employees.
The Supreme Court will hear the cases in the fall and likely make a decision in the middle of the 2020 presidential election. The biggest question at stake is whether Title VII of the Civil Rights Act, which prohibits discrimination on the basis of sex, religion, race, color, or national original, also protects sexual orientation and gender identity. And that depends in part on whether sexual orientation and gender identity can be defined as "sex" in these circumstances.
These cases could also hinge on whether the Religious Freedom Restoration Act (RFRA), a federal law that prohibits state agencies from impeding a person's religious freedom, could outweigh accusations of workplace discrimination based on these factors.
The three cases the court will consider include a New York-based skydiving instructor who said he was fired because he was gay, a Georgia county government employee who said he was fired because he was gay, and a Michigan funeral home employee who said her employer fired her after she told him she was transitioning.
A Supreme Court decision could have an insurmountable impact, as federal agencies and appeals courts are split on the issue. The appeals courts in the 2nd Circuit and 7th Circuit ruled that the 1964 law does protect Americans from workplace discrimination on the basis of sexual orientation and gender identity. The 11th Circuit ruled the law does not protect discrimination on this basis. Under President Donald Trump's administration, the Justice Department argues Title VII of the Civil Rights Act does not protect sexual orientation. But the U.S. Equal Employment Opportunity Commission, which enforces federal laws in the workplace, considers sexual orientation and gender identity protected under federal law.
The case will face a court without Anthony Kennedy, who retired last year. The justice was seen as a vital swing vote particularly for cases surrounding LGBTQ issues. Justice Brett Kavanaugh has since replaced Kennedy's vacated seat on the court. (Sen. Cory Booker, a 2020 Democratic presidential candidate, asked Kavanaugh during his confirmation hearings whether a person can be fired because of his or her sexual orientation. "In my workplace," Kavanaugh responded, "I hire people because of their talents and abilities.")
Advocates on both sides of the issue are eager a Supreme Court decision could set a new precedent. Alliance Defending Freedom, the conservative group that filed a petition to the Supreme Court to hear the Michigan woman's case, argues a ruling in her favor would "rewrite federal law by replacing 'sex' with 'gender identity'."
The Human Rights Campaign, a LGBTQ civil rights group, hopes the court will swing in their favor and incite the implementation of further protections for LGBTQ individuals in and outside of the workplace.
"No one should be denied a job or fired simply because of who they are or who they love, including LGBTQ people," said Sarah Warbelow, Legal Director for the Human Rights Campaign in a statement. "The growing legal consensus is that our nation's civil rights laws do protect LGBTQ people against discrimination under sex nondiscrimination laws. The Supreme Court has an opportunity to clarify this area of law to ensure protections for LGBTQ people in many important areas of life."