Uber and Lyft Are Giving Discounted Rides to Vote on Tuesday. Here's How To Get One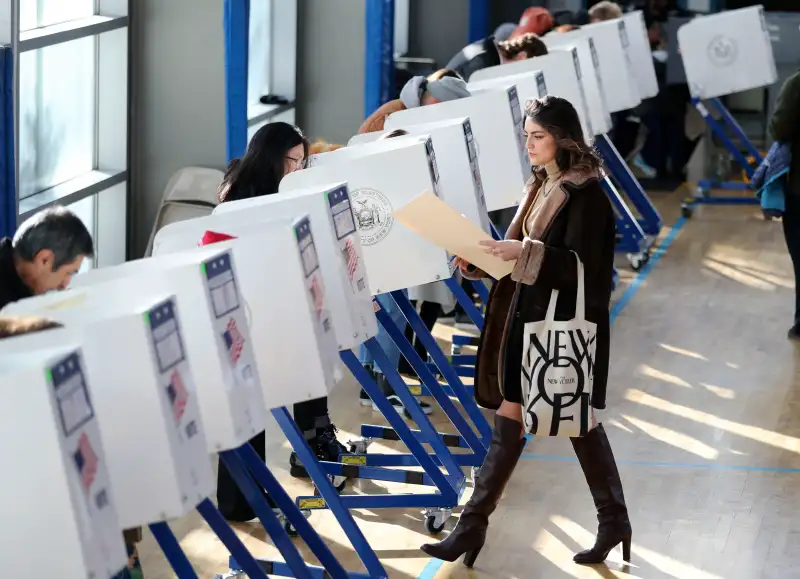 Xinhua News Agency—Xinhua News Agency/Getty Images
Unsure how you're going to get to your polling station to vote in the 2018 midterm elections? You're in luck.
A slew of ride-sharing companies and public transportation systems are offering free or discounted rides to polling booths for Americans around the country this Tuesday. The nationwide efforts to encourage voters to show up for Election Day 2018 come amid a hotly contested midterm election cycle, with a number of crucial Congressional races, gubernatorial challenges, local elections, and more.
The concerted effort from Uber, Lyft, and bike-sharing companies to make polling booths more easily accessible follows a number of studies that say access to transportation posed an issue for Americans who failed to make it to the polls in the past.
A Harvard University survey found about 14% of non-voters said transportation played a "major" role in their decision not to vote; 29% of voters ages 18 to 29 said it was why they didn't either, according to an analysis from the Center for Information & Research on Civic Learning and Engagement. And, according to the Pew Research Center, 3% of non-voters cited "transportation problems" as the top reason why.
As a result, it appears a slew of companies, transportation systems, organizations, nonprofits, and activists are working to ensure all registered voters can make their voices heard in the 2018 midterm election. More than 300 companies around the country have also implemented policies that allow employees to take paid time off to get to the polls, for example.
Here are some of the best deals and discounts on transportation to the polls this Tuesday.
$10 off an Uber ride to vote
Uber is offering $10 discounts on rides for users heading to the polls on Election Day. That discount only covers a single ride and can only be used on the cheapest option available. (So, it's likely you'll be taking an Uber POOL.)
To take advantage of your discount, first, make sure you have the latest version of the app downloaded.
Then, you'll be able to find Uber's Election Day promo code, which will be available on the app on Election Day. From there, you can go to your menu, tap "Payment," and add the promo code.
On Nov. 6, the app will have a polling place locator. Enter your home address and your polling place will pop up. Then you can request a ride.
50% off a Lyft ride to vote — and free rides for underserved communities
Lyft riders will be able to access a promo code to get 50% off their rides on Election Day. Similar to the Uber app, Lyft users will be able to find their polling location on the Lyft app, the company says.
Since the ride-sharing company is partnering with BuzzFeed for the initiative, users can find their promo codes on BuzzFeed here by entering their zip code. Then, users can go to the menu on their Lyft apps and enter the promo code there.
Lyft will also be offering free rides to the polls for members of certain underserved communities. The company is working with several nonprofits, including Voto Latino, Student Vets of America, and the National Federation of the Blind — to find these voters and help them get to the polls.
And the company will celebrate Lyft drivers who complete these trips, "surprising select drivers across the country who give rides on November 6 with a special gift."
Free bikes to vote in several major cities
Bike-sharing company Motivate, which operates a number of services in cities around the country, will be giving out free rides, too.
Bikers can use the promo code for their city — detailed here — on Nov. 6 to get a free day pass.
The free ride will be offered through these sharing services in the following cities:
Citibike in New York and Jersey City
Divvy in Chicago
Bluebikes in the Boston-metro area
Capital Bikeshare in the Washington, D.C.-metro area
Nice Ride Minnesota in Minneapolis
Ford GoBike in California's Bay Area
BIKETOWN in Portland, Oregon
CoGo in Columbus, Ohio
"As voters make their plans for Nov. 6, we encourage the millions living in cities served by our bike share networks to take advantage of free rides and use bike share to get to and from the polls," says Julie Wood, a representative at Motivate.
Free scooter rides to vote
Lime, a scooter sharing company, will be offering free 30-minute rides on Nov. 6 to help voters get to the polls. To access the free ride, Lime users can enter the promo code LIME2VOTE18 into their app to get a free 30-minute trip.
"Transportation to the polls is often a challenge for many Americans on Election Day, so we're doing our part to help," Brad Bao, the co-founder of Lime, says.
Lime scooters are available at a number of cities around the country as well as college campuses. Check Lime's map of locations here to see if your city (or school) has available scooters.
Free public transportation to vote
A number of public transportation systems around the country will offer free public transportation to the polls on Nov. 6. Los Angeles residents, for example, will be able to ride free on trains and buses on Election Day — a decision the board of the Metropolitan Transit Authority made unanimously despite an estimated $600,000 hit with the elimination of the city's $1.75 fare, according to the Los Angeles Times.
Similar initiatives will take place in small and large cities around the country, including free round-trips in Houston, free bus trips with the presentation of a voter identification card in Tampa, and free bus rides in Knoxville, Tenn.
Check with your local public transportation authority to see if there are any free options in your city.