Student Loan Showdown: Let's Compare How Elizabeth Warren and Bernie Sanders Would Make You Debt Free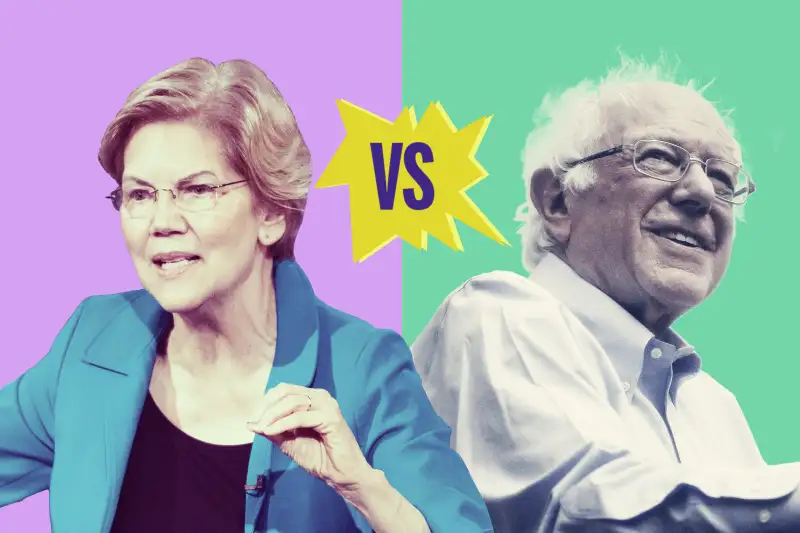 Illustration by Lixia Guo; Getty Images (2)
With the first two Democratic primary debates getting underway this week, two front-runners are going head-to-head on student debt.
On Monday, Vermont Senator and two-time Democratic primary candidate Bernie Sanders announced a plan to relieve all 45 million Americans with outstanding student debt to higher education institutions. That invoice has reached an unprecedented $1.6 trillion — about $521 billion more than credit card debt — and almost every candidate in the 2020 Democratic presidential primary agrees that it's time to tackle an issue that's only getting worse.
In fact, Sanders' announcement came exactly two months after candidate Sen. Elizabeth Warren (D-MA) took to Medium to share plans for a similar proposal — one that she says is "truly transformational."
How do their plans compare? Here's a look at what these two 2020 favorites say they'll do about student debt if they take the highest office.
The Plans Dissected
Sanders has explicitly said he intends to completely eliminate any existing student debt for the 45 million Americans who currently have it — which adds up to $1.6 trillion.
Under Warren's plan, Americans get anywhere between $0 to $50,000 of debt cancellation, depending on their household income — the more you make, the less you get taken out of your student debt.
Anyone who makes less than $100,000 gets the maximum of $50,000 taken off, and anyone whose wealth surpasses that $250,000 mark gets nothing.
This isn't as all-inclusive as what Sanders has proposed, but Warren's is reportedly almost there: it would take care of some debt for 95% of people with student loans, and all of it for more than 75%.
That's specific to the Americans already riddled with debt, of course, but both candidates' legislations also advocate for tuition and fees to be eliminated from every two-or four-year public college. (Housing and living costs, plus graduate school fees are not included.) Sanders is also calling on the same for trade schools and apprenticeship programs.
Who Will Pay for All This
Sanders says his plan is expected to cost roughly $2.2 trillion over the course of ten years, while Warren's team says it would cost $1.25 trillion over the same period of time and come with a one-time cost to the government of $640 billion. These numbers are no joke, and both candidates intend to use taxes to pay them off — specifically taxes on the people they believe have money to spare.
For Sanders, it's all about taxing the market. He wants to put a .5% tax on stock transactions as well as a smaller .1% tax on bonds, which his office has said would raise up to $2.4 trillion in the next decade. That's just enough to pay off his $2.2 trillion cost in time.
Warren, meanwhile, is relying on her "Ultra-Millionaire Tax" — an annual tax of 2% for every dollar over a person's net worth of $50 million, and 3% on every dollar over a person's net worth of $1 billion or more. This tax isn't exclusively for her student debt plan, but it'll create enough to go around: With the 75,000 families in the U.S. that are valued at $50 million or more, Warren says this would bring in $2.75 trillion in revenue over the next decade. That's more than twice the amount needed to fund her legislation.
Where They Agree
Naysayers — mostly conservatives and moderate Democrats — have a couple of qualms with these plans.
For one thing, they say these plans are expensive and ill-advised, since they cater to higher income Americans: The majority of loans are taken out for tuition at private schools or graduate schools. Plus, debt or no debt, college graduates tend to have a higher income than high school graduates. So they argue that that enormous sum of money can be put to better use elsewhere.
Others point out that this strategy is a short-term fix. Paying off student debt and making college tuition free is a great idea in theory, but critics say the real issue is the rising cost of education. Higher education relies heavily on manpower and campus quality, both of which are financially demanding. Public colleges would have to agree to cut back on both if they wanted to offer free tuition, considering federal funding is finite — the result would be a greater divide between people who can afford nicer colleges and people who can't. And as costs get out of hand, the wealthy might not be the only ones paying more in taxes.
But both candidates are eager to get a better grasp on the growing student debt problem, saying it would do plenty of good for the economy, in more ways than one. Supporters say giving Americans more spending money would put more money in circulation. And giving Americans the freedom to go to college without worrying about how to afford it, would mean better credit scores (credit cards that are paid off, more homeowners) and — most importantly — a more educated country as a whole.