This Map Shows the Cheapest Places to Get Married in the U.S.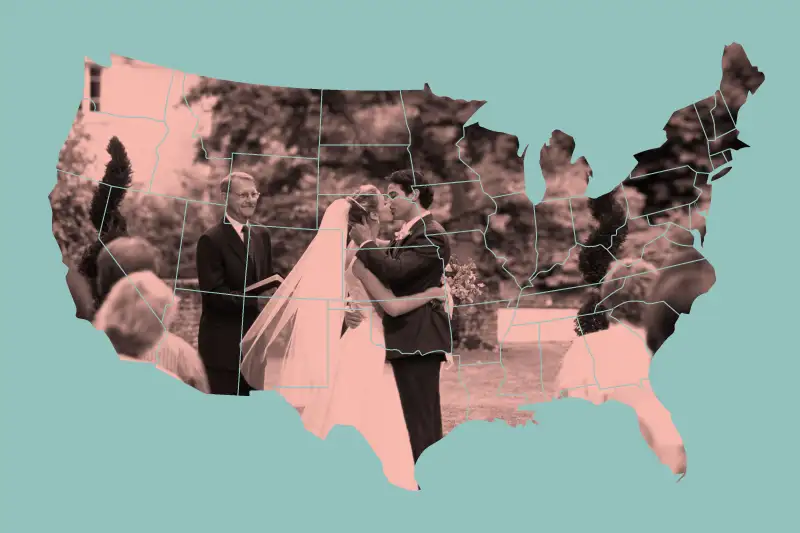 Photo illustration by Sarina Finkelstein for Money; Getty Images (1); Shutterstock (1)
Weddings are fun, beautiful, exciting ...and jaw-droppingly expensive for almost everyone involved.
The cost of getting married in the U.S. was about $27,000 in 2017, according to WeddingWire's annual Newlywed Report. The venue took up a third of the bill as the biggest expense, followed by food and music. And while the price isn't quite as high for a guest, Americans attending multiple weddings a year spend thousands on gifts, attire, and — for out-of-town destinations — travel and stay.
Fortunately for anyone trying to get married on a budget (and the friends and family they invite), vendor and travel expenses vary drastically by location.
Nuptials that take place in Hawaii, in the northeast, or on the west coast, for example, are among the most expensive, according to a recent WalletHub analysis. A Bridgeport wedding, the most expensive of the cities considered, costs an average $42,711 to throw — more than four years of in-state college tuition, and just shy of a 20% downpayment on a median house as of December 2018.
The most inexpensive cities for a wedding, on the other hand, are mostly in the southeast or in the midwest. In El Paso, TX, the average wedding costs $13,220 — less than half the national average, and less than any of the other 181 most populous cities considered. The next in line are as follows:
These cities keep the host's bill under $20,000 on average, and one — Las Cruces, N.M. — is even among Money's Best in Travel domestic destinations for 2019. But an inexpensive wedding location isn't always an inexpensive trip, and some of these cities were above the average cost for guests, according to an analysis of Money's travel data.
Using only the travel data points that would apply to a wedding guest, Money found that the cities listed above would run a guest anywhere from $1,400 to $1,800 for a three-day, three-night trip. For some perspective, the 300+ domestic cities Money considered for its Best in Travel ranking cost a median $1,650 when the same expenses were considered.
There are less expensive cities for travel, of course — Raleigh, N.C., for example, would cost a guest $1,300 for a three-day trip. But among the destinations pinpointed as the least expensive for wedding costs (affordable venue, vendors, etc) our travel winner, Las Cruces, made for the most inexpensive spot. Our other Best in Travel winners either proved to be more expensive wedding destinations (San Antonio $29,000; Los Angeles $36,000; Cincinnati $25,000) or didn't reach the population threshold to be included in WalletHub's round up.
Of course, travel costs for guests are secondary to the total wedding cost, and most couples will understandably get married where it's most convenient for them and their family. But if you're going for a destination, saving some money on both ends could mean less stress and happy guests — and maybe even a longer honeymoon.