Ellen DeGeneres Just Flipped This Gorgeous California Mansion — and Pocketed $4 Million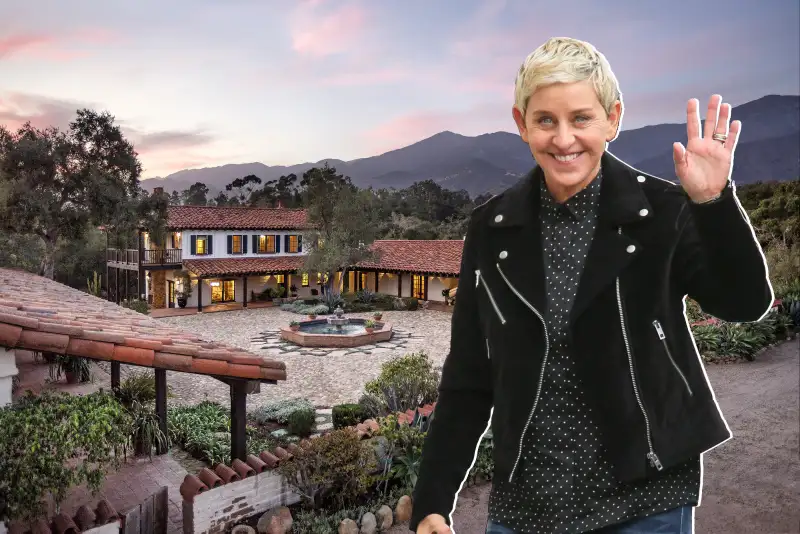 (house) Jim Bartsch; (Ellen) REX/Shutterstock
Comedian and real estate maven Ellen DeGeneres reportedly just flipped another home -- and made a $4 million profit.
DeGeneres and her wife, actress Portia de Rossi, recently sold their Montecito ranch to Tinder founder Sean Rad for $11 million, according to Variety. The pair reportedly purchased the California home, nicknamed Rancho San Leandro, only eight months prior for $7.2 million.
Without a real estate listing, details are scarce. However, the estate's former listing, photos and floor plans give a big hint as to what made the property sell. In addition to four bedrooms and four bathrooms, the 6,764-square-foot main house comes with a 50-foot-long dining room, library, gym and "wine and game room."
While the main house may be the biggest on the property, it isn't the only home on the grounds. The ranch also includes a 2,750-square-foot adobe home that was built in the mid-1850s. Additional land is dedicated to a long driveway, courtyard, gardens and a horse barn and arena.
The Montecito ranch sale is not DeGeneres's first rodeo. The comedian, who has joked that her favorite way to shop for a home is at dinner parties, has owned more than 15 properties since her first house purchase 30 years ago. She has bought and sold similar properties in the past, including a ranch in Thousand Oaks, California, which she sold for $10 million in 2013. It was one of several houses DeGeneres mentioned in her 2015 book Home, in which the actress highlights her favorite residences.
"The truth is, moving has always been fun for me, not stressful," DeGeneres wrote in the book. DeGeneres says she bought her first house at age 30 for $250,000, then used that equity to keep trading up.
"Once I was in the market it was easy to parlay that first house into another, better house," DeGeneres wrote.